Are you ready to embark on an unforgettable adventure in Ninh Binh? This Vietnamese destination, once the country's capital, is a playground for adventurers and a haven for nature lovers. Its lush landscapes, striking limestone karsts, and mossy pagodas have earned it the prestigious status of a protected UNESCO World Heritage Site. In this article, we'll explore ten must-do activities that will make your Ninh Binh experience truly exceptional.
Cruise on a Paddleboat Tour in Trang An or Tam Coc
To discover Ninh Binh's hidden gems, hop on a paddleboat tour in Trang An or Tam Coc. As you gently glide along the current, shaded by majestic jungle-covered karsts, your own boatman or woman will take you to temples and grottoes, unveiling captivating sights along the way. Don't forget to pack some snacks and water for the two to three-hour journey.
Go Temple Trekking at Bich Dong Pagoda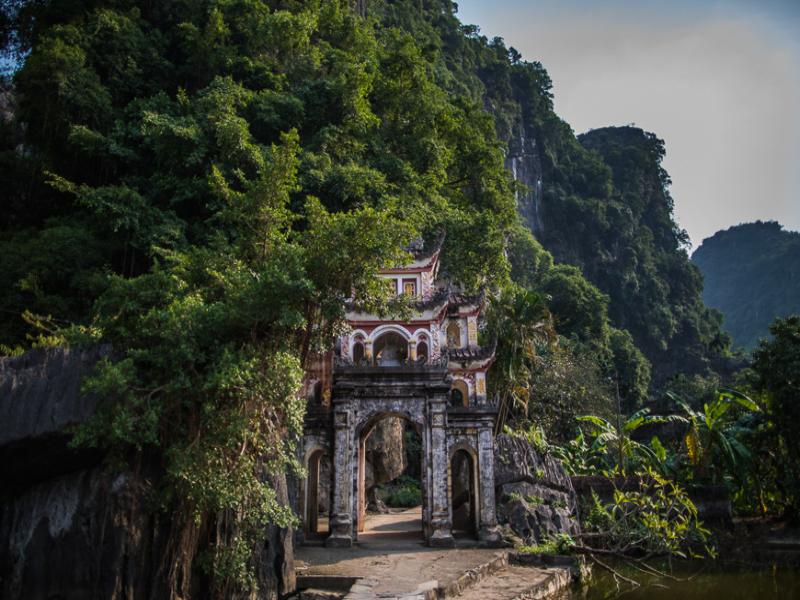 Immerse yourself in the enchanting atmosphere of Bich Dong Pagoda. Located at the base of a grand mountain, this ancient temple boasts an ornate gate that serves as an iconic symbol of Ninh Binh. Follow the stone bridge across the lotus pond, adorned with vibrant pink blossoms in the summer, and explore the tranquil courtyard and traditional Buddhist temple. Climbing up the stairs will reward you with breathtaking panoramic views, while two embedded temples dating back to the 18th century will ignite your curiosity.
Taste the Local Specialties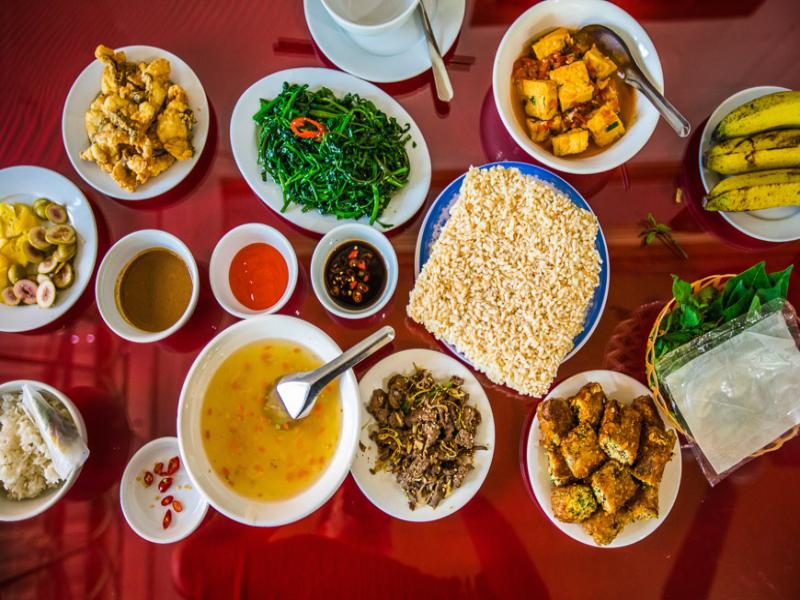 Ninh Binh's culinary scene is a treasure trove of flavors. Indulge in the province's signature dishes: com chay, a delightful fried rice crust that pairs perfectly with warm stews, and de tai chanh, a tantalizing goat meat dish cured in lemon juice and seasoned with chilies, lime leaves, and sesame seeds. For an authentic local breakfast experience, treat yourself to banh cuon, a plate of fresh rice paper rolls filled with diced pork and mushrooms, served with mint and a mild fish sauce.
Stroll Through Hoa Lu Ancient Village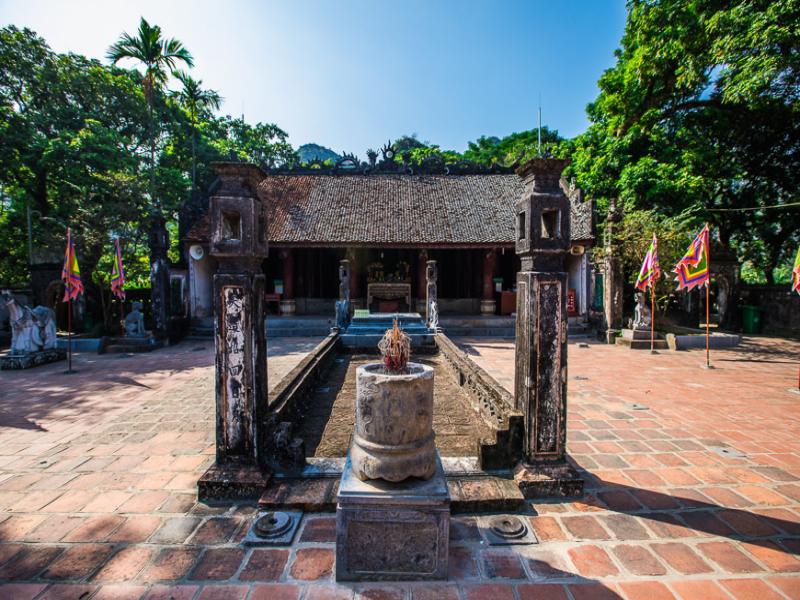 Hoa Lu Ancient Capital: Step back in time as you wander through Hoa Lu Ancient Village, located just a short drive from the Trang An area. Once Vietnam's capital city, Hoa Lu flourished during the 10th and 11th centuries, thanks to its natural protection provided by the stunning karst landscape. Explore the atmospheric structures that have withstood the test of time, with leaning archways, sprawling banyan trees, and brick courtyards evoking a sense of ancient grandeur.
Conquer the Top of Hang Mua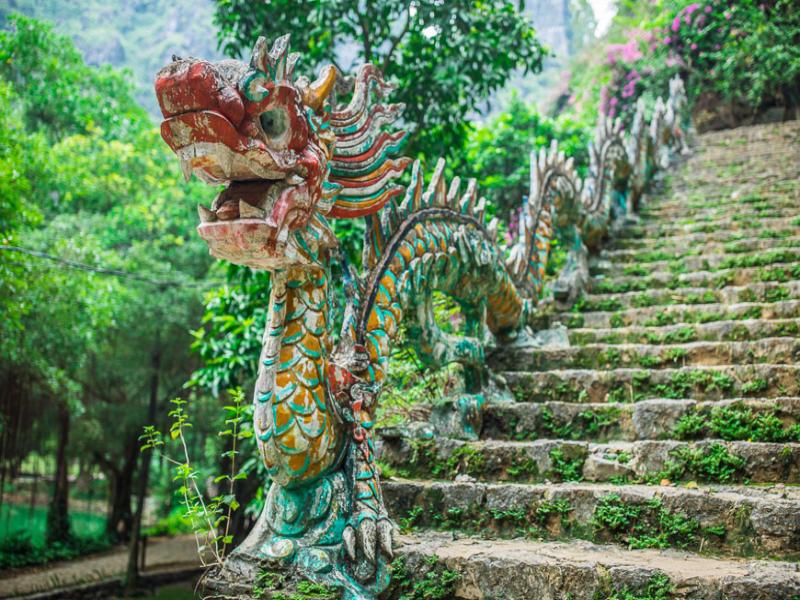 Mua cave view point:Prepare for a challenge as you conquer the steep mountain leading to Hang Mua's summit. Despite the 500 steps and a 200,000 VND ticket, the reward awaits at the top. Behold the mesmerizing 360-degree view of Tam Coc valley, surrounded by a patchwork quilt of vibrant green rice fields and snaking rivers weaving around the ancient karsts. Don't be deterred by misty conditions; patience will reveal the breathtaking beauty that lies beneath.
Book a Local Homestay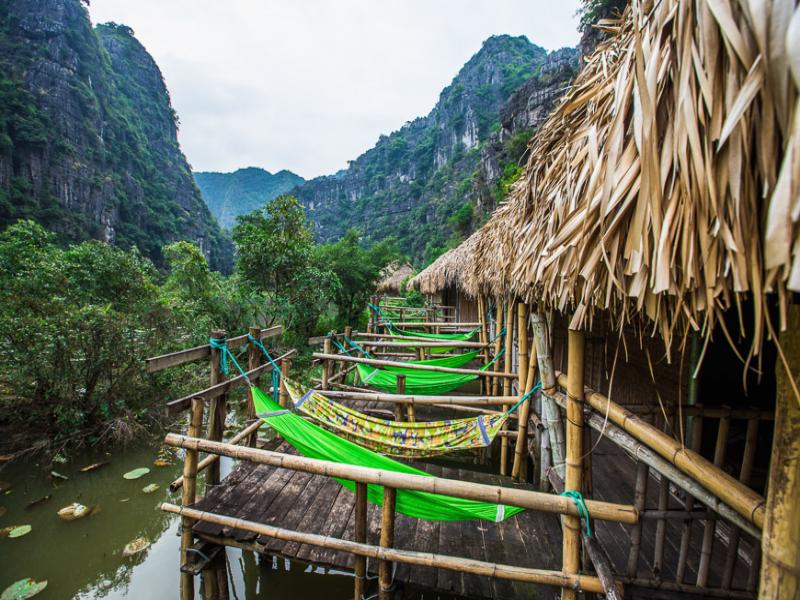 For an immersive experience, escape the hustle and bustle of Ninh Binh City and book a stay at one of the charming homestays in Trang An or Tam Coc. Immerse yourself in the breathtaking scenery of sweeping rice paddies and lush landscapes while enjoying the hospitality of Ninh Binh's friendly locals. Seek recommendations from your hosts for insider tips on exploring the area. Consider memorable retreats like Emeralda Resort, Chez Beo, or Nguyen Shack.
Wander the Bai Dinh Pagoda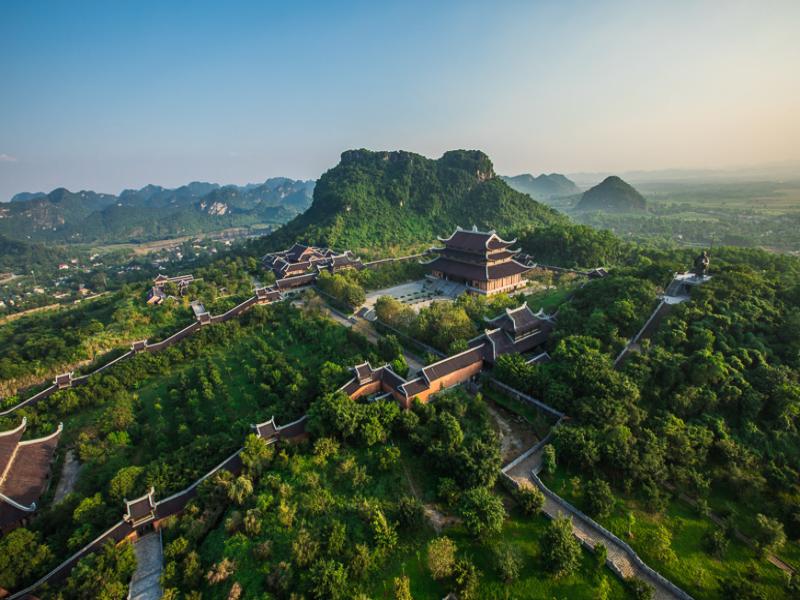 Prepare to be awestruck by the grandeur of Bai Dinh Pagoda, the largest Buddhist temple in Southeast Asia. This vast and captivating complex is a significant pilgrimage site for Vietnamese Buddhists and throngs with visitors during Buddhist holidays. Take your time to explore the multitude of Buddha statues, intricately carved bells, and the 13-story watchtower, which offers awe-inspiring views of the surrounding countryside.
Hop on a Motorcycle Tour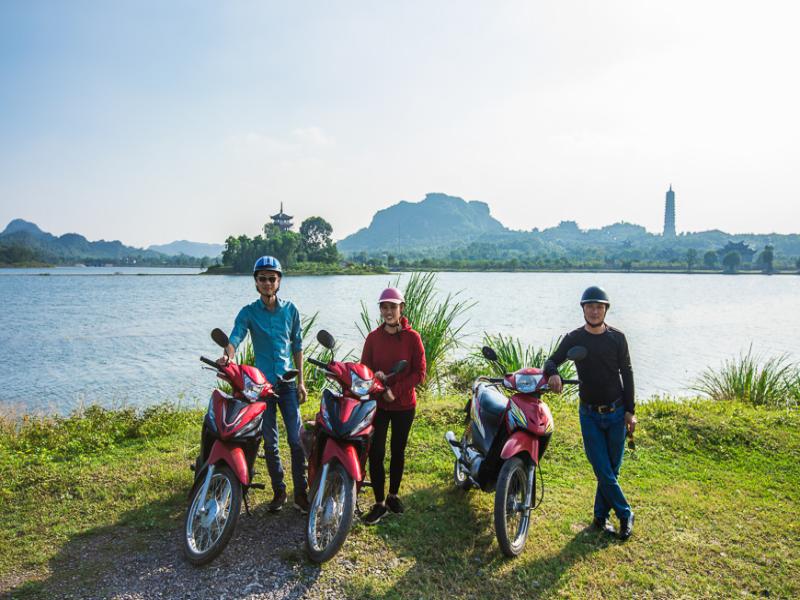 Embark on an exciting motorcycle tour to discover the hidden gems of Ninh Binh. As you ride through the backroads, you'll witness the majestic limestone karsts and vast paddy fields whizzing by in vibrant shades of green and dark grey. Keep an eye out for climbing goats, placid water buffalo, and flocks of ducks that call this picturesque landscape home. If you prefer not to drive, you can book a customized back-of-the-bike experience with Tommy's Service.
Go for a Hike in Cuc Phuong National Park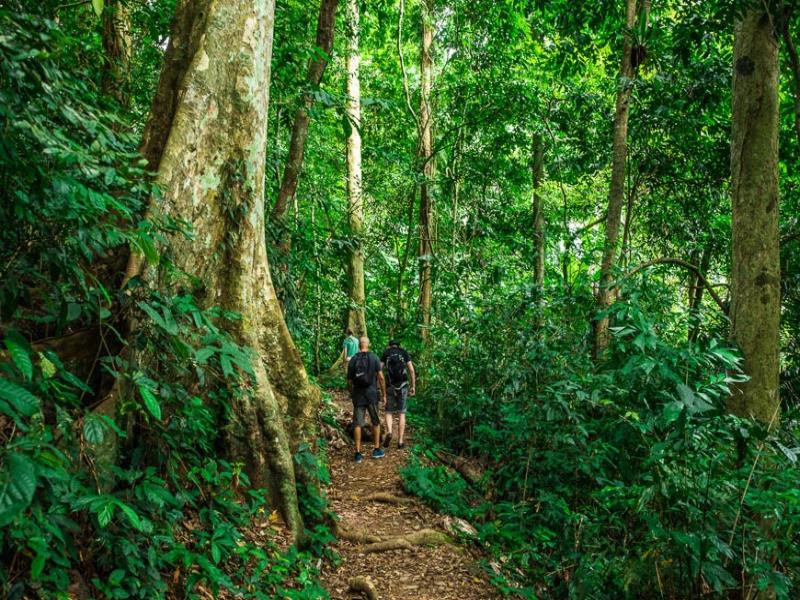 Escape the city and reconnect with nature at Cuc Phuong National Park, one of Vietnam's oldest national parks. For a nominal fee of 20,000 VND, you can explore the park's various trails and rehabilitation centers for reptiles and primates. Marvel at ancient trees, some more than 1,000 years old, as you embark on a rejuvenating hike through the lush forest. Reward yourself with a delightful local lunch inside the park, savoring the flavors of Ninh Binh.
Explore the Van Long Wetlands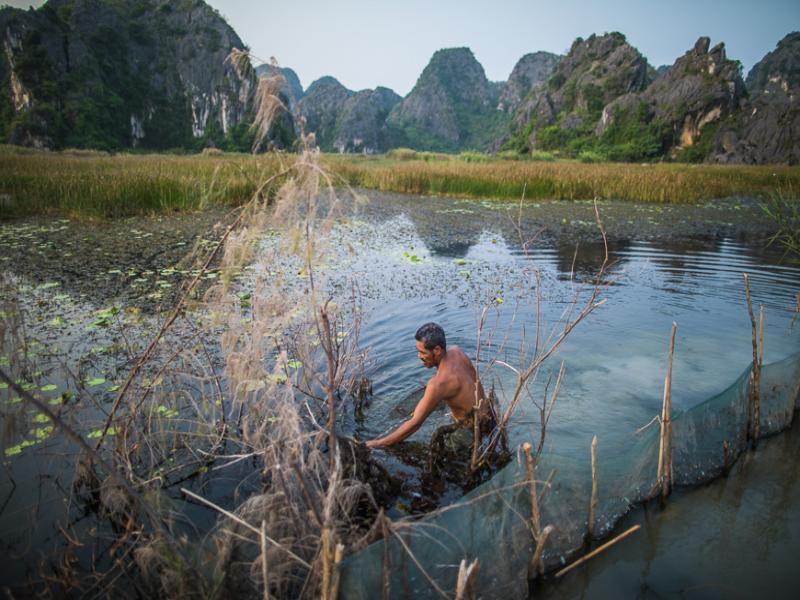 Indulge in the mesmerizing beauty of the Van Long Wetlands, nestled beneath a majestic limestone mountain. This magical marshy reserve is a haven for bird-watchers, teeming with a diverse array of magnificent feathered creatures. Embark on a boat tour to unveil the remote and serene scenery that this enchanting location has to offer.