Trang An Landscape Complex Introduction
The Trang An is an ecotourism area belonging to Trang An Scenic Landscape Complex in Ninh Binh province. Plus, the Vietnamese Government ranked this place as a particularly crucial national monument. Most remarkably, UNESCO recognized Trang An complex as a dual world heritage (World Cultural and Natural Heritage Site) in 2014.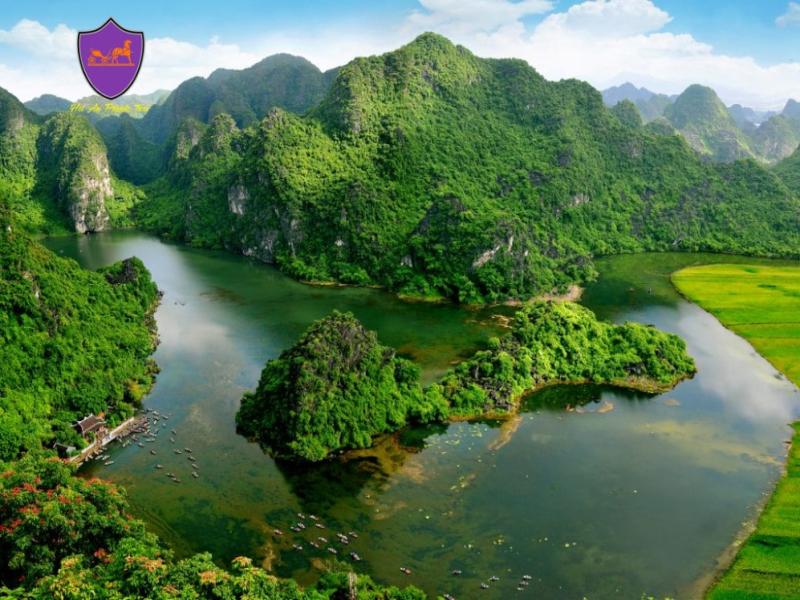 It has a system of limestone mountains 250 million years old over hundreds of millions of years of weathering and transformation. Hence, Trang An today has an attractive Vietnamese beauty with a series of valleys, lakes, lagoons, caves, flooded forests or forests on a beautiful limestone mountain.
Besides, this scenic spot is a place to preserve and contain many archaeological sites and historical and cultural relics. In addition, there are many historical relics from the Dinh and Tran dynasties today.
Trang An Landscape Complex's Geographical Location
The Trang An landscape complex is located on the border between Hoa Lu district and Gia Vien, Nho Quan, Tam Diep city and Ninh Binh city. Administratively, the Trang An core zone is located in 12 communes, Trang An buffer zone is located in 20 communes and covers an area of more than 6,172 ha. It mainly belongs to two communes, Truong Yen and Ninh Hai (Hoa Lu district), a specially protected scenic landscape complex area.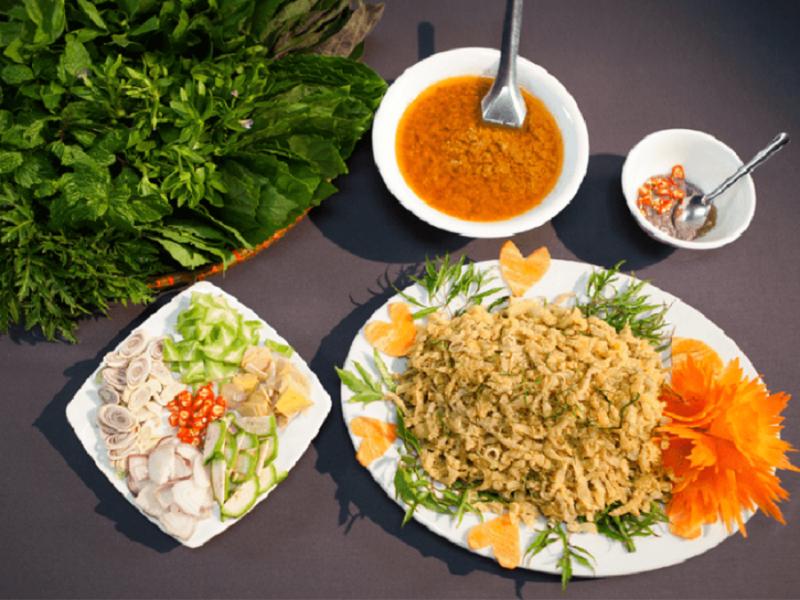 In addition, the 12,252-acre Trang An tourism region includes this specially protected area in its plans. Thus, the special conservation areas of the Trang An core zone are as follows:
Center of Hoa Lu ancient capital: 314 ha.
Tam Coc – Bich Dong tourist area: 350 ha.
Trang An ecological tourist area: 2,133 ha.
Hoa Lu special-use forest: 3,375 ha.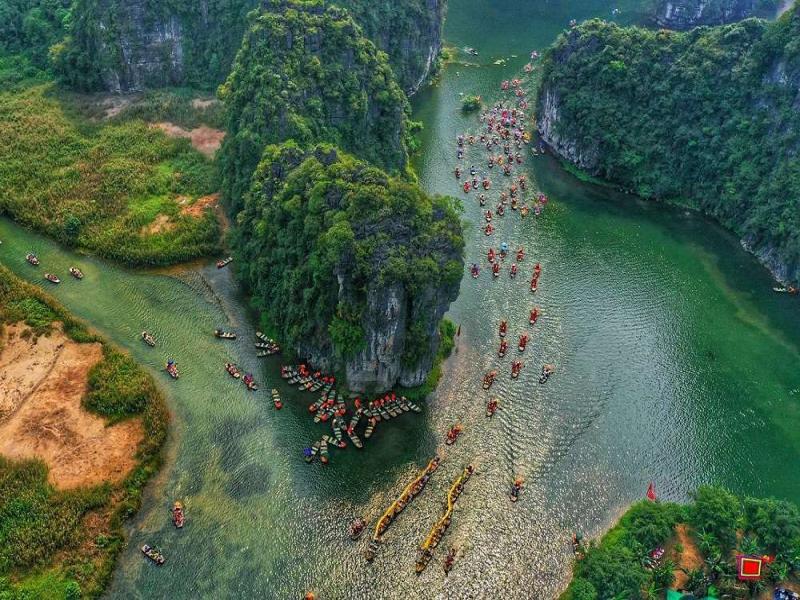 The Trang An scenic landscape complex includes Trang An ecotourism area in the central location, dubbed "the heart of World Cultural and Natural Heritage". Additionally, Trang An is 8 km north of the Tam Coc – Bich Dong tourist area and 3 km south of Hoa Lu ancient capital.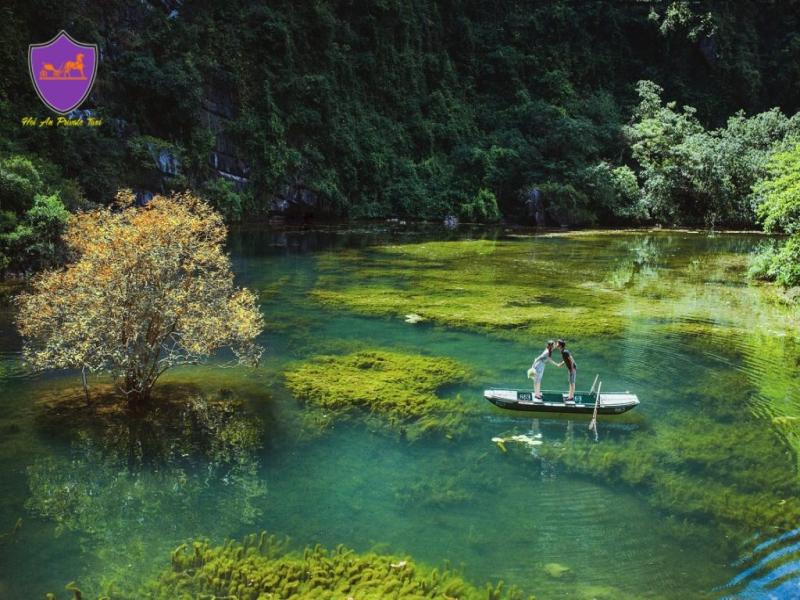 The link between these tourist areas is a special-use forest, caves and winding valleys and rivers. Therefore, it has created Trang An with the name "Ha Long Bay on land". In addition, it is also very close to other tourist attractions such as Mua cave, Bai Dinh Pagoda, Van Long Nature Reserve, Cuc Phuong National Park, etc.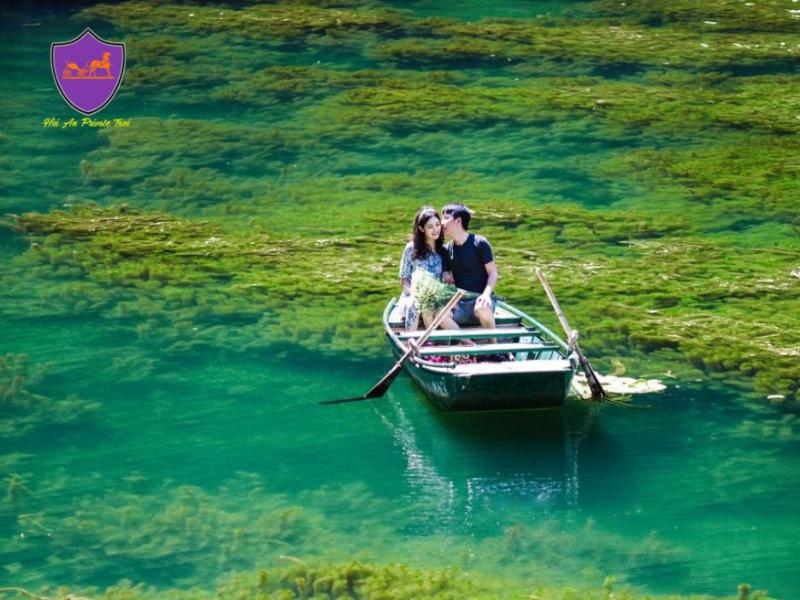 How To Get From Hanoi To Ninh Binh/Trang An Complex
If you want to save travel time, you can choose a means of transport by plane. Because Ninh Binh does not have an airport, you need to book a plane ticket to Hanoi and travel by other means to get to Trang An.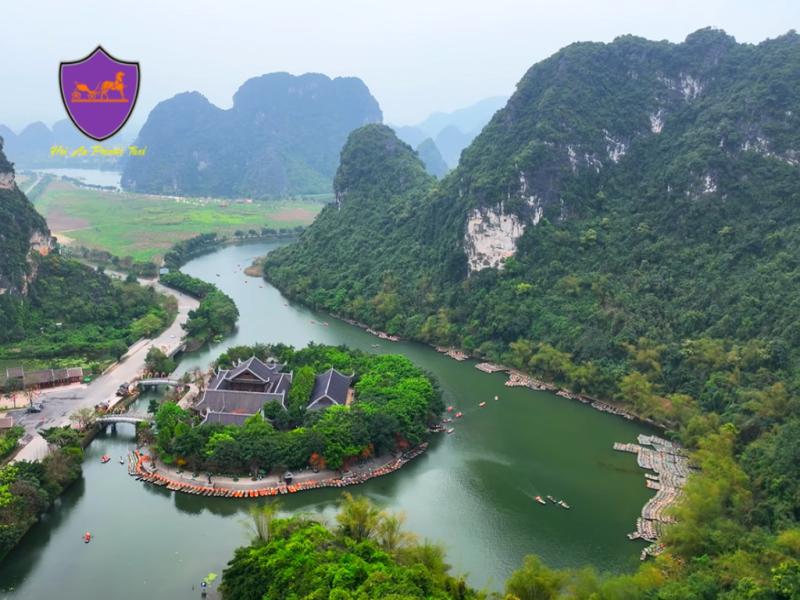 The distance from Hanoi to Trang An is not too far, only more than 90km, so it takes about more than 1 hour to move. Therefore, you can travel to Trang An by bus, train or private vehicles such as cars and motorbikes.
Here are some means of transportation to Trang An that we recommend for you. Hence, you can choose the vehicle that suits your travel plans.
Hanoi To Ninh Binh Private Car – Hanoi Luxury Car To Ninh Binh
Traveling by private car is the best option for you because it only takes about 1 hour to reach Trang An. In addition, you can depart at any time that is convenient for you. Therefore, you can book our Hanoi to Ninh Binh Private Car or Hanoi to Ninh Binh Limousine.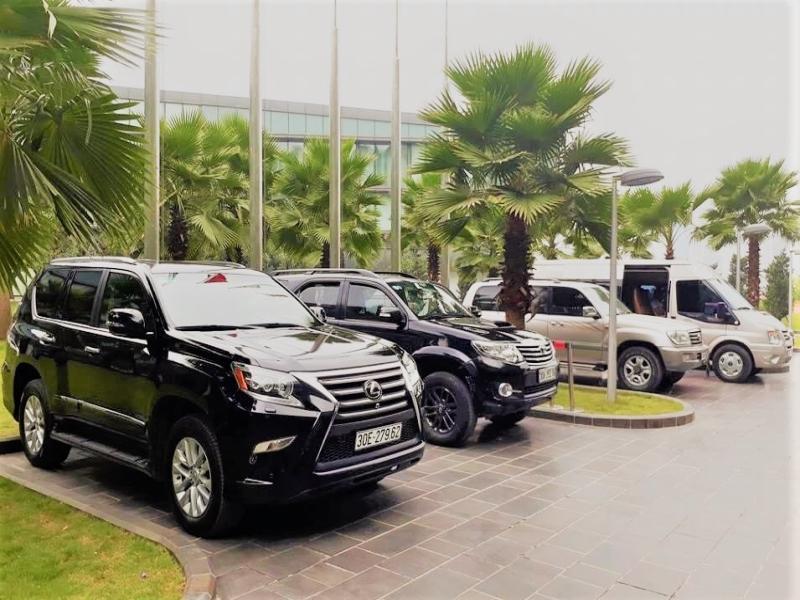 Moreover, you can also travel to Trang An following a Ninh Binh Day Tour From Hanoi. Besides, you can book our Ninh Binh Tour 2 Days – Private Tour to explore more Ninh Binh attractions.
Hanoi To Trang An Ninh Binh By Train
Next, you can travel to Ninh Binh by train is also very convenient. Train prices range from 80,000 VND to 150,000 VND/per person. From Hanoi, there are several train routes to Ninh Binh, as follows:
Train Routes Departure time Time to the railway station SE1 7:30 pm 9:44 pm SE5 9:00 am 11:15 am SE7 6:00 am 8:19 am SE19 8:10 pm 10:21 pm TN1 2:35 pm 5:03 pm
Hanoi To Ninh Binh Trang An By Coach
You can catch a coach from My Dinh coach station or Giap Bat coach station to Ninh Binh city. The coach prices can range from 50,000 to 100,000 VND. After that, from Ninh Binh city, you can continue to hire a motorbike grab, taxi or taxi grab to move into the Trang An tourist area.
In addition, you can also get to Trang An by motorbike. To get to Ninh Binh City from Hanoi, head via Van Dien – Thuong Tin and then continue straight along National Highway 1A. Then, you will see the turn to Trang An. Transferring time is about 2.5 – 3 hours.
Best Time To Visit Trang An Ninh Binh Vietnam
January-March (lunar calendar): this is the best time to visit Trang An. At this time, the weather is warm and temperate, and flowers and leaves sprout. Hence, it can be convenient for sitting on the boat and visiting scenic spots.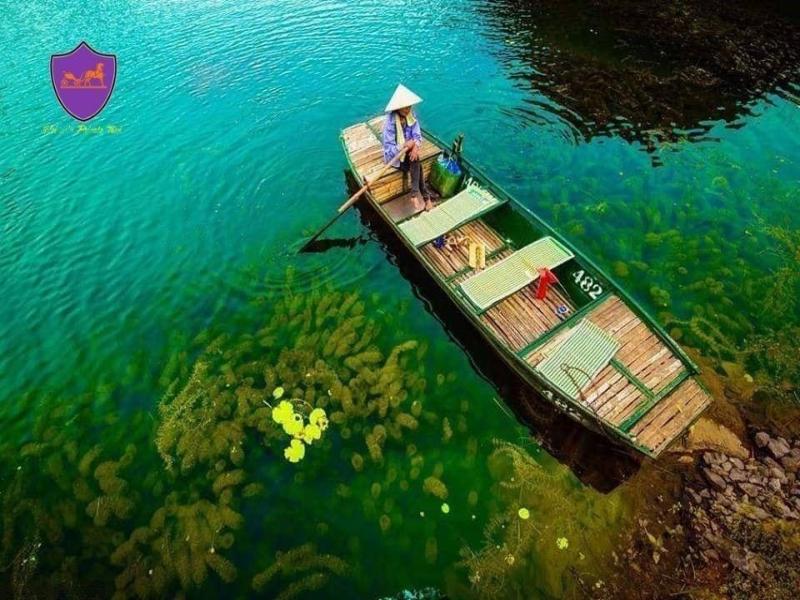 Besides, this season has many festivals, which can be combined with visiting festivals or going to pagodas to pray for peace. Plus, if you want to participate in one of the traditional Trang An festivals like the Co Lau festival, you should come here from the 8th to the 10th of the third lunar month.
In June (lunar calendar): the weather is a bit hot, but the sky is blue, and there is little rain. Additionally, suppose you want to experience the feeling of sitting on a boat on the rivers and watching the poetic ripe golden rice fields. In that case, you can also enjoy the lotus bloom ponds with a sweet and charming fragrance. Therefore, this time is very suitable for sightseeing.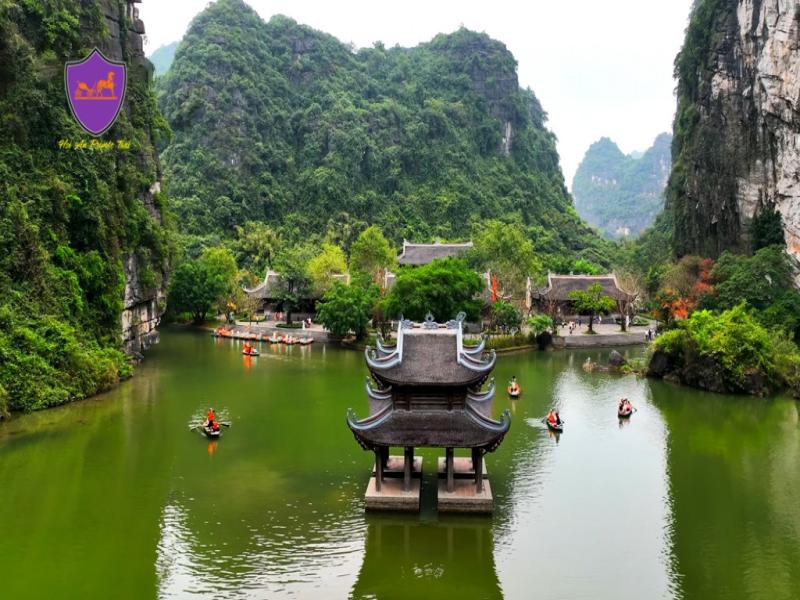 If you go in July-September, then Trang An is in the ripe rice season. Thus, you cannot miss this time if you like to see the golden rice fields on the boat. In November and December, the weather is bad since it rains a lot. Hence, you should avoid traveling to Trang An at this time.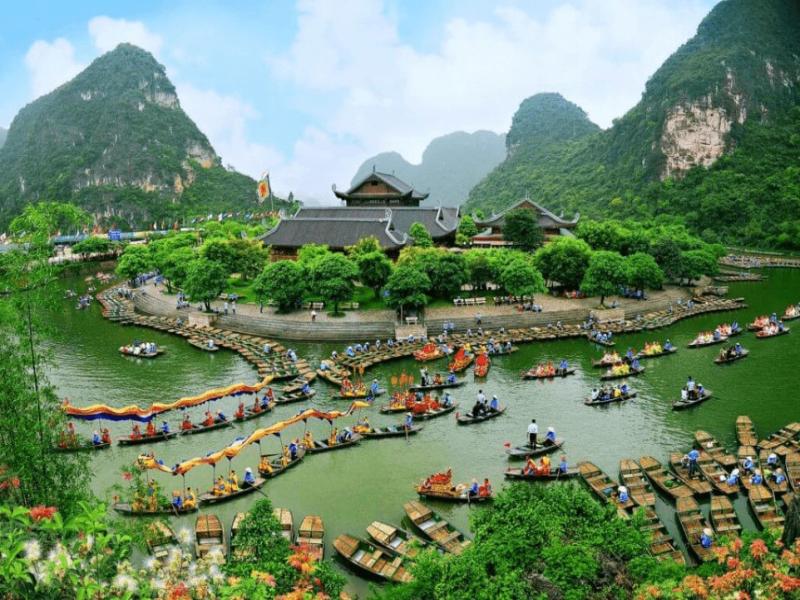 Trang An Boat Tours – Trang An Kayak Ticket Price
Three Routes Of Trang An Tours With Boat
Trang An boat tours are one of the best Vietnam tours and have three routes that you can choose from, as below:
Route 1: Boat wharf => Trinh Temple => Dark Cave => Light Cave => Nau Ruou Cave => Tran Temple => Ba Giot Cave => Seo Cave => Son Duong Cave => Phu Khong => Bao Hieu Pagoda => Tran Cave => Quy Hau Cave => back to the boat wharf (visiting time is about 3.5 – 4.5 hours).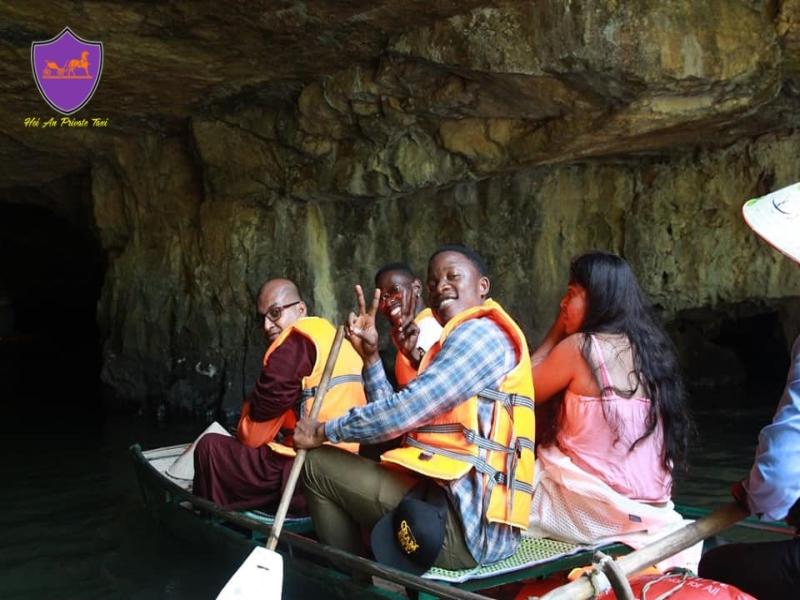 Route 2: Boat wharf => Lam Cave => Temple of deity Cao Son => Vang Cave => Thanh Truot Cave => Dia Linh Mountain => Suoi Tien Temple => Kim Quy Mountain => Dai Cave => Hanh Cung Vu Lam => back to the boat wharf (visiting time from 2 – 2.5 hours).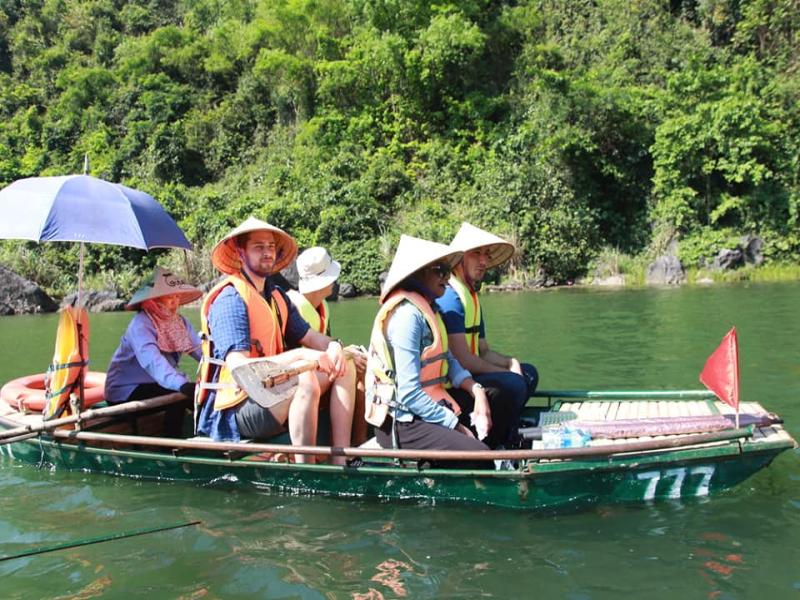 Route 3: With this route, you will admire the longest cave and all other ecological zones of the same type in Ninh Binh.
Boat wharf => Trinh Temple => Cloud Cave => Suoi Tien Temple => Dia Linh Mountain => Kim Quy Mountain => Dai Cave => Hanh Cung Vu Lam. After all, you will return to the boat wharf (duration: 3 hours).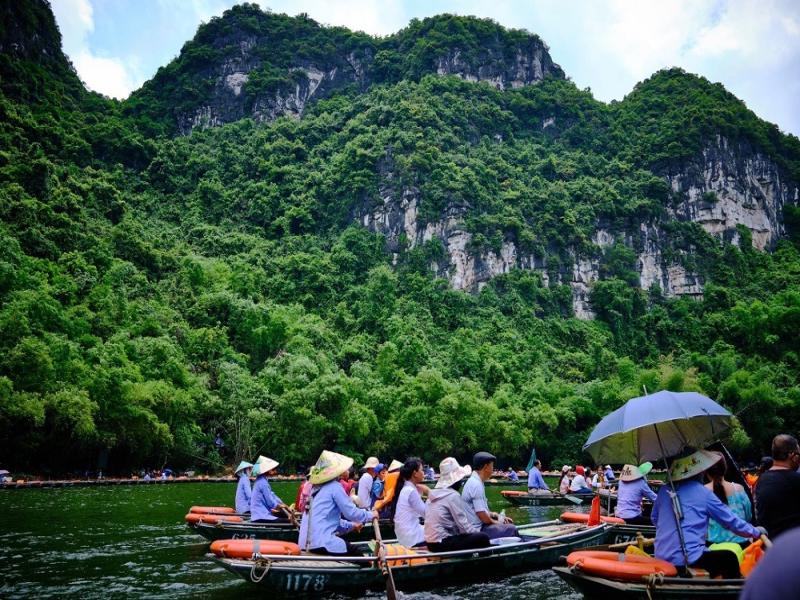 Trang An Boat Tour Ticket Price
Note: The ticket price of the Trang An boat trip includes the boat and sightseeing fees by a waterway on the Dong Ngo River. Plus, the ticket price is only used for Trang An boat tour and kayak (excluding other services: dining, parking, shopping, etc.). The Trang An boat tour price is as below: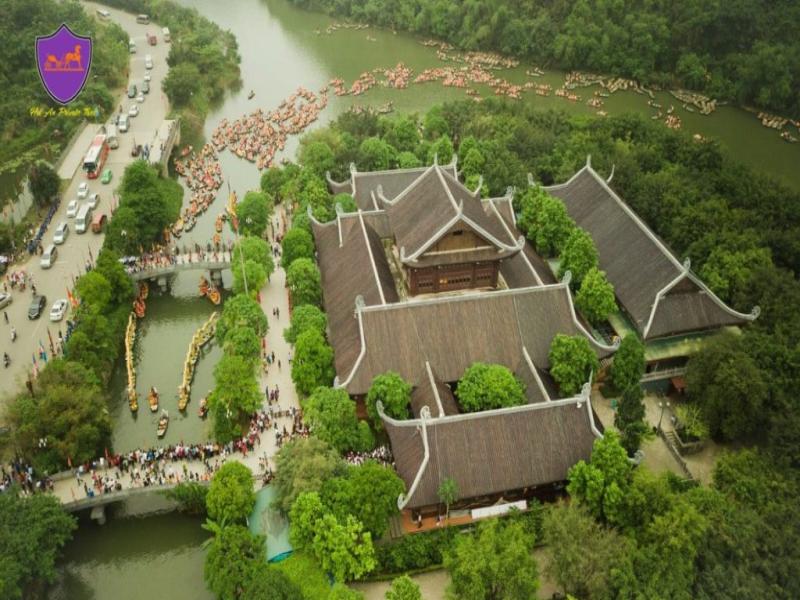 Adults over 1.3m tall: 250,000 VND/person.
Children from 1m – 1.3m: 120,000 VND/child.
Kids under 1m: free.
Private Trang An boat ride ticket (survey, record music video, filming, etc.): 1,250,000 VND/boat (the boat goes to places on request, no need to follow the usual route).
Hiring a guide: 300,000 VND/tour.
One boat can carry up to 4-5 people depending on the weight (visitors need to follow the instructions of the boat stowage department to ensure traffic safety on the river).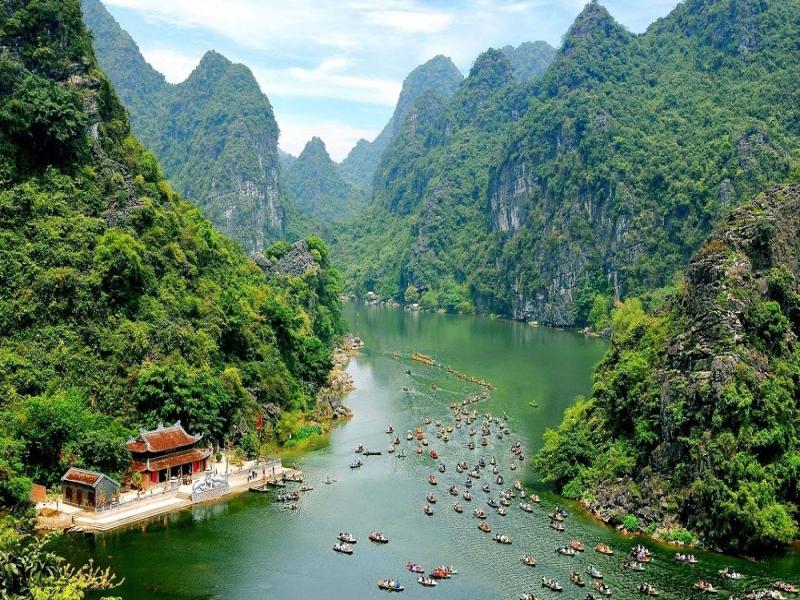 Ticket Price For Kayak In Trang An
In addition, Trang An ecotourism area also has the service of "discovering the heart of the Heritage" by kayak. That is a sightseeing activity combined with sports that tourists love because of the dynamism and the opportunity to explore the beautiful scenery of Trang An on their own. Below are the ticket prices for the kayak tour in Trang An: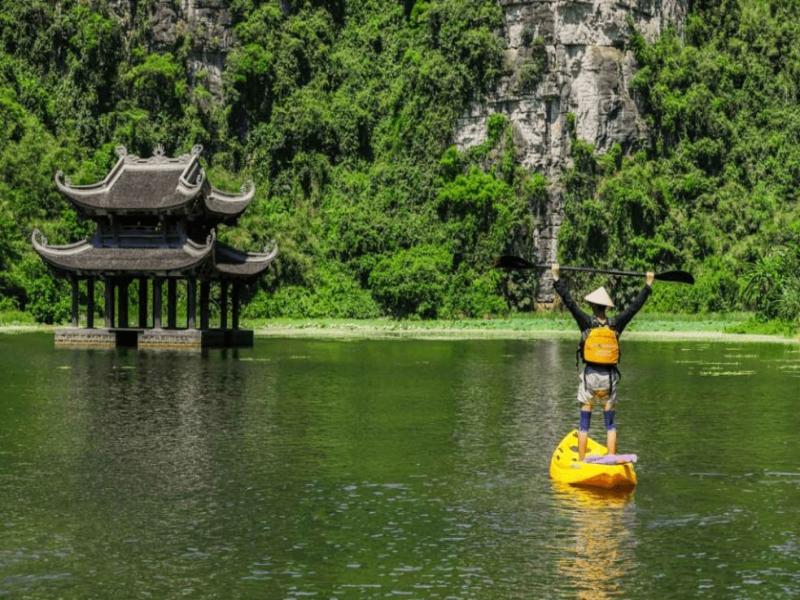 Single kayak ticket for 2 hours: 250,000 VND/boat.
The single kayak ticket for 3 hours: 300,000 VND/boat.
Double kayak ticket for 2 hours: 350,000 VND/boat (2 people/boat).
3-hour double kayak ticket: 400,000 VND/boat (2 people /boat).
What To Do In Trang An Landscape Complex's Tourist Areas?
Trang An scenic landscape complex is considered one of the "most beautiful natural wonders in Vietnam". Therefore, visitors will sit on a boat to discover the amazing things at the Trang An scenic spot. What could be more wonderful than sitting on a boat, going through 12 mysterious caves, and admiring the majestic and stunning Ninh Binh mountains?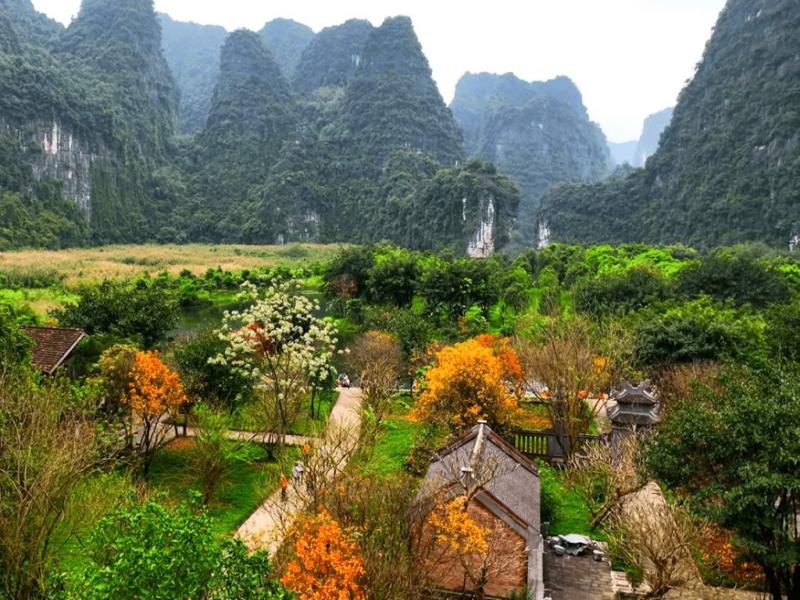 Renting Ancient Vietnamese Costumes
Ancient Vietnamese models of Trang An clothing also meet the needs of tourists to rent costumes for taking photos and recording videos when coming to Trang An Scenic Landscape Complex, Ninh Binh.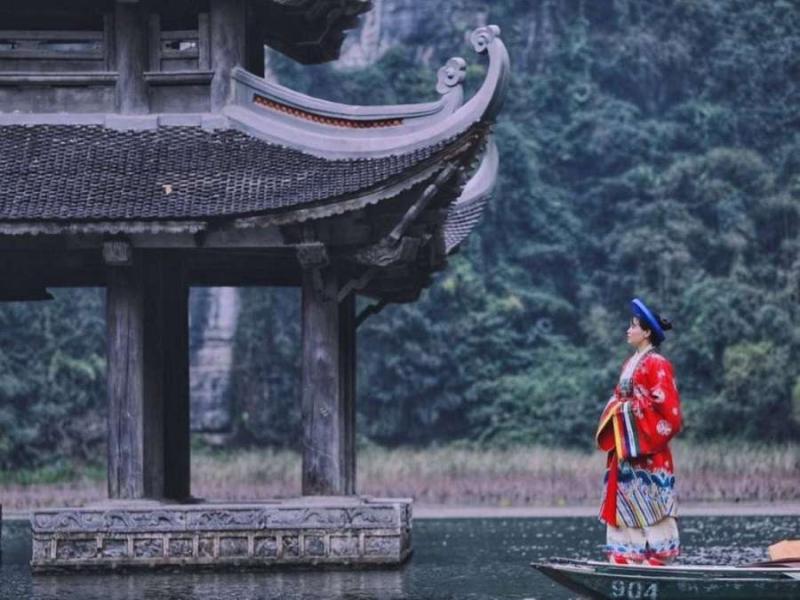 In particular, the ancient Vietnamese costumes in Trang An are the costumes of the Nguyen Dynasty, such as the Nhat Binh shirt, Tấc shirt, and Ngu body shirt. All the above clothes are sewn on brocade and silk fabric to bring a comfortable and pleasant feeling to the wearer with the nobble style.
Exploring Historical Relics in Trang An, Ninh Binh
Visitors should visit spiritual sites when traveling to Trang An to learn more about ancient Vietnamese cultural values. These are temples in the ecotourism area, such as Trinh temple, Tran temple, Tu Tru temple, etc.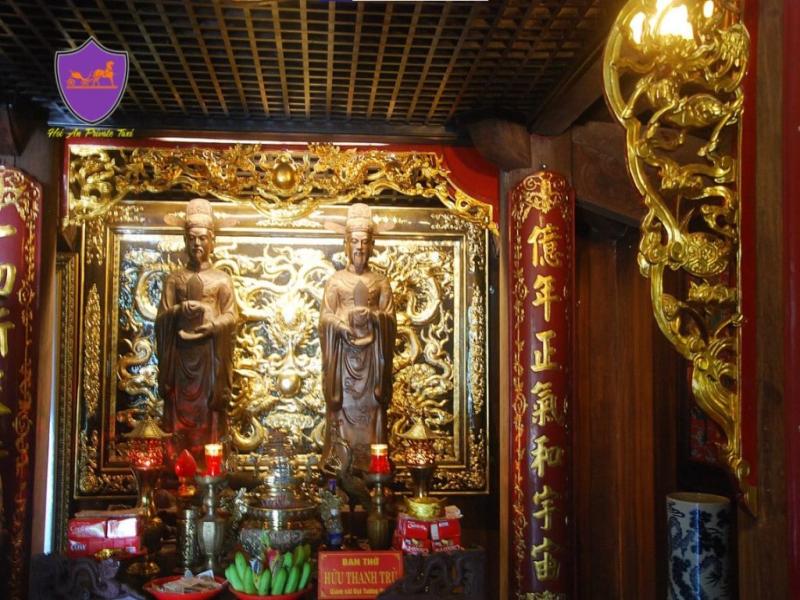 Temples In Trang An
Trinh temple
This temple is where to worship four generals of the Dinh dynasty were. These are the generals who govern the king's gold and silver vaults. It is said that after King Dinh Tien passed away, four generals brought Dinh Toan and hid in this place to avoid the pursuit of Le Hoan. And when King Le Hoan ascended the throne, they martyred themselves in this place.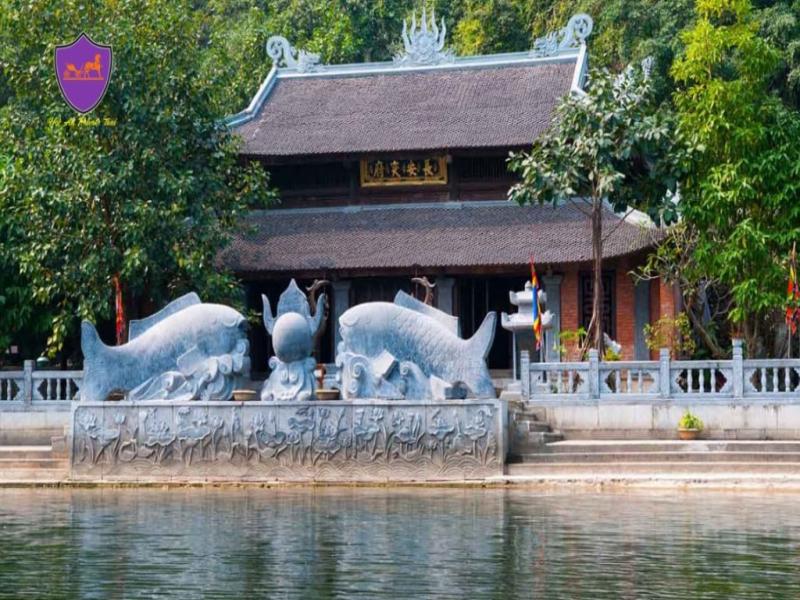 Tran temple (Noi Lam Temple) – an ancient stone temple
Tran Tran is where to worship the deity Quy Minh, the deity of the southern gate of Hoa Lu town. King Dinh Tien Hoang established this temple. However, when King Tran Thai Tong came to power, he renovated the temple and renamed it Tran temple.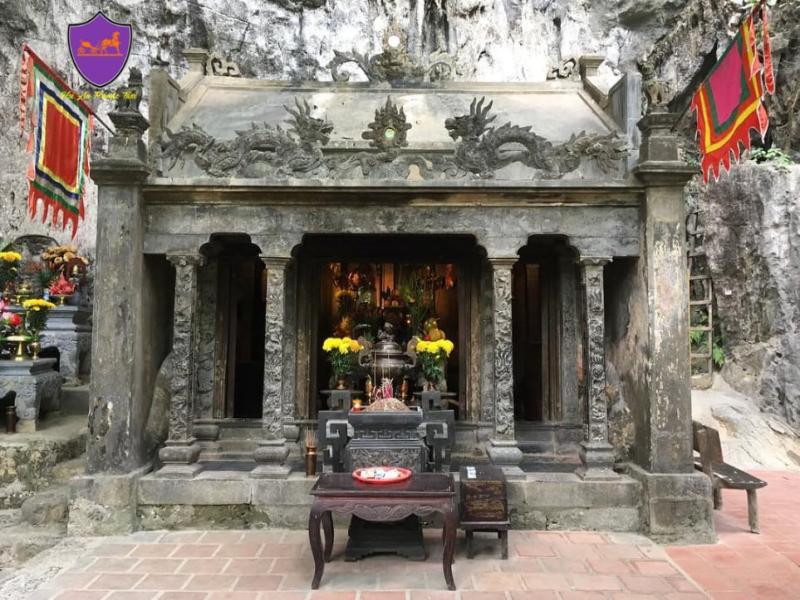 In particular, four spirits are carved on the 4 outer columns, including Long, Ly Quy and Phuong. The dragon represents power, the unicorn represents good luck, and the tortoise represents eternal existence. Lastly, the phoenix represents purity and noble.
Tu Tru temple: The temple of Four great mandarins who contributed to founding the country under the Dinh dynasty. They were Prime minister Nguyen Bac, Thai Su Luu Co, Ngoai Giap Dinh Dien and Minister Trinh Tu. These four great ministers are close and the same age as Emperor Dinh Tien Hoang. They, along with the emperor Dinh Tien Hoang, quelled 12 warlords, unified the country and established Dai Co Viet.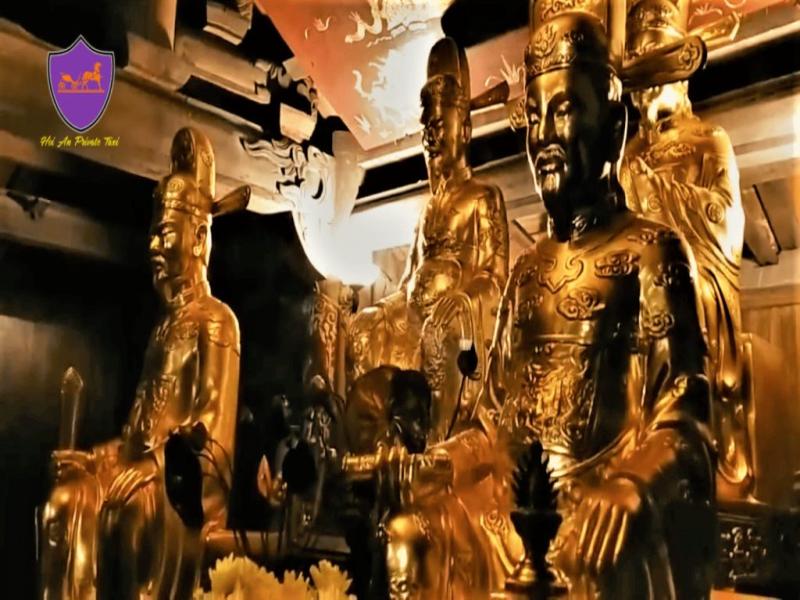 Besides those temples above, Trang An has many other temples, such as Tien Son temple, Cao Son temple, Sioi Tien temple, etc. Therefore, exploring historical sites will give you a new experience cultural values of Trang An as well as Vietnam during feudalism.
Hanh Cung Vu Lam
It was a military base under the Tran Dynasty, located deep in the core area of the Trang An Scenic World Heritage Complex. This place used to be where the first kings of the Tran Dynasty established a base to consolidate their forces and counterattack Mongol invaders.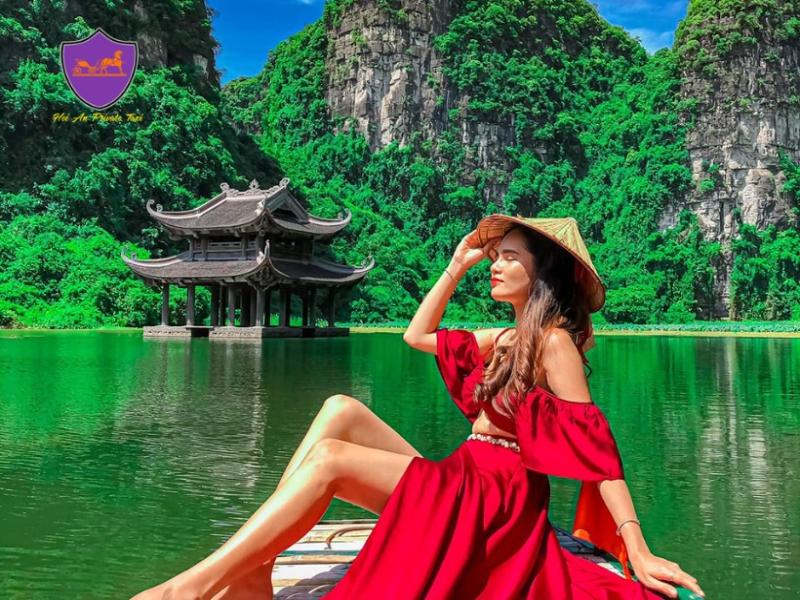 It contributed to liberating the Dai Viet country in the resistance war to defeat the Mongol invaders for the second time. Plus, this place is also associated with the event that the Tran kings left home to practice and expand Buddhism.
Phu Khong
It is on a narrow strip of land, with its back leaning against Khong cave. On the right is a steep, rocky mountain range in front of a vast water valley. Phu Khong is the place to worship the seven loyal mandarins of the Dinh dynasty, associated with legends of when Emperor Dinh Tien Hoang passed away.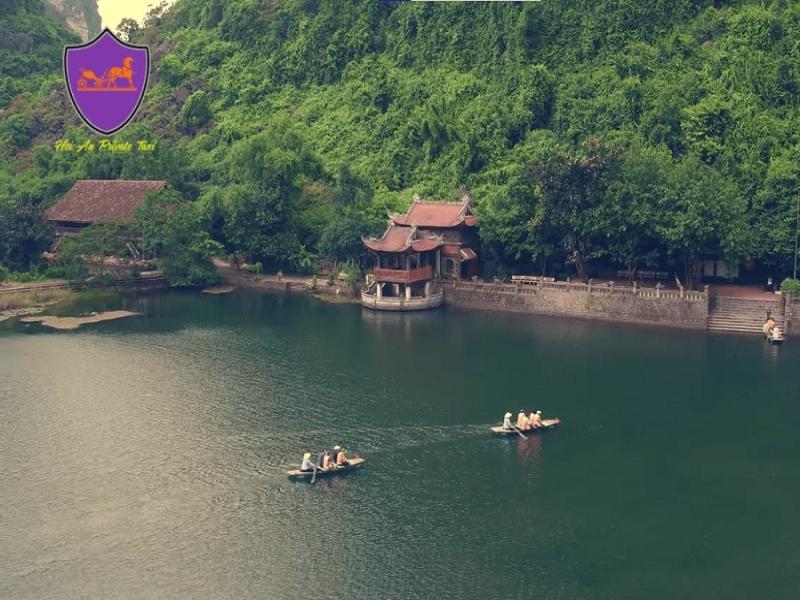 At that time, seven loyal mandarins immediately brought many coffins buried in different directions to keep the emperor's actual tomb secret and then committed suicide. Therefore, people built temples and planted a diospyros decandra tree in front of the Phu Khong to commemorate the loyalists. Plus, this diospyros decandra tree is thousands of years old, and the fruit has two types: one circle and one flat.
Admiring Trang An Grottoes
Trang An caves
Forty-eight caves have been discovered, including 2 km long trans-water caves such as Dia Linh cave, Sinh Duoc cave, May cave, etc. Each cave has unique transformed stalactites, and the water flowing from the ceiling makes the air in the cave cool.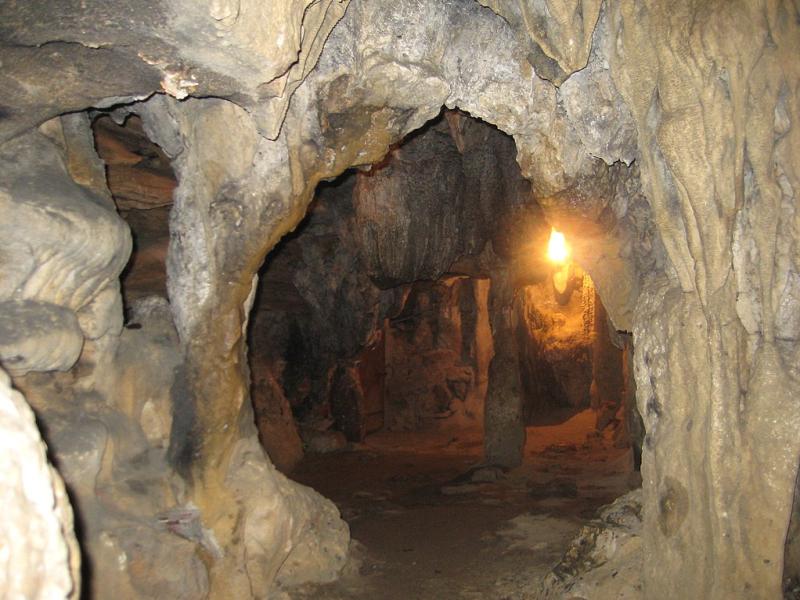 Next, the wine-making cave has clear underground water more than 10m deep. Legend has it that the ancestors came here to collect water and cook wine for the emperor. When dredging the cave, archaeologists discovered many ceramic pots, jars and tools for making wine.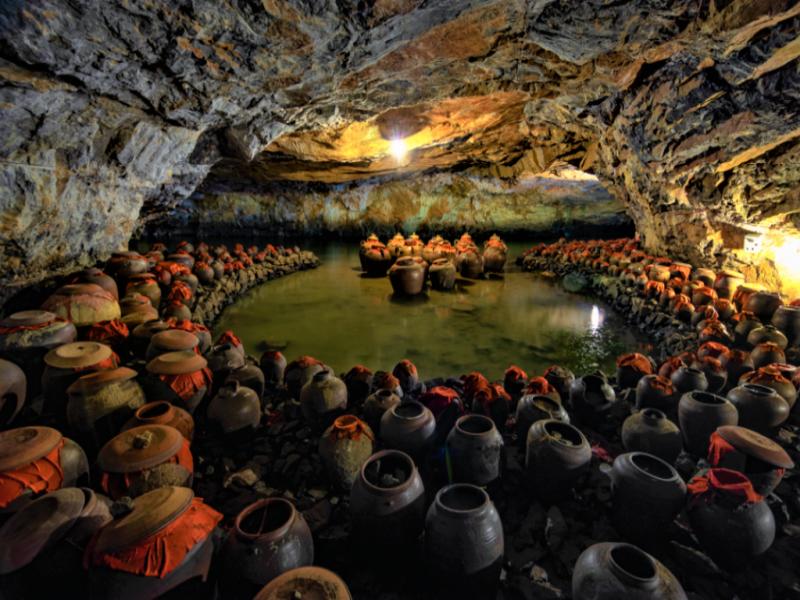 Dark Cave has a width and narrow cave that changes unexpectedly. Bright cave glitters with strange iridescent stalactites. Besides those caves above, Trang An has many other caves, such as Thien Ha cave, Am Tien cave, and so on.
Conquering Mua Cave Ninh Binh
Located in Khe Ha village, Ninh Xuan commune and is one part of the Trang An Landscape Complex. This artificial tourist area has services such as mountain climbing, weekend getaways and conferences. In addition to the beautiful scenery, the highlight of this tourist destination is the road leading to the top of Mua cave. The Mua cave was built in imitation of the Great Wall of China with nearly 500 stone steps.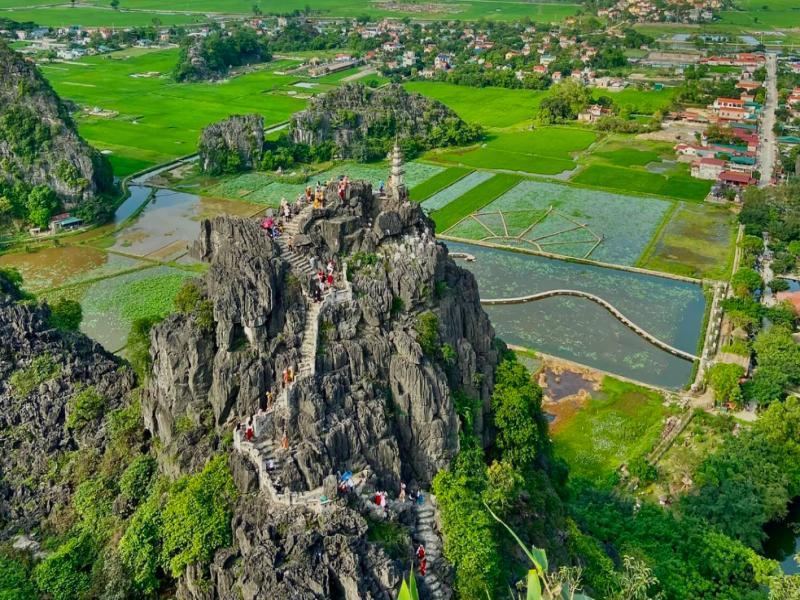 From the top of Ngoa Long mountain, visitors can admire the panoramic beauty of the Tam Coc area, a famous scenic spot in Ninh Binh. According to legend, when King Tran returned to Hoa Lu to establish Am Thai Vi, he often came to listen to beautiful women and concubines dancing and singing. Therefore, this place is named Mua Cave.
Tam Coc – Bich Dong Pagoda Tourist Area
Tam Coc – Bich Dong tourist area is a part of Trang An Landscape Complex in Ninh Hai commune, Hoa Lu district, Ninh Binh province. It is 7 km from Ninh Binh and 9 km from Tam Diep city. Significantly, the Tam Coc – Bich Dong tourist area includes many routes to visit by boat, cycling and walking, connecting about 20 tourist attractions.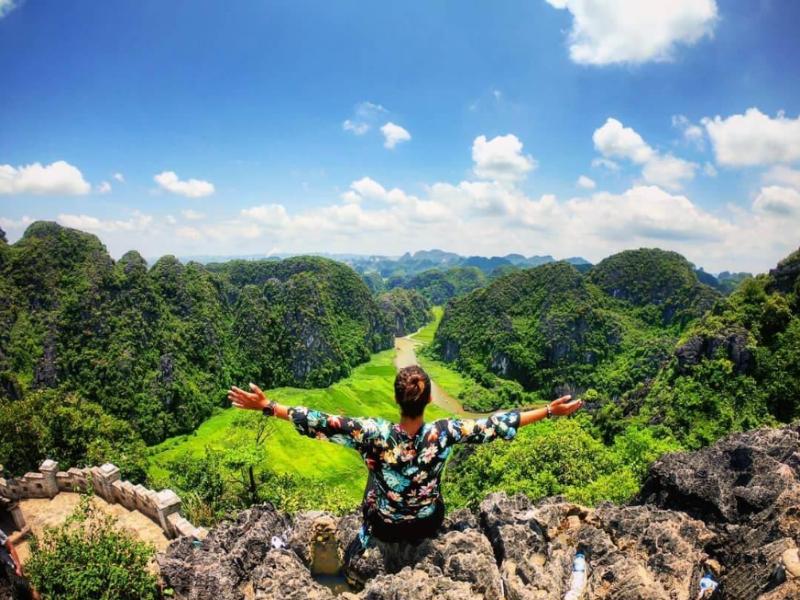 The main routes of the tourist area: Boat routes include: Van Lam wharf – Ngo Dong river – Tam Coc; Trans-hydrodynamic route (through Bich Dong); Tourist attractions for walking, cycling and climbing: Bich Dong mountain and pagoda; Tien cave; Mua cave, etc.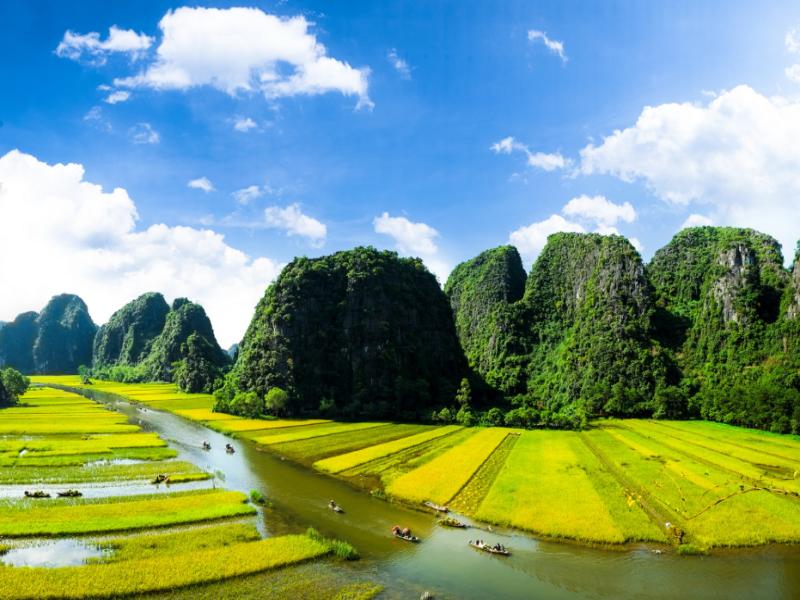 Visiting Thung Nham Ecotourism Area
The center of Hai Nham hill valley (referred to as Thung Nham) is more than 40 hectares wide, located at the westernmost tip of Ninh Hai commune and Hoa Lu district, 14 km from Ninh Binh city center.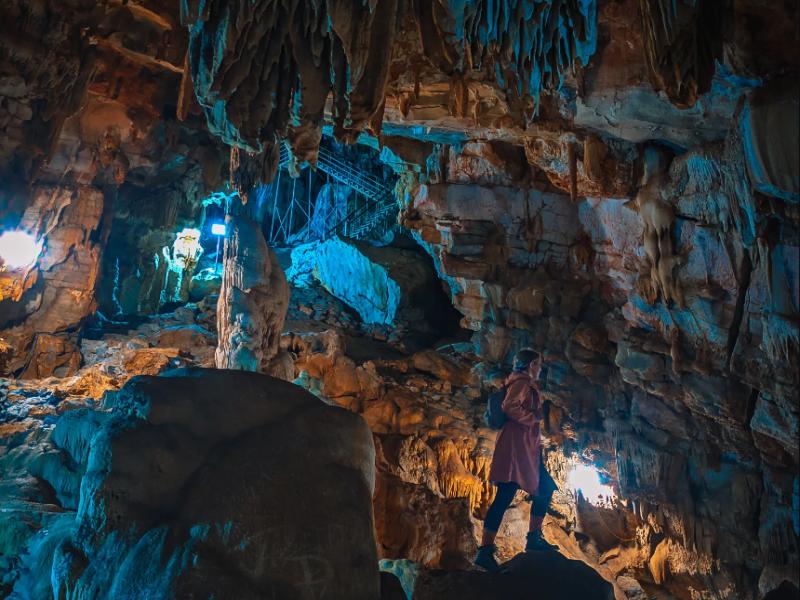 Thung Nham ecotourism area is one of the tourist attractions in the core area of the world Trang An landscape complex. This tourist area is located in Hai Nham valley, with the main highlight being the natural bird garden, rich and rare flora and fauna ecosystem. Plus, It has beautiful natural caves, typically: Vai Gioi cave, Tien Ca cave, Thuy Cung cave, and so on.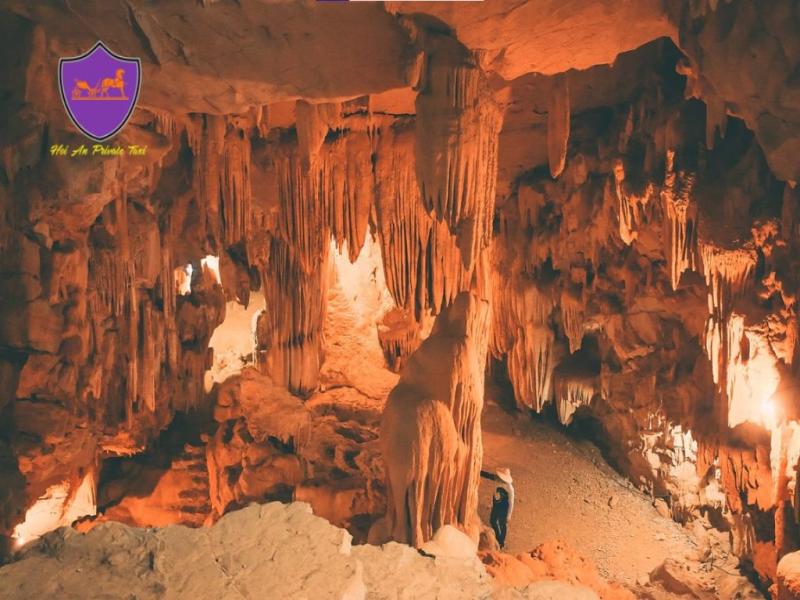 Moreover, Thung Nham bird park spreads over an area of more than 300 hectares and is home to about 40,000 birds. Plus, this palace has about 5,000 bird nests belonging to 46 species. Especially, the bird garden is that there are two particularly rare species of birds listed in the Red Book of Vietnam: flamingos and phoenix birds.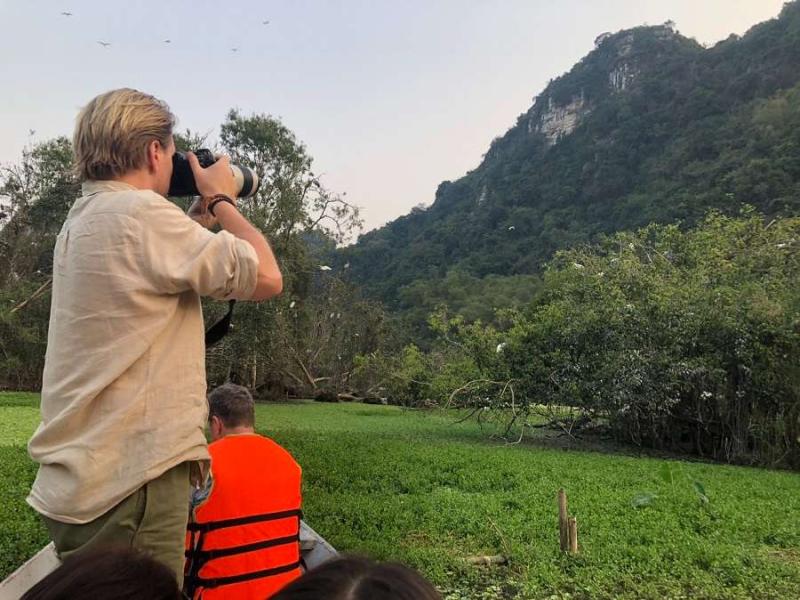 Last but not least, Trang An Landscape Complex has many other tourist areas, such as Thung Nang, Tuyet Tinh Coc, Am Tien cave, and so on. Hence, you can stay in Trang An for many days to explore its entire beauty.
Enjoying Delicious Ninh Binh Food In Trang An Restaurants
Besides the ecotourism areas and relics, the Trang An landscape complex is renowned for its cuisine as well. Therefore, we recommend some of the best Ninh Binh foods you must try when traveling to Trang An, Vietnam.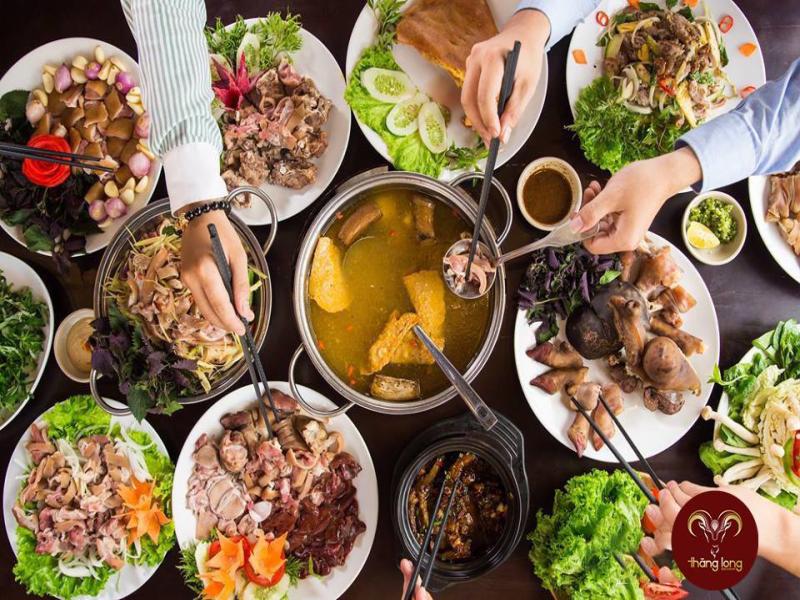 Ninh Binh Food in Trang An Landscape Complex
Mountain goat meat is the most famous specialty dish in Ninh Binh, served with burnt rice. Most importantly, goat meat is tough, delicious, and fragrantly processed, which many tourists from near and far love. A plate of mountain goat meat costs about 100,000-150,000 VND.
Ninh Binh Rice Crust: When you have the opportunity to travel to Trang An, you cannot ignore this delicious specialty. Crispy, golden brown rice is served with goat meat and greasy, delicious goat meat sauce, creating a strange and unique feeling.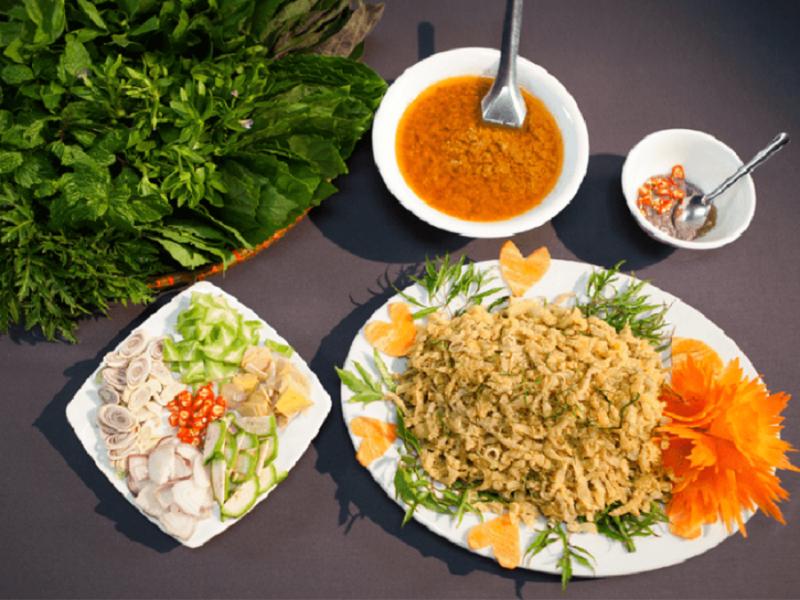 Nem Yen Mac (Yen Mac fermented pork roll): It is made from raw meat mixed with pork skin. When eating, visitors roll with fig leaves dipped in a fish sauce mixed with vinegar will feel spicy at the tip of the tongue, but swallowing it throughout the neck will be full of flavor. Furthermore, it is more delicious when sipping with Nho Quan wine. The price is from 50,000 – 70,000 VND/1 piece.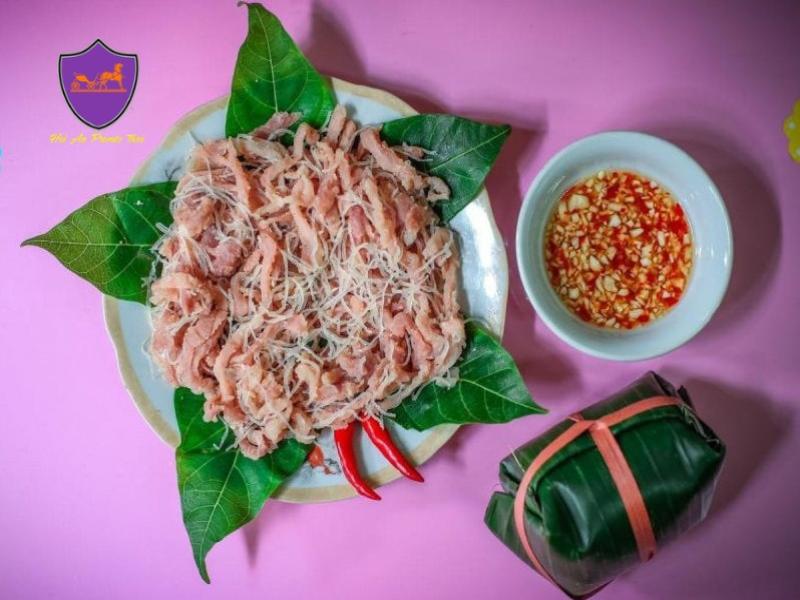 Ninh Binh mountain snail: This is a rare specialty of Ninh Binh. However, snails only appear in the rainy season in Nho Quan Ninh Binh. When the weather is dry, the snail will disappear like never before. Mountain snails have a delicious, chewy taste.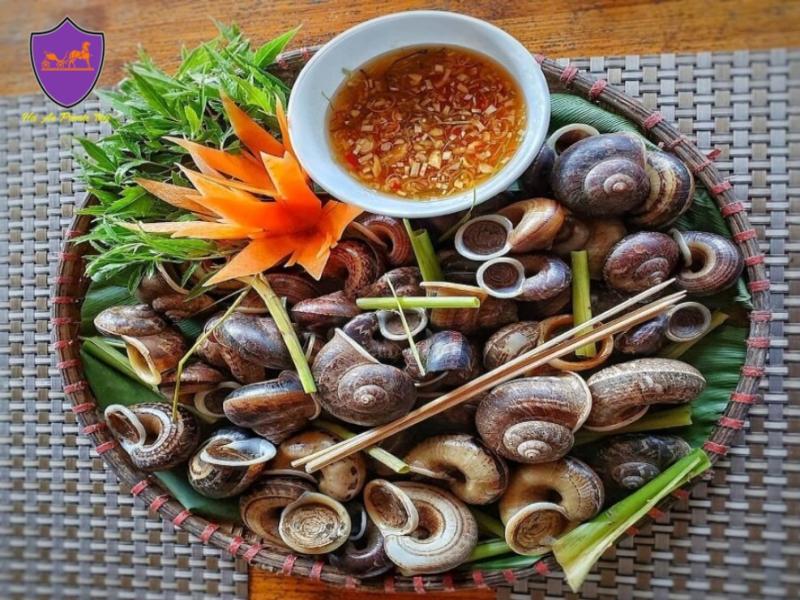 Kim Son swamp-eels salad: The swamp-eels salad is fragrant and chewy without being fishy. This famous swamp-eels is raised in Kim Son waters, so it has the characteristics of the land here. Thus, many male tourists love this dish.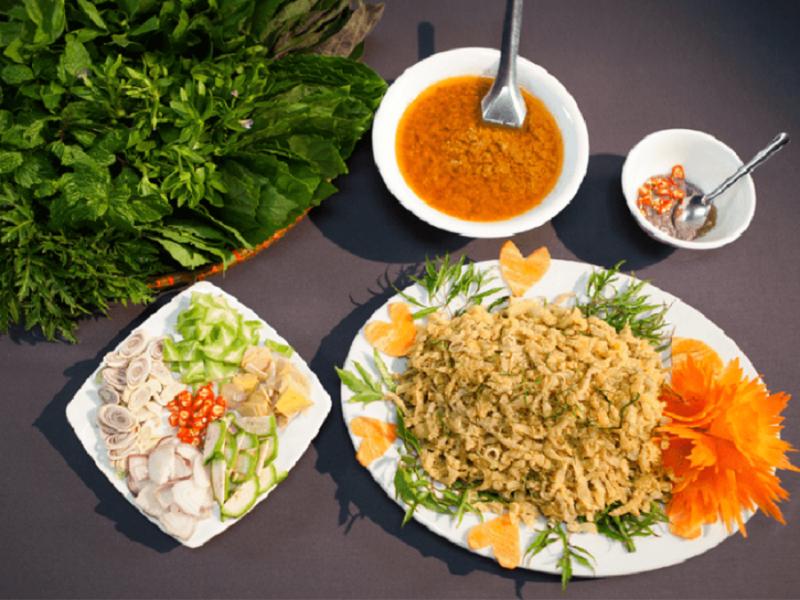 Some Trang An Restaurants To Enjoy The Dishes
3. Cuc Phuong restaurant
Address: Dong Tam village – Cuc Phuong – Nho Quan, Ninh Binh, Vietnam.
Phone: 097 673 51 01.
Cuc Phuong restaurant has the number one delicious Ninh Binh mountain snail because the dish is very fragrant with tough and thick snail meat. In addition to mountain snail specialties, you can enjoy other specialties such as goat meat, rice crust, etc.
Where To Stay In Ninh Binh For Exploring Trang An Landscape Complex?
Hoalu Ecolodge Homestay
Address: Trang An, Truong Yen, Hoa Lu, Ninh Binh.
Reference price: 370,000 – 400,000 VND/room.
Phone: 091 567 4679.
Tam Coc Garden Resort
Address of Tam Coc Garden Boutique Resort: Hai Nham Hamlet, Ninh Hai Commune, Hoa Lu District, Tam Coc – Bich Dong Caves, Ninh Binh, Vietnam. Additionally, Tam Coc Garden Resort Ninh Binh is located near the Tam Coc-Bich Dong tourist area. Thus, visitors can quickly move to visit this famous tourist area.
Emeralda Resort Ninh Binh
Address: Van Long lagoon conservation area, Gia Van Commune, Gia Vien District, Ninh Binh.
Located on the edge of Van Long Nature Reserve, Emeralda Ninh Binh Resort offers spacious villa-style rooms with free internet. Surrounded by landscaped gardens, it features a spa, three swimming pools and two restaurants. Moreover, the Emeralda Ninh Binh Resort and Spa is a 30-minute drive from Tam Coc-Bich Dong cave, and Cuc Phuong National Park is 30 km away.
The Reed Hotel
Address: Dinh Dien Street, Dong Thanh Ward, Ninh Binh City. Phone: (+84) 229 3889979.
It is 7 km from Trang An Ecotourism Area and Hoa Lu ancient capital, and the hotel provides a bicycle rental service. Plus, the Reed hotel offers air-conditioned rooms with free WiFi throughout the property, etc.
Conclusion
On the whole, the above is information about Trang An Scenic Landscape Complex that Hoi An Private Taxi summarizes. We wish you a happy holiday and many exciting experiences when coming to Trang An Landscape Complex in Ninh Binh, Vietnam!