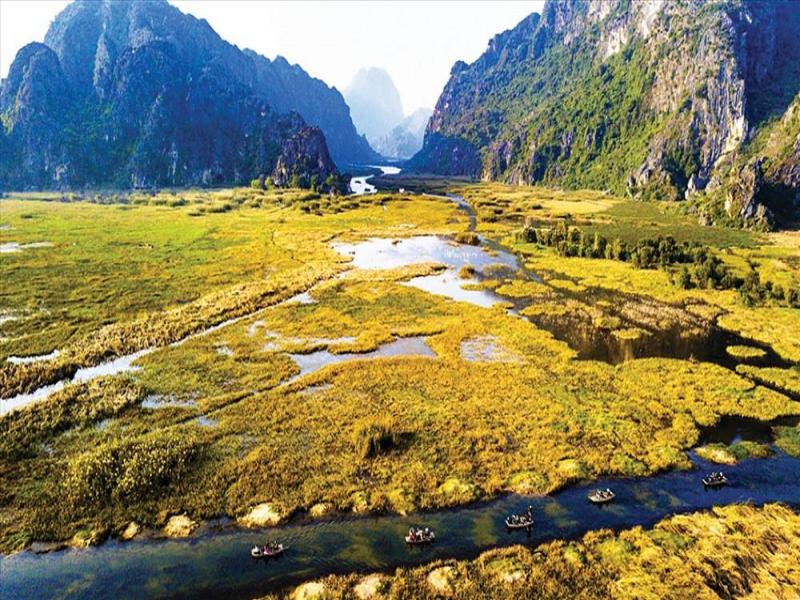 Source: laodong
Van Long Nature Reserve is a hidden gem nestled in Northern Vietnam, offering an unforgettable experience for nature lovers and ecotourism enthusiasts. This enchanting destination showcases a diverse ecosystem, captivating rare animals, and breathtaking landscapes. As one of the largest wetlands in the Northern Delta, Van Long Nature Reserve has captured the attention of both tourists and researchers from around the world. In fact, it even served as a filming location for the movie "King Kong – Skull Island" in 2017, showcasing its pristine beauty to a global audience.
I. Overview of Van Long Nature Reserve
Van Long Nature Reserve is located 17 km northeast of Ninh Binh city center, near Trang An Ecotourism Complex and Cuc Phuong National Park. Stretching over 7 communes of Gia Vien District, this nature reserve covers a vast area of over 3,500 ha, with 2,745 ha under the management of the reserve. It is known for its natural beauty and is considered the largest inland wetland in the Northern Delta. The name "Van Long" reflects the locals' dream for a peaceful life, as "Van" means "cloud" and "Long" means "dragon," symbolizing the harmonious connection between water and blessings.
II. The Best Time to Visit Van Long Nature Reserve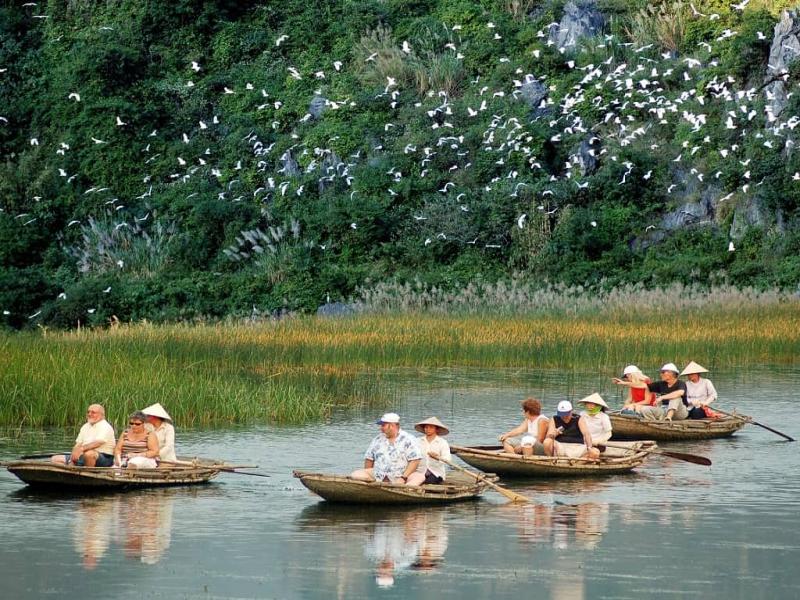 Source: visitninhbinh
Van Long Nature Reserve is a year-round destination, but certain periods offer unique natural spectacles. May to June is the ideal time to witness the waters of Van Long adorned with vibrant pink lotus flowers, providing a perfect backdrop for romantic photographs. From November to April, during the dry season, water birds flock to Van Long to build nests, creating a mesmerizing white spectacle. To catch the stunning sight of flocks of birds, especially storks, returning to their nests, it is recommended to visit in the late afternoon, around 15:30 – 16:30.
III. Highlights of Van Long Nature Reserve
1. Biodiversity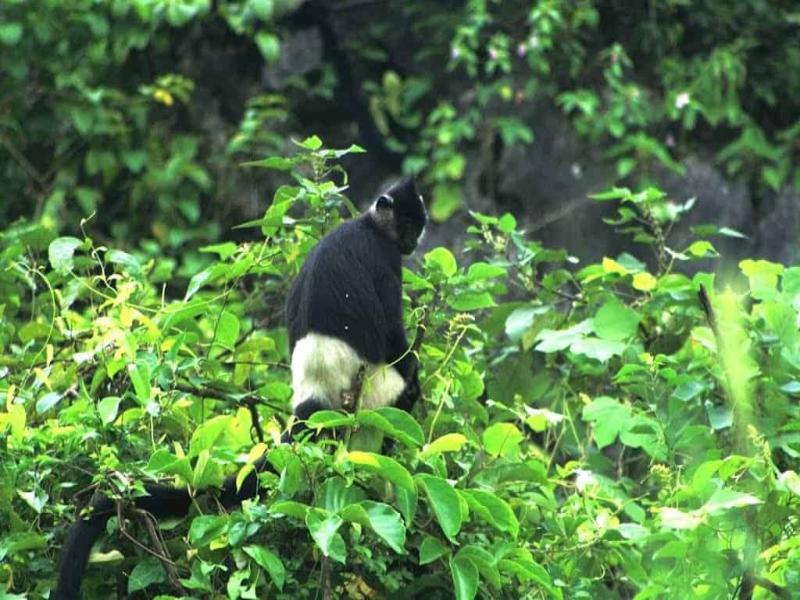 Source: mytour
Van Long Nature Reserve boasts a rich biodiversity, with its limestone ecosystem serving as a habitat for various species. Notably, it is home to the largest community of Delacour's Langur, with over 100 individuals. The flora ecosystem comprises 722 species, including 8 listed in Vietnam's Red Data Book. The fauna ecosystem is equally captivating, with 39 species and 19 families, featuring rare animals like Tibetan bears, chamois, and stump-tailed macaques. If you're a bird-watching enthusiast, Van Long offers a stunning bird garden with over 100 species, including Chinese pond herons, cattle egrets, and white storks.
2. Landscapes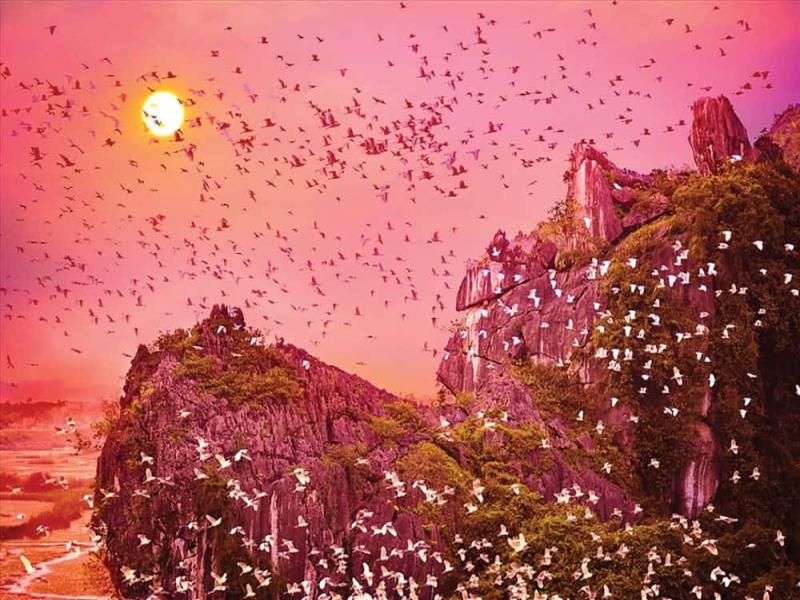 Source: laodong
Van Long Nature Reserve not only showcases remarkable biodiversity but also presents awe-inspiring landscapes. Embark on a boat trip through the serene waters, resembling a giant mirror, surrounded by limestone mountains. The crystal-clear water allows you to observe the layers of moss and algae on the bottom. The reserve is also blessed with unique limestone mountains, each with its own distinct shape and name, such as Meo Cao Mountain, Co Tien Mountain, Mam Xoi Mountain, and Hom Sach Mountain. Exploring the reserve also offers the opportunity to visit numerous beautiful caves, including Ca Cave, Rua Cave, Bong Cave, and Chanh Cave.
IV. What to See and Do in Van Long Nature Reserve?
1. Contemplate a Collection of Beautiful Caves
Van Long Nature Reserve presents an array of stunning caves to explore. One of the most impressive caves is Hang Ca Cave, a unique half-submerged, half-dried cave measuring 250m in length, 8m in height, and 10m in width. As you venture through the cave, you'll catch glimpses of a small valley and may even spot cauldrons, storks, and langurs swimming alongside your boat.
2. Gaze at Splendid Limestone Mountains
Limestone mountains are a hallmark of Ninh Binh's landscape, and Van Long Nature Reserve is no exception. Explore the reserve's picturesque limestone mountains, such as Meo Cao, Mam Xoi, Da Ban, and Hom Sach. You'll be captivated by the intricate formations created by Mother Nature.
3. Visit Mountainous Temples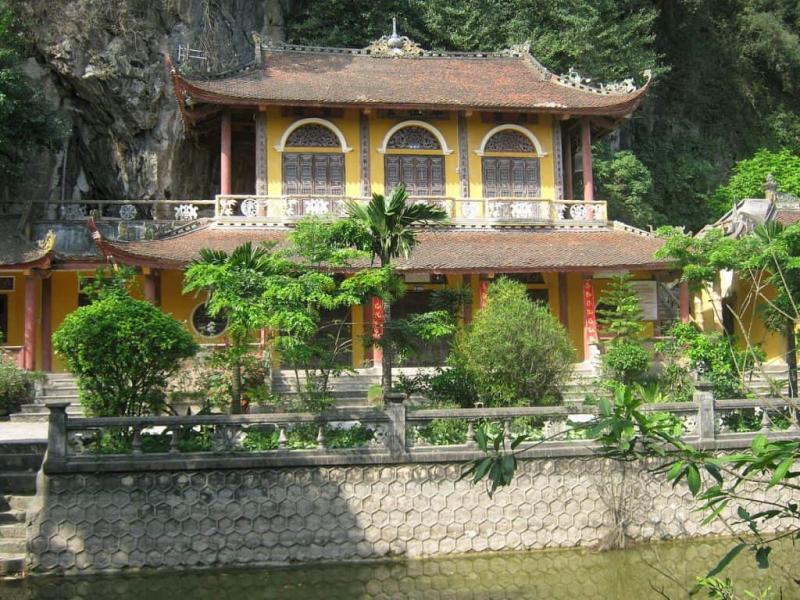 Source: wikipedia
Within the reserve, you'll find a complex of pagodas and temples nestled on the mountains. Take the opportunity to visit Dich Long Pagoda, Thanh Mau Temple, and Thanh Son Pagoda, where you'll also come across a remarkable 600-year-old Diospyros decandra tree.
4. Try Local Tastings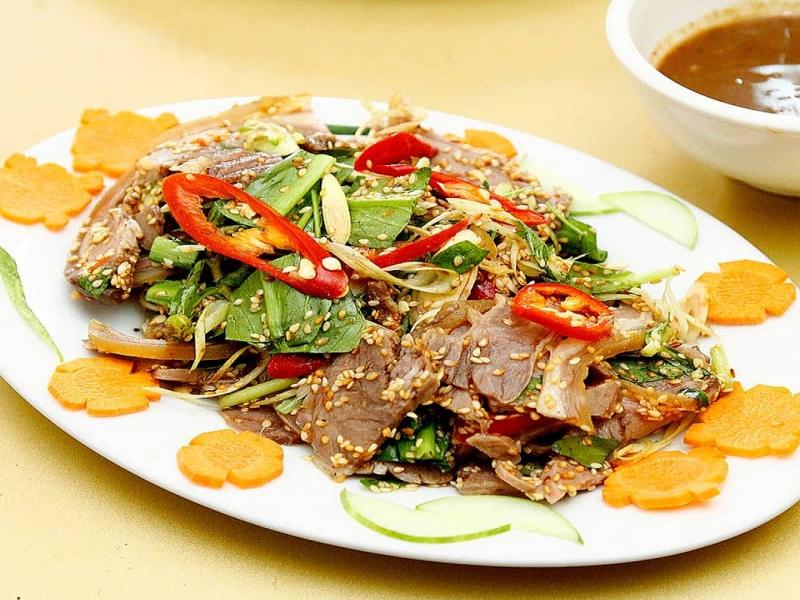 Source: travelgear
No visit to Van Long would be complete without indulging in the tantalizing local cuisine. Ninh Binh is renowned for its culinary delights, including crispy rice, goat meat, mountain snails, raw Nhech fish salad, and grilled snakehead. To satisfy your taste buds, consider visiting some excellent restaurants in Van Long, such as Bao Minh Ngoc Restaurant, Nha La Restaurant, and Duy Du Restaurant.
V. Where to Stay in Van Long Nature Reserve?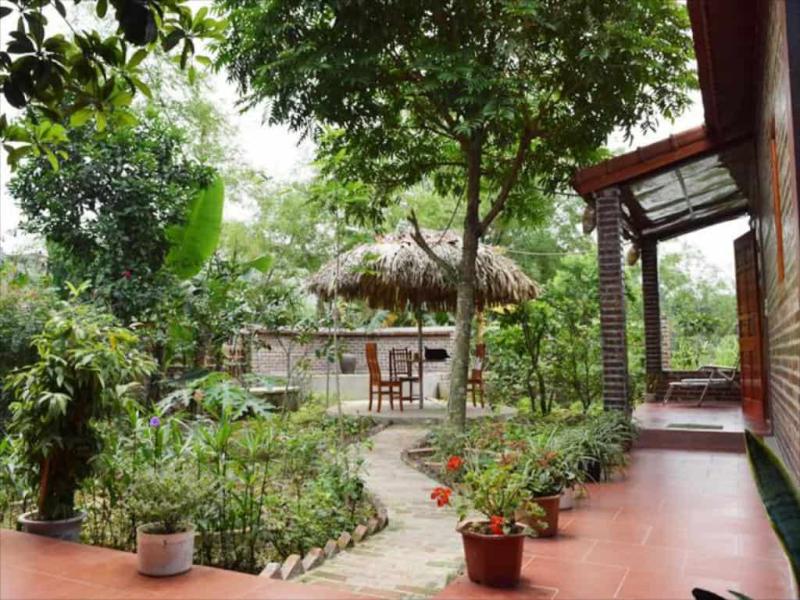 Source: agoda
For an immersive experience, staying overnight in Van Long Nature Reserve is highly recommended. Homestays offer the chance to live, eat, and interact with local residents, providing a unique cultural experience. Consider these options for accommodation in Van Long Nature Reserve: Van Long Homestay, Emeralda Resort Ninh Binh, and Huong Tra Hotel.
VI. How to Get to Van Long Nature Reserve?
Source: travelgear
Go to Ninh Binh
By Train: Traveling by train is convenient, as Ninh Binh is situated on the North-South Railway. There are various railway stations in Ninh Binh Province, including Ninh Binh, Cau Yen, Ghenh, and Dong Giao Train Station. Trains from Hanoi to Ninh Binh include SE1, SE3, SE5, SE7, SE9, SE19, and SE35. From Ho Chi Minh City, the suitable train is SE8, departing at 6:00 and arriving in Ninh Binh at 18:05.

By Car: You can reach Ninh Binh by car via the Phap Van – Cau Gie – Ninh Binh Highway. The distance from Hanoi is approximately 90 km, taking around 1 hour to reach the city center.

By Motorbike: For those preferring to travel by motorbike, take the old National Highway 1A, passing through Ha Nam and heading towards Ninh Binh – Thanh Hoa.
Ninh Binh – Van Long
The distance between Ninh Binh City and Van Long is approximately 20 km. If traveling by private car, head back on National Highway 1A in the direction of Ninh Binh – Hanoi. Upon reaching Gian Khau Crossroad (477 Street), turn left and continue for about 5 km until reaching Van Long Market. From there, turn right and travel another 2 km to reach Van Long Boat Wharf. If you prefer taking the bus, catch bus number 01 or 09, which runs along 477 Street.
VII. Extra Tips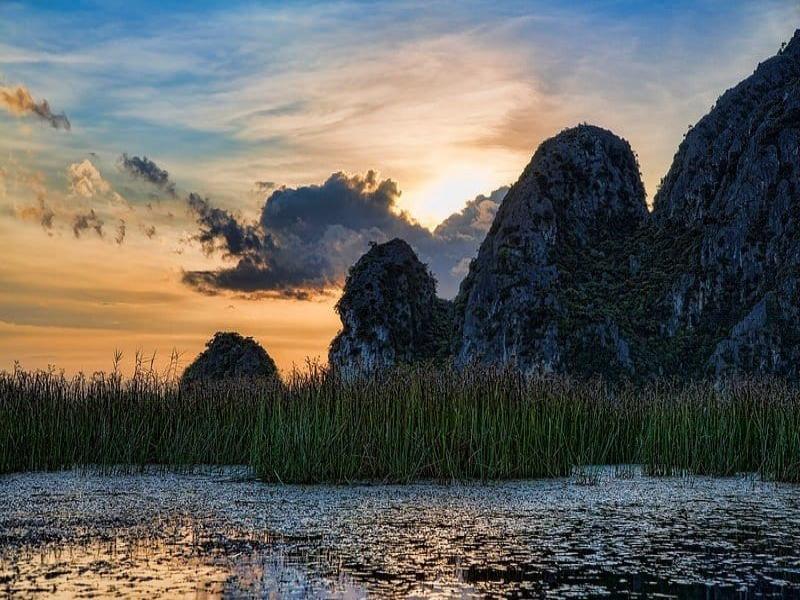 Source: mytour
Be prepared with hats, sunscreen, or umbrellas if visiting during the summer.
Each boat accommodates a maximum of 3-4 people.
Consider giving the boatman a small tip, around 40,000 – 50,000 VND per boat.
Birdwatchers should bring binoculars or good camera lenses for optimal viewing.
Experience the wonders of Van Long Nature Reserve, immerse yourself in its breathtaking landscapes, and explore its rich biodiversity. Plan your visit to this captivating ecotourism destination and create lifelong memories amidst Vietnam's natural beauty.
To learn more about Van Long Nature Reserve, visit Ninh Binh Province