Ninh Binh may not be as well-known as other destinations in Vietnam, but it offers a unique experience for nature lovers. Located southeast of Hanoi, Ninh Binh serves as a base for exploring the surrounding area. The town itself may not have many famous sights, but its proximity to Tam Coc, Van Long, and Hoa Lu makes it an ideal choice for those seeking unspoiled natural beauty. With its craggy limestone scenery, Ninh Binh is the perfect destination for travelers looking to take the road less traveled in Vietnam. Here are the top 25 things to do in Ninh Binh:
1. Visit Tam Coc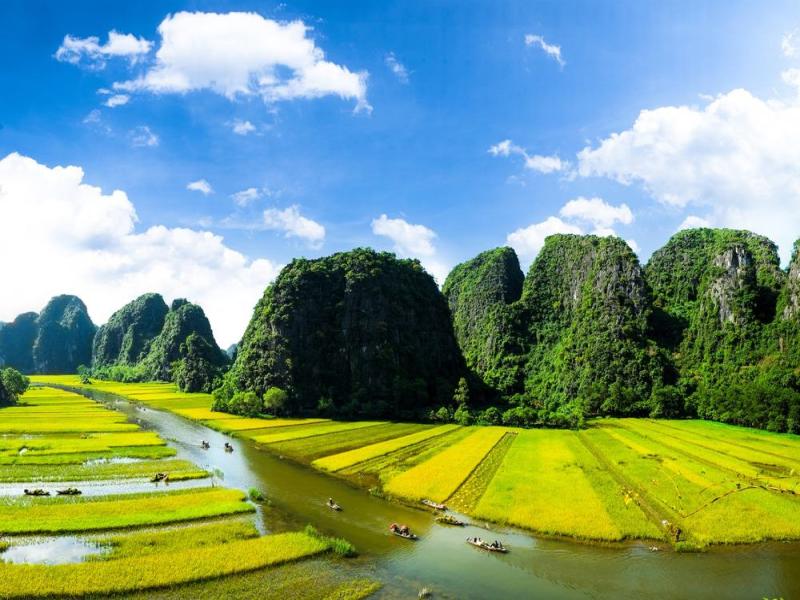 Tam Coc is a hidden gem in Vietnam, known for its picturesque karst landscape of limestone hills and emerald green rice paddies. Less crowded than Halong Bay, Tam Coc offers a peaceful and off-the-beaten-path experience. Explore the area by boat, and take in the stunning scenery during the approximately two-hour boat ride.
2. Eat at the Snail Restaurants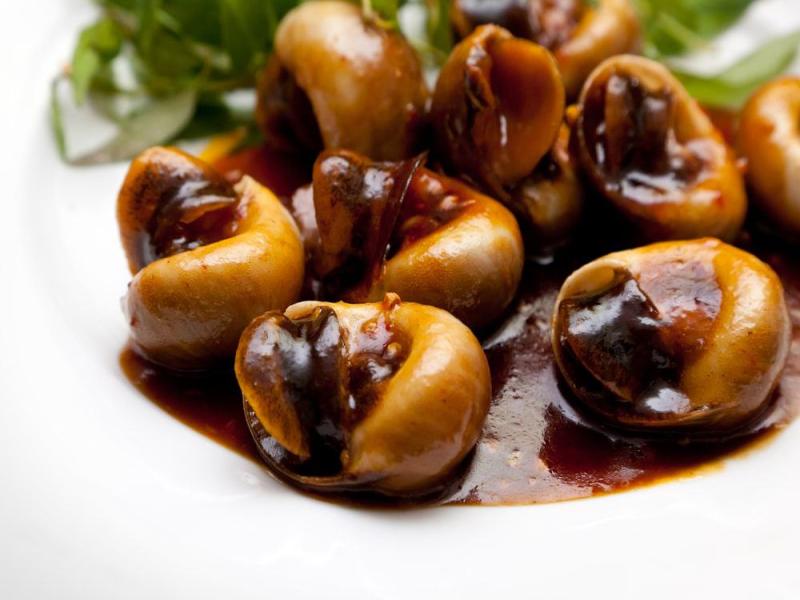 Indulge in the local cuisine at the snail restaurants near D Luong Van Tuy Lane. Sample oc luoc xa, a delicacy made from snails cooked with aromatic lemongrass and hot chilies. If snails aren't your thing, you can also find bars in the area where you can relax and enjoy a drink. Don't miss the chance to taste the unique flavors of Ninh Binh.
3. Visit Phat Diem Cathedral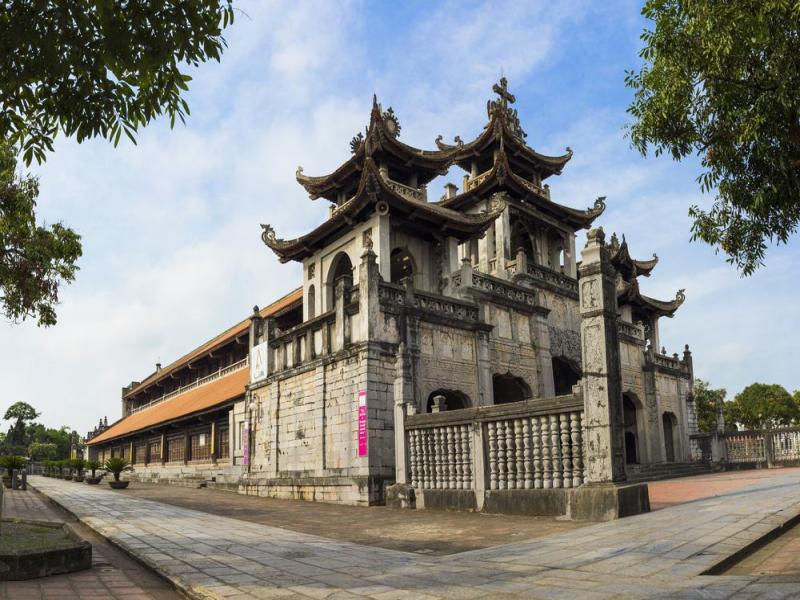 Just a short distance from Ninh Binh, Phat Diem Cathedral is a must-visit attraction. With its scenic canals and rice paddies, this cathedral was once known as the "Vatican of Vietnam" during the colonial period. Built in 1898, it boasts a unique blend of Vietnamese and Western architectural styles. Explore the cathedral and marvel at its impressive scale and breathtaking location.
4. Explore Van Long Nature Reserve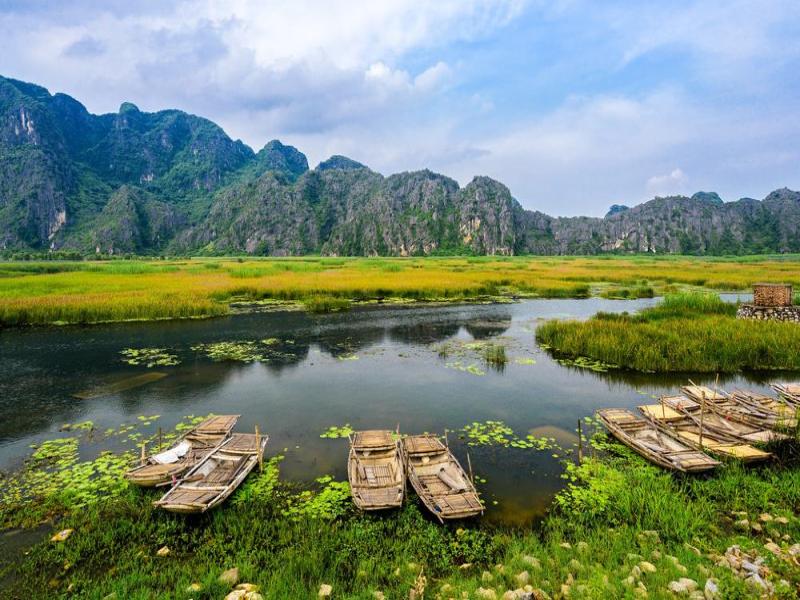 For nature enthusiasts, a visit to Van Long Nature Reserve is a must. This protected wetland reserve is a haven for local flora and fauna. Immerse yourself in the beauty of the reserve and spot a variety of Vietnamese wildlife, including monkeys, reptiles, and birds. Van Long offers a unique opportunity to experience Vietnam's natural wonders up close.
5. Have lunch at Cho Bop Market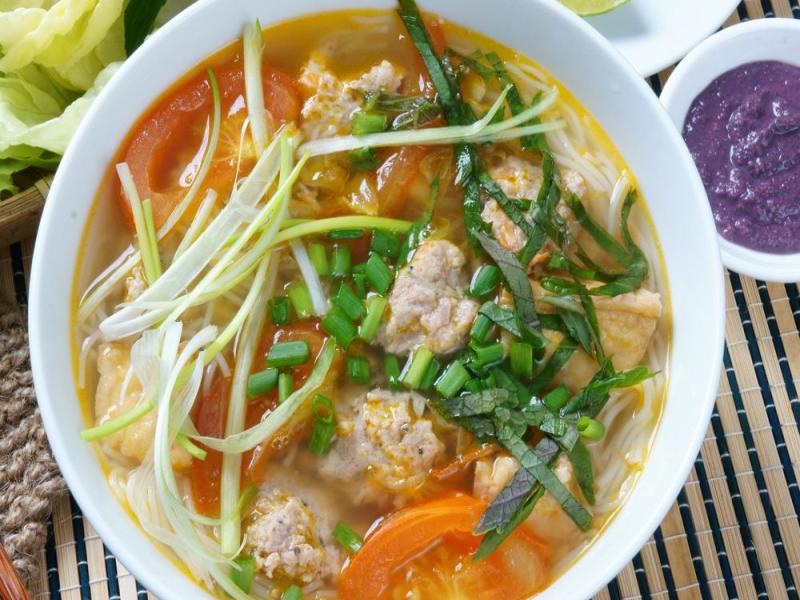 Experience the vibrant local culture at Cho Bop Market, the central market in Ninh Binh town. Savour Vietnamese dishes such as toothsome noodle soups and other fried goodies at the various food stalls and cafes. Don't forget to explore the market and discover fresh fruits and vegetables. Visit in the morning for the best selection.
6. Shop at Van Lan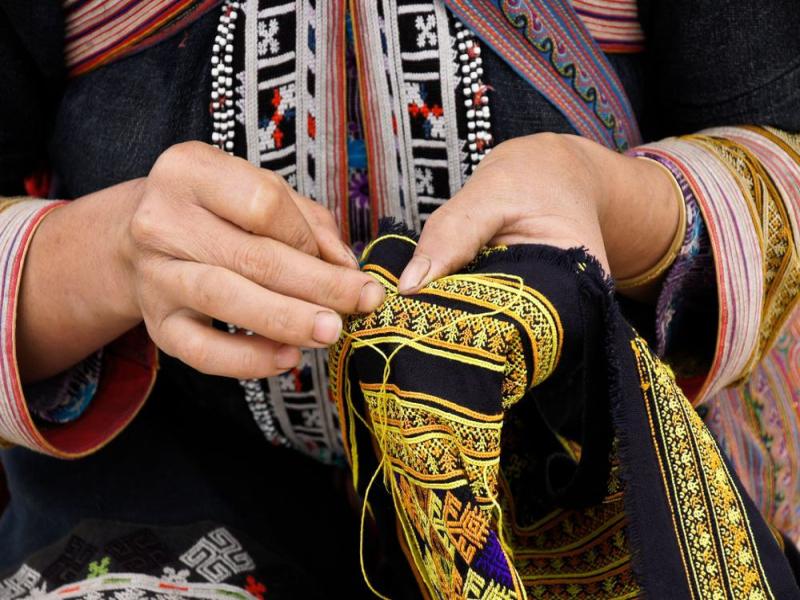 Discover the handicrafts of Van Lan, a small village near Tam Coc. Van Lan is famous for its intricate embroidery, and you can witness artisans practicing their craft. From napkins and pillowcases to tablecloths and even t-shirts, you'll find a wide range of embroidered items. Bargain for the best price and take home unique souvenirs of your trip.
7. Bich Dong Pagoda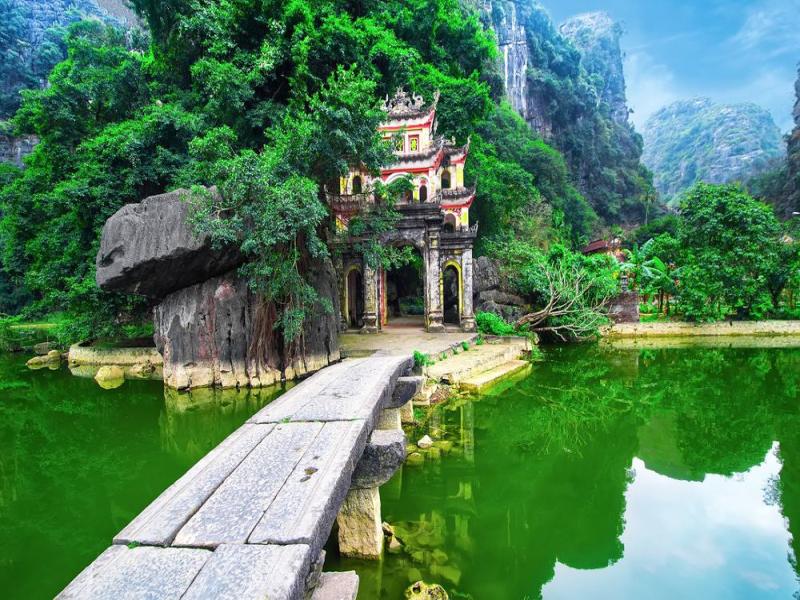 Explore one of the most fascinating pagodas in the region, Bich Dong Pagoda. Dating back to the 15th century, this pagoda is nestled on the side of a mountain and features three levels of temples known as Ha, Trung, and Thuong Pagodas. Additionally, the pagodas back onto caves, which you can explore during your visit. Enjoy the panoramic views of the surrounding area from the top.
8. Spend the day at Hoa Lu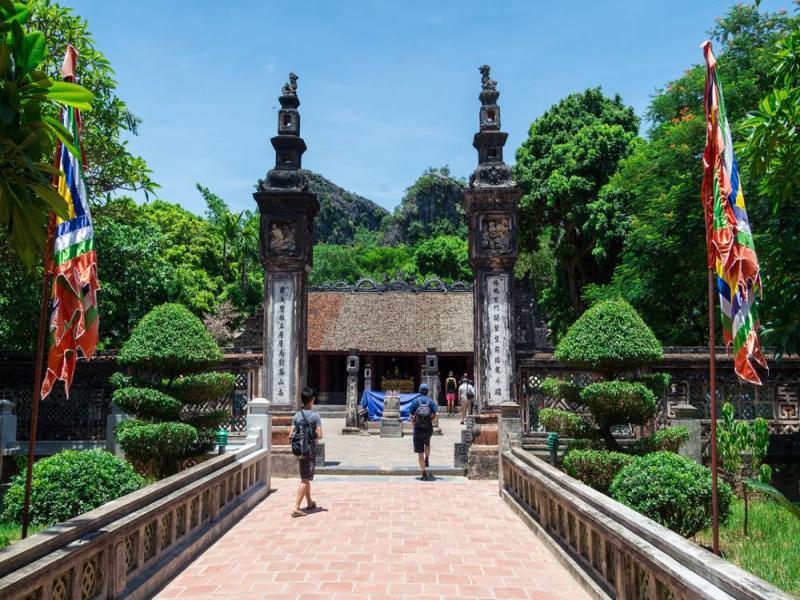 Take a trip to Hoa Lu Ancient Capital, the ancient capital of Vietnam during the 10th century. Explore the large citadel and discover its scenic temples at your leisure. Hoa Lu is often overshadowed by neighboring attractions, but its rich history and cultural significance make it worth a visit. Immerse yourself in the ancient atmosphere and learn about Vietnam's past.
9. Cuc Phuong National Park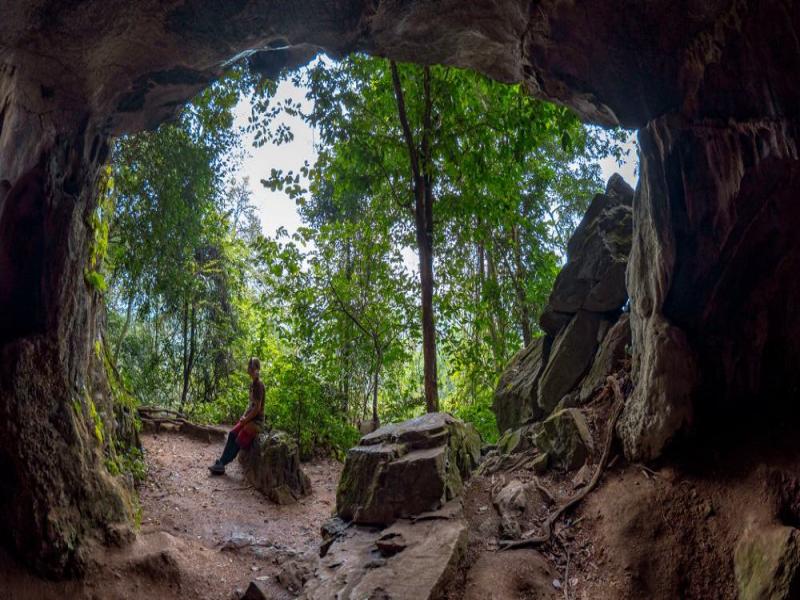 Nature lovers should not miss Cuc Phuong National Park, one of Vietnam's most prominent national parks. Established in 1962, this park spans 222 square kilometers and is home to a diverse range of wildlife and plant species. Explore the tropical forest and encounter over 300 species of birds, 133 species of mammals, and 122 species of reptiles. Discover the natural wonders of Vietnam in this captivating park.
10. Visit the Endangered Primate Rescue Center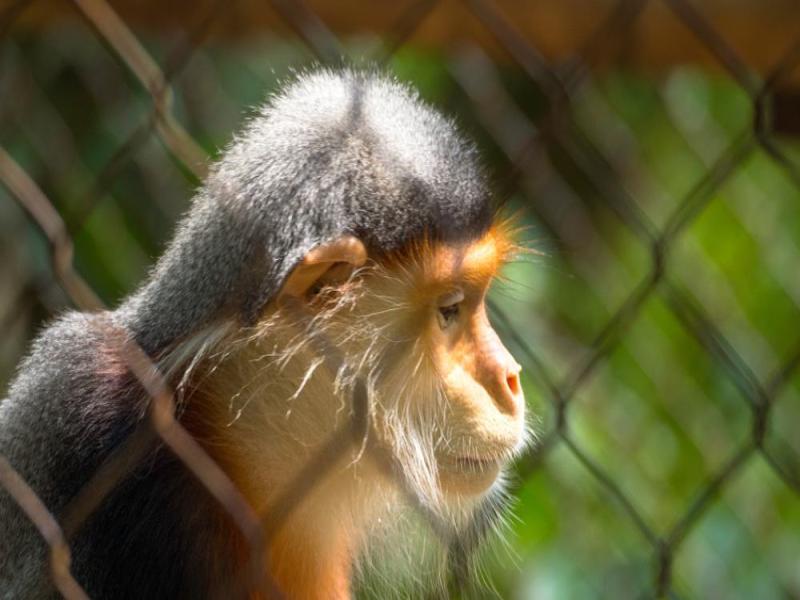 Located within Cuc Phuong National Park, the Endangered Primate Rescue Center is a vital conservation facility in Vietnam. Managed by the Frankfurt Zoological Society, the center aims to protect and educate the public about the country's endangered primates. Marvel at the 150 monkeys, 12 kinds of langur, and 3 species of gibbon that call this center home. Experience firsthand the efforts to preserve Vietnam's precious wildlife.
11. Admire Chua Bai Dinh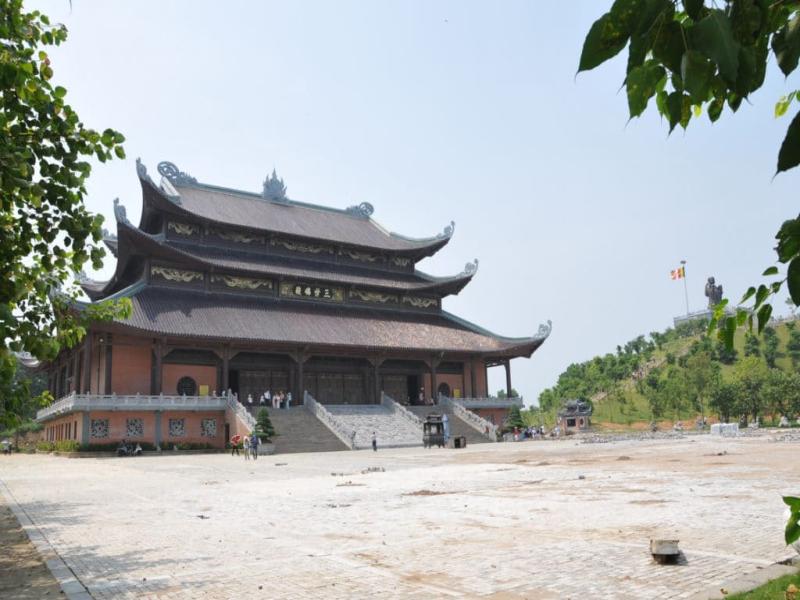 Bai Dinh Pagoda: Located on a scenic hill near Ninh Binh town, Chua Bai Dinh is a vibrant Buddhist temple complex. Marvel at the 500 stone arhats lining the entrance walkways and explore the three-tiered Phap Chu Pagoda. Inside, you'll find a magnificent bronze Buddha weighing 100 tons and two smaller gilded Buddhas. Experience the spiritual atmosphere and admire the impressive architecture of this temple complex.
12. Explore Mua Cave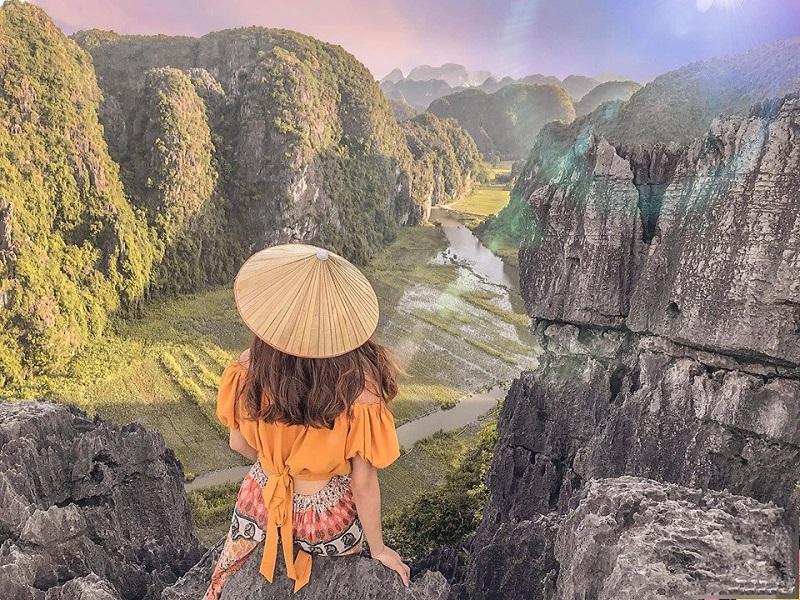 Situated near picturesque rice paddies, Mua Cave offers stunning views of the surrounding peaks. Ascend the stone staircase to the cave's entrance, passing by eerie karst formations. After climbing the 500 steps to the top, you'll reach the altar of Quan Am, the revered Goddess of Mercy, and enjoy breathtaking vistas of the Ngo Dong River and beyond.
13. Try the goat meat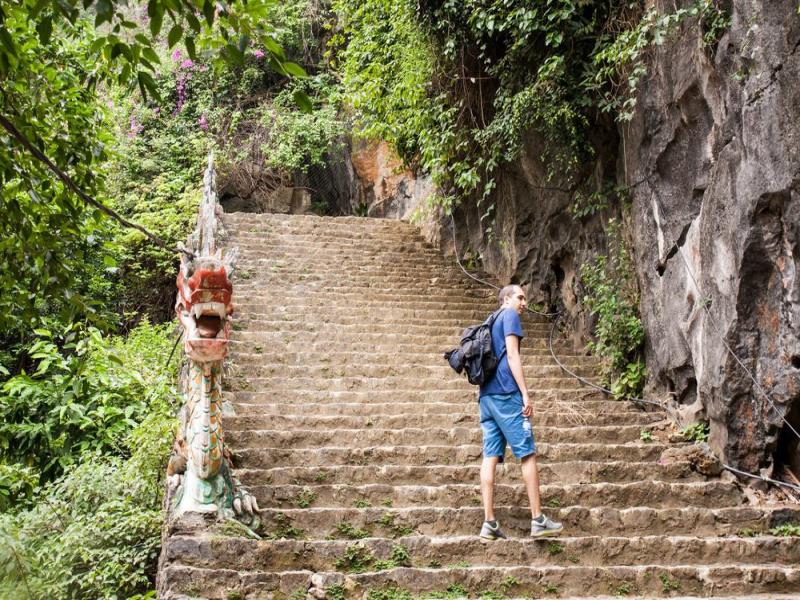 Don't miss the chance to taste Ninh Binh's specialty: mountain goat. Known as de nui in Vietnamese, this meat is usually barbecued to perfection and served with fragrant rice and fresh herbs. Indulge in this smoky and delicious dish, which offers a unique and flavorful experience. Embrace the local culinary traditions and savor the authentic flavors of Ninh Binh.
14. Take a boat trip in Trang An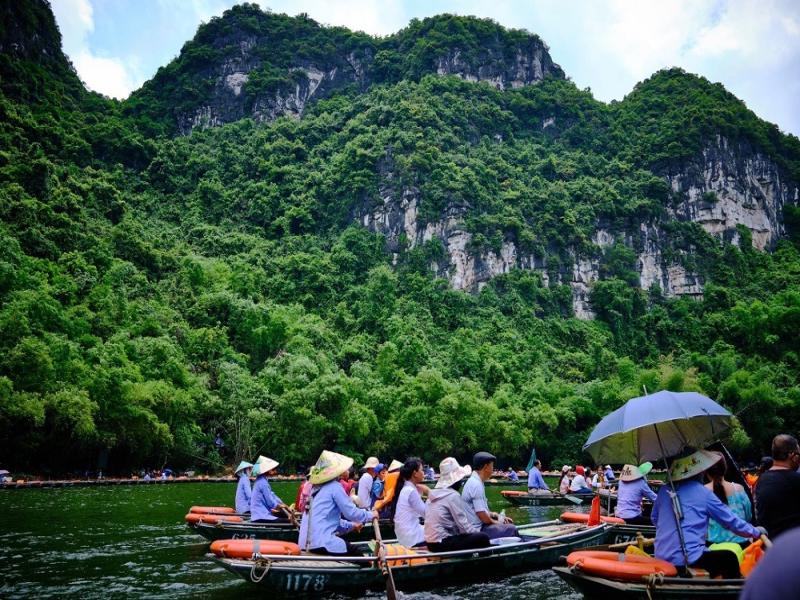 Neighboring Trang An is renowned for its scenic waterways. Embark on a boat trip along the Sao Khe River and marvel at the otherworldly caves and temples. Immerse yourself in the stunning scenery and absorb the tranquility of the surroundings. The two-hour boat trip offers a unique perspective of Ninh Binh's natural beauty.
15. Scale the Hang Mua Peak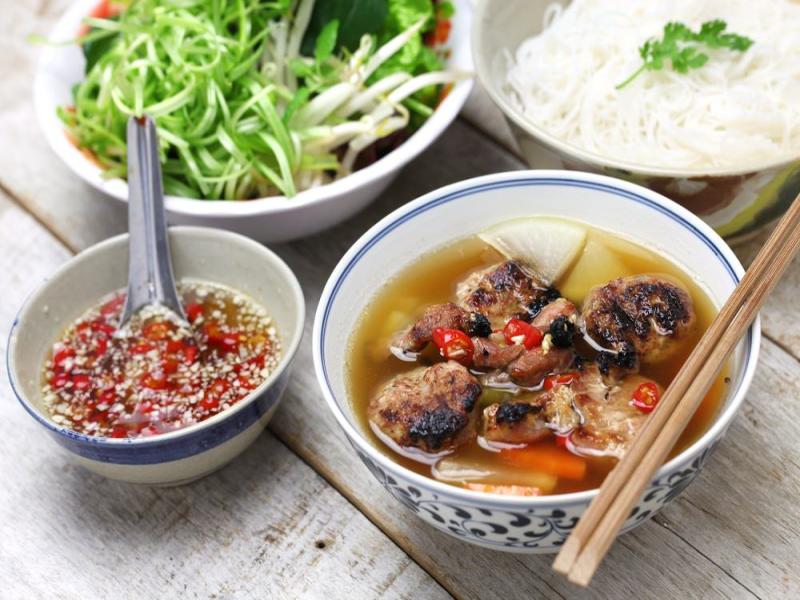 Hang Mua Peak is a must-visit site in Tam Coc. Climb the 500 steps to the summit and be rewarded with panoramic views of Vietnam's stunning landscapes, including the Red River Delta and towering mountains. Wear appropriate footwear, especially during the rainy season when the steps can be slippery. If spelunking is not your thing, you can skip the Mua Cave and opt for the mountain trail instead.
16. Tour the Turtle Conservation Center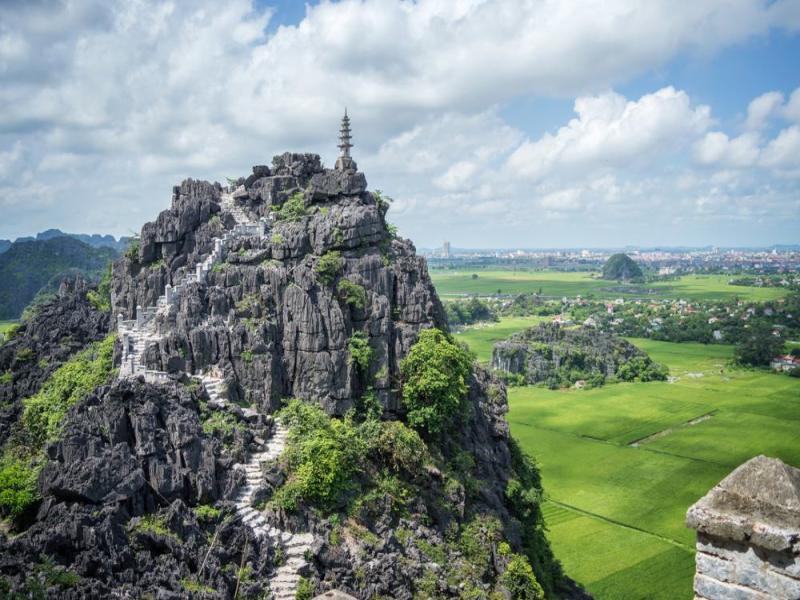 Within Cuc Phuong National Park, you'll find the Turtle Conservation Center, home to over 1,000 aquatic creatures. This center focuses on the conservation of 20 different species of turtles, many of which have been rescued from illegal traders and smugglers. Explore the ponds where the turtles swim and learn about the ongoing conservation efforts. A visit to the Turtle Conservation Center is both educational and eye-opening.
17. Have a beer on the waterfront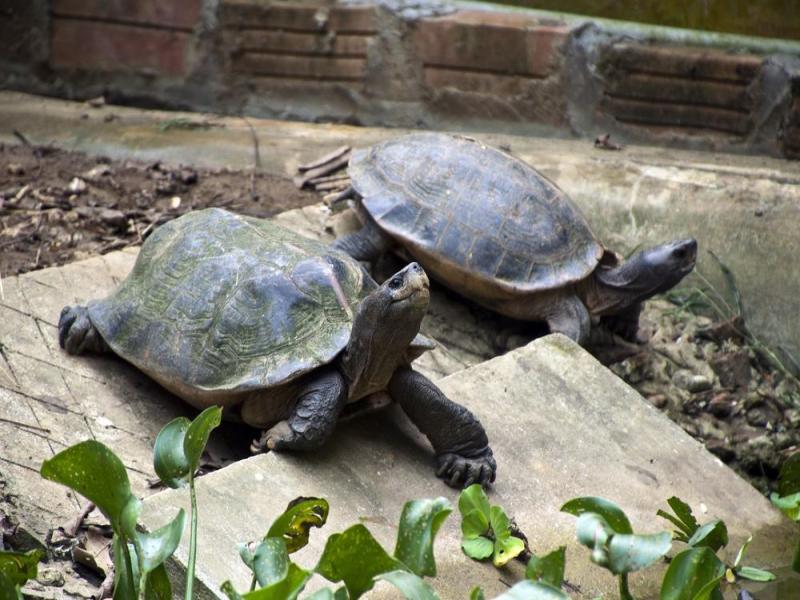 Ninh Binh is known for its local draft beer, bia hoi. After a long day of sightseeing, unwind with a cool drink along the riverside. Enjoy the sunset and the tranquil atmosphere as you savor a refreshing beverage. The riverside area is the perfect spot to relax and soak in the beauty of Ninh Binh.
18. Take a bicycle tour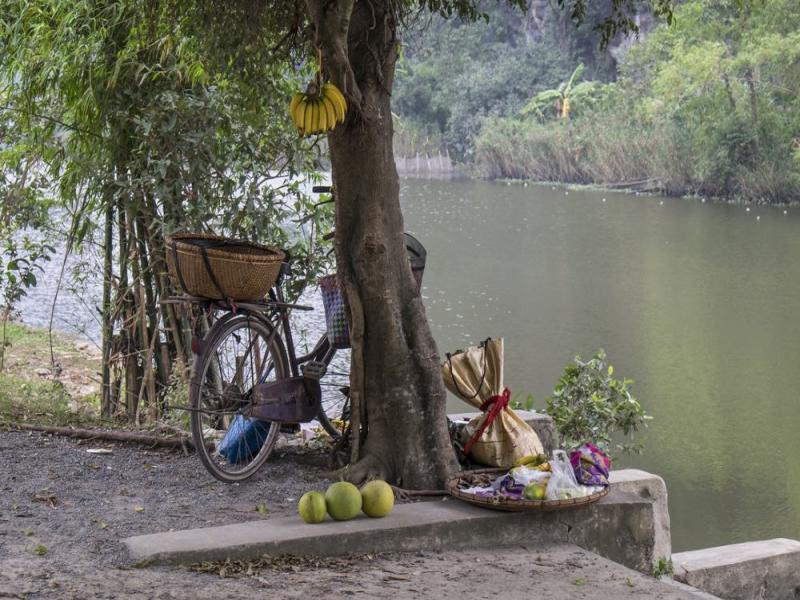 Explore Ninh Binh on a bike tour and discover the flat landscape that makes cycling a breeze. Rent a bicycle from one of the guesthouses or join a guided tour to explore the key attractions while learning about the history and culture of the region. Cycling is an excellent way to experience the charm of Ninh Binh at your own pace.
19. Take a trip to Chicken Village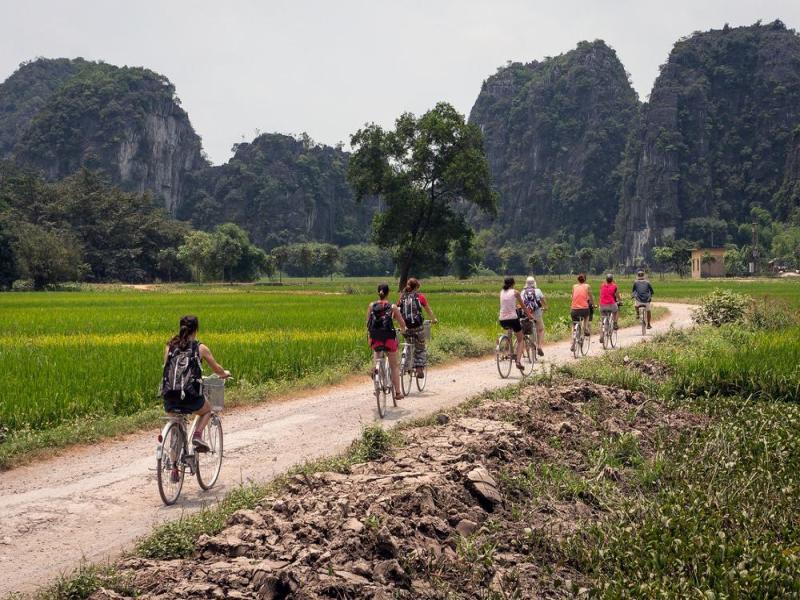 Discover the unique floating village of Chicken Village, locally known as Kenh Ga. Witness the locals rowing their boats with their feet, a quirky and authentic fishing tradition. Take a boat tour of the floating village and observe the daily life of its residents. Explore the charming riverside town and wander through its narrow alleyways to discover hidden gems.
20. Check out the Thung Nham Bird Garden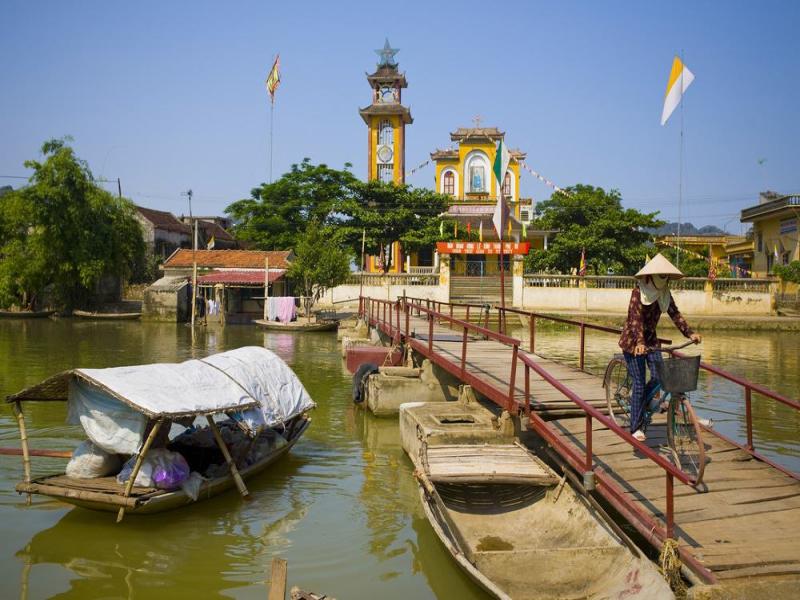 Experience the beauty of Thung Nham Bird Garden, a lesser-known attraction in Ninh Binh. Nestled in the mountains, this park is home to a wide variety of indigenous bird species. Visit in the early morning or late afternoon for the best chance to see the trees teeming with colorful avian residents. Besides bird-watching, you can also go fishing or even camp in the park depending on the season.
21. Try the local food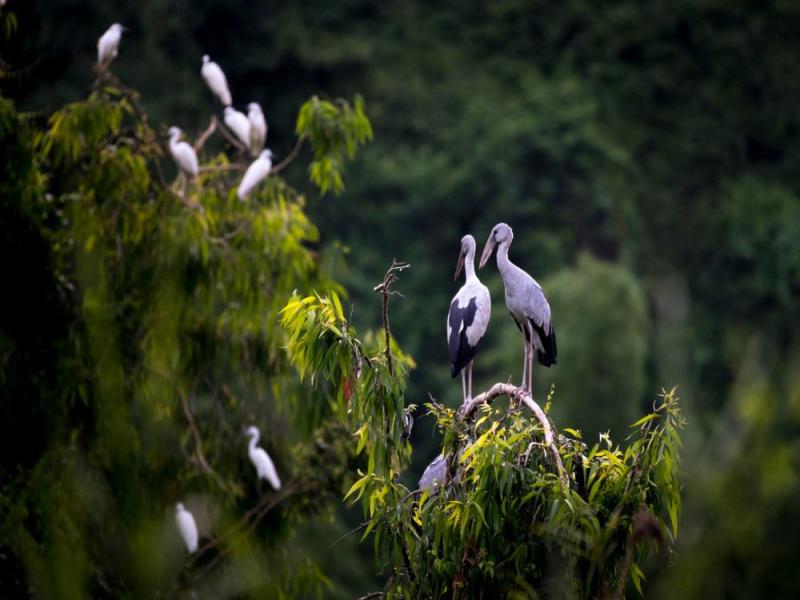 No visit to Ninh Binh is complete without trying the local specialty, com chay. This dish features burnt rice scraped off the bottom of a cooking pot, resulting in a nutty and crunchy flavor. It is typically served with juicy pork, although it can also accompany goat meat, another regional delicacy. Indulge in the unique flavors of Ninh Binh and savor a slice of authentic Vietnamese cuisine.
22. Visit the Hoa Lu Temples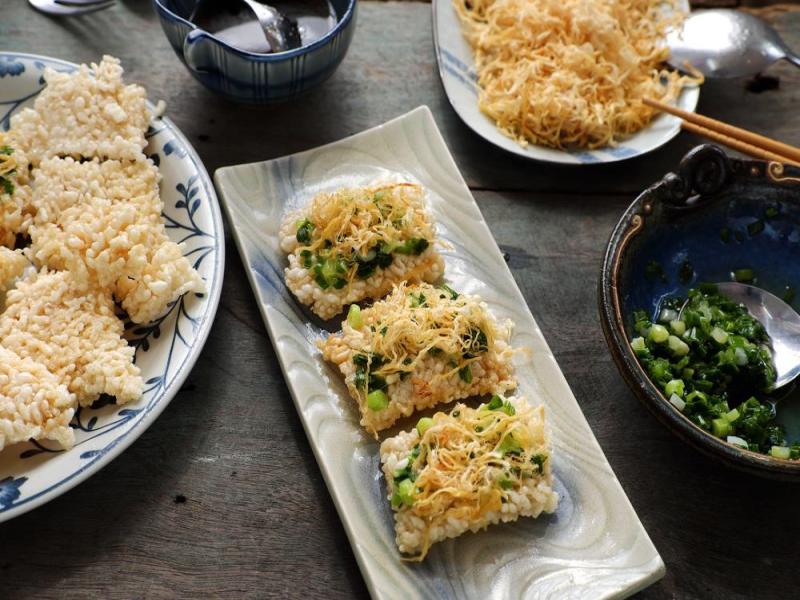 Explore the temples of Hoa Lu, nestled against Yen Ngua Mountain. Admire the stunning dark red lacquer pillars that adorn these temples. The most renowned among them is Dinh Tien Hoang, dedicated to the Dinh Dynasty. Restored in the 17th century, this temple houses a stone throne and a statue of Emperor Dinh Tien Hoang with his children. Don't miss the bronze bells commonly found in Vietnamese temples.
23. Have a drink at Chookie's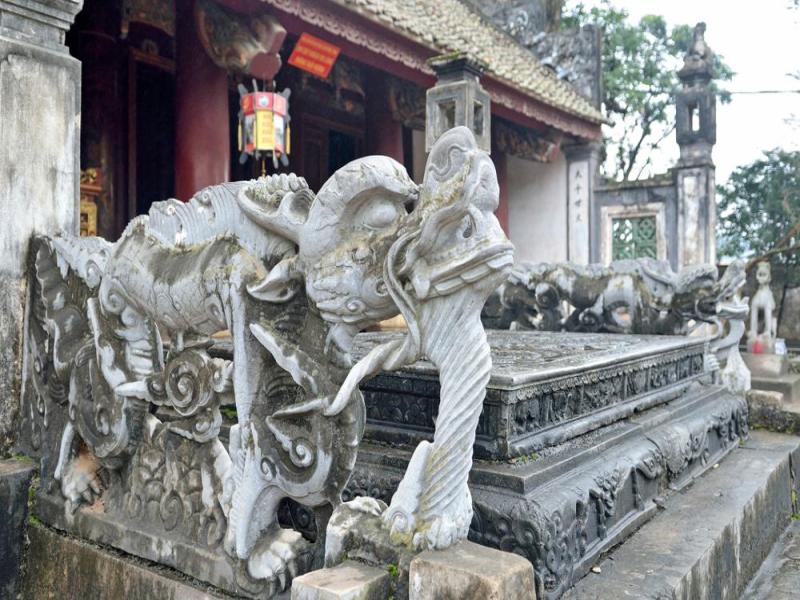 When it comes to nightlife in Ninh Binh, Chookie's is the place to be. Enjoy a drink at this popular bar, known for its beer selection and affordable Vietnamese and Western food. Chookie's also offers tours and bicycle rentals, making it a convenient hub for exploring the province. Relax, unwind, and mingle with fellow travelers in this friendly and lively establishment.
24. Eat at Father Cooking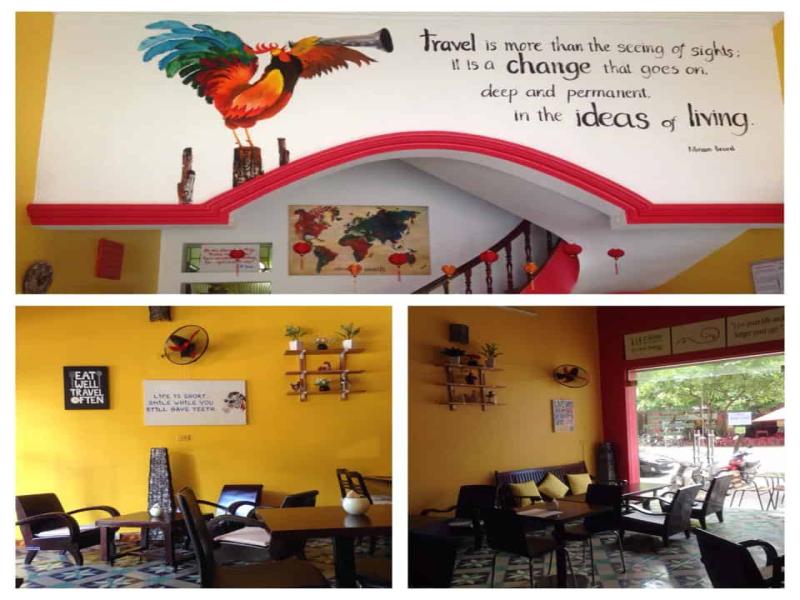 For authentic local cuisine in Ninh Binh, Father Cooking is a highly recommended restaurant. This family-owned establishment serves up a variety of noodle and rice dishes at great prices. Indulge in the regional delicacies such as goat meat and snails, and experience the rich flavors of Vietnamese cuisine. Father Cooking is a popular choice among both locals and visitors.
25. Hike to Silver Cloud Peak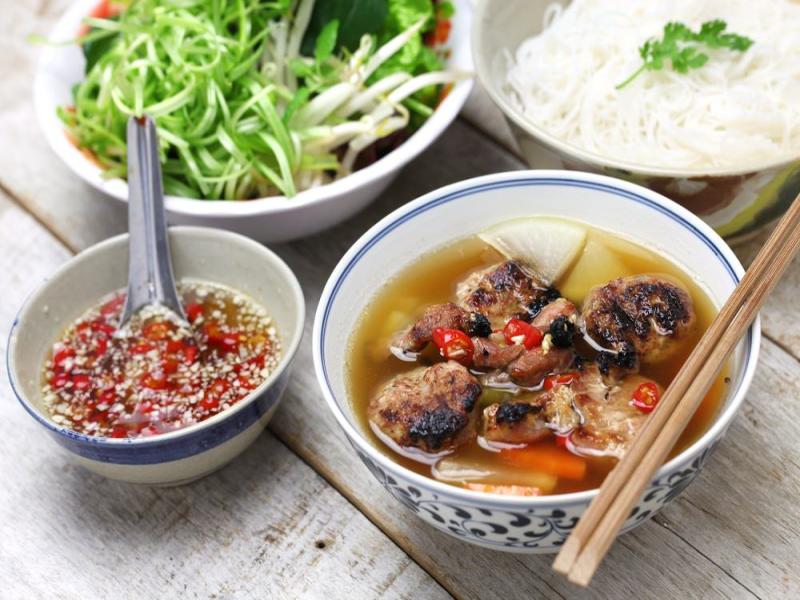 If you enjoy hiking, don't miss the opportunity to trek to Silver Cloud Peak in Cuc Phuong National Park. It's a challenging four-hour hike that rewards you with breathtaking views of the park. Join a guided hike with a ranger or venture out on your own for an adventurous experience. If you're feeling adventurous, consider joining a night trek to spot nocturnal animals in the park.
Don't miss out on the incredible experiences that Ninh Binh has to offer. From exploring breathtaking caves to trying local delicacies, there's something for everyone in this hidden gem of Vietnam. Immerse yourself in the natural beauty and rich culture of this unique destination. Start planning your trip to Ninh Binh today!
For more information about Ninh Binh and its attractions, visit Ninh Binh Province