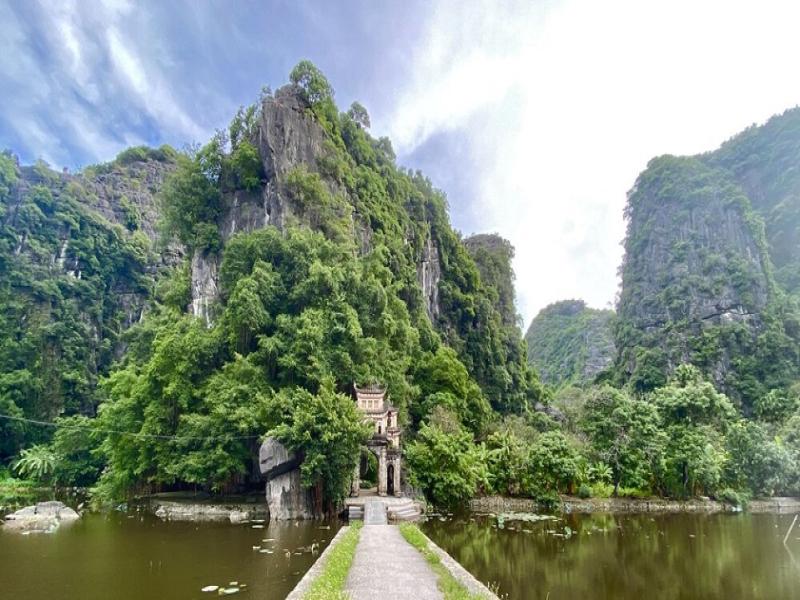 Ninh Binh, a province in Vietnam, is renowned for its breathtaking natural landscapes and ancient temples with captivating architecture. Amongst these splendid sites, one stands out as a prominent tourist attraction – Bich Dong Pagoda. This spiritual refuge offers a serene retreat, captivating both pilgrims and tourists alike, and guiding them on a journey to the sacred realm of Buddhism amidst tranquil mountains.
1. Where is Bich Dong Pagoda? How to get there?
Bich Dong Pagoda is nestled in Ngu Nhac Mountain, in Ninh Hai Commune, Hoa Lu District, Ninh Binh Province. Reaching the Tam Coc – Bich Dong area is convenient, with various transportation options available, such as trains, buses, motorbikes, or cars. The distance from Hanoi to Tam Coc – Bich Dong is approximately 110 kilometers.
To get there, you can take a train or a bus from Hanoi to Ninh Binh, which takes about 2 to 2.5 hours. Train tickets from Hanoi cost around VND 110,000, while bus tickets range from VND 70,000 to 210,000. Once you arrive in Ninh Binh, it's a short 10-minute drive to Tam Coc, where Bich Dong Pagoda is situated. From Tam Coc, you can choose to rent a bicycle or motorbike, take a taxi, or enjoy a leisurely walk, relishing in the captivating scenery.
2. Unveiling the Rich History of Bich Dong Pagoda
Originally constructed in 1428 during the reign of Emperor Ly Thai To, Bich Dong Pagoda was once a humble pagoda nestled in Ngu Nhac Mountain. In 1705, two Buddhist monks named Tri Kien and Tri The discovered the pagoda and transformed it into three levels: Lower Pagoda (Ha Pagoda), Middle Pagoda (Trung Pagoda), and Upper Pagoda (Thuong Pagoda).
In 1774, Lord Trinh Sam of Dang Ngoai visited the pagoda and was captivated by the mesmerizing panoramic view of nature. Impressed, he named the pagoda Bich Dong (Green Pearl Cave) Pagoda.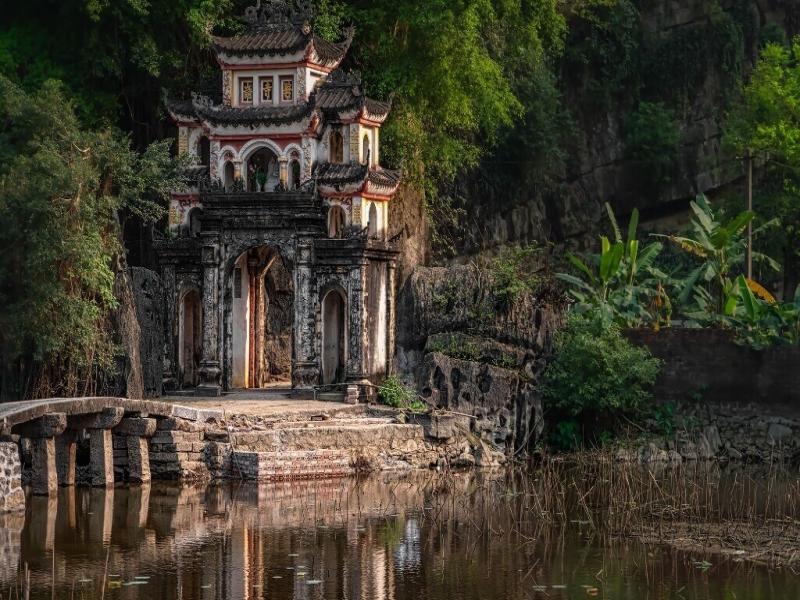 3. Top 5 Notable Attractions of Bich Dong Pagoda Ninh Binh
Bich Dong Pagoda, situated on a mountain, comprises three levels: Ha Pagoda, Trung Pagoda, and Thuong Pagoda. Each pagoda features a roof with four upwardly curved corners, resembling the feathers of a phoenix's tail.
3.1. Lower Pagoda (Ha Pagoda)
Located at the base of the mountain, Ha Pagoda is a two-story structure with 10 roofs and 5 rooms. It is constructed with an ironwood truss, crossbeams, and spars. Inside, there is a remarkable 4-meter-tall monolithic stone pillar and an altar adorned with Buddha statues. The scented incense surrounding the statues creates a sacred atmosphere.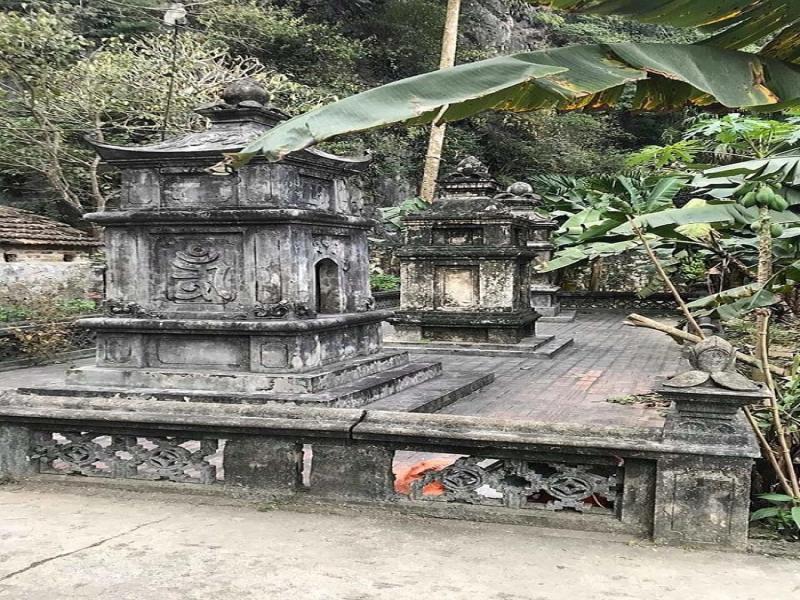 3.2. Middle Pagoda (Trung Pagoda)
Halfway up Ngu Nhac Mountain, visitors can admire the beautifully constructed Trung Pagoda after climbing approximately 120 steps from the foot of Ha Pagoda. This unique Vietnamese pagoda showcases traditional tiled roofs and walls adorned with Chinese letters. Divided into two parts, the front and a mysterious cave, Trung Pagoda boasts figures of fairies, little boys, flying dragons, turtles, and Buddha. Moreover, a massive bronze bell with intricate engravings hangs in the dark.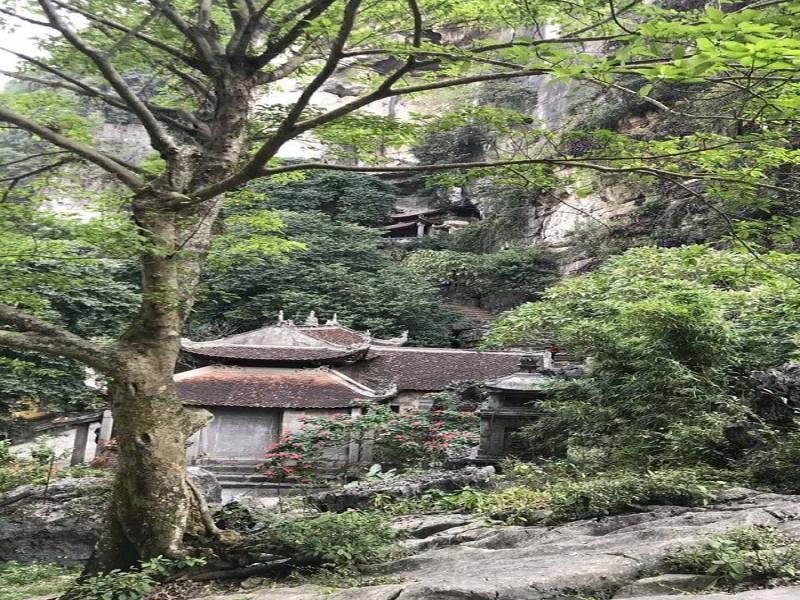 3.3. Upper Pagoda (Thuong Pagoda)
Ascending 40 steep stone steps from the dark blue caves of Trung Pagoda, visitors will reach the breathtaking Thuong Pagoda, the highest pagoda on the mountain. Thuong Pagoda consists of two rooms, a forecourt, and a stone altar in the outer room. The inner room houses a shrine of Bodhisattva. Beside Thuong Pagoda, there is a pond called Cam Lo, believed to have the power to cure all ailments.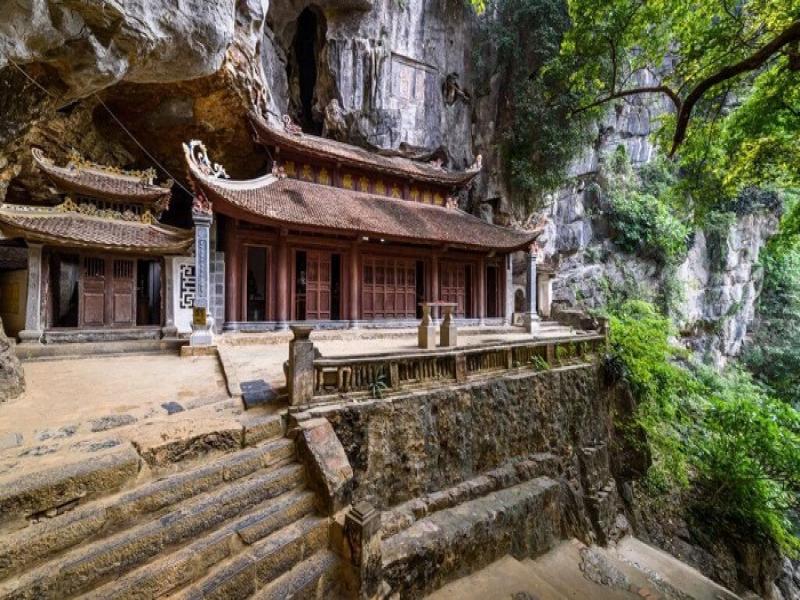 3.4. Dark Cave Bich Dong
Just a few steps beyond Trung Pagoda lies Dark Cave, which can be reached by climbing about 21 steps. The cave features a large bronze bell cast by the two monks, Tri Kien and Tri The, in 1707. As you approach the entrance, you will be greeted by numerous Buddha statues, adding to the cave's mystical ambiance. Inside, the walls are adorned with stunning paintings and embossed images.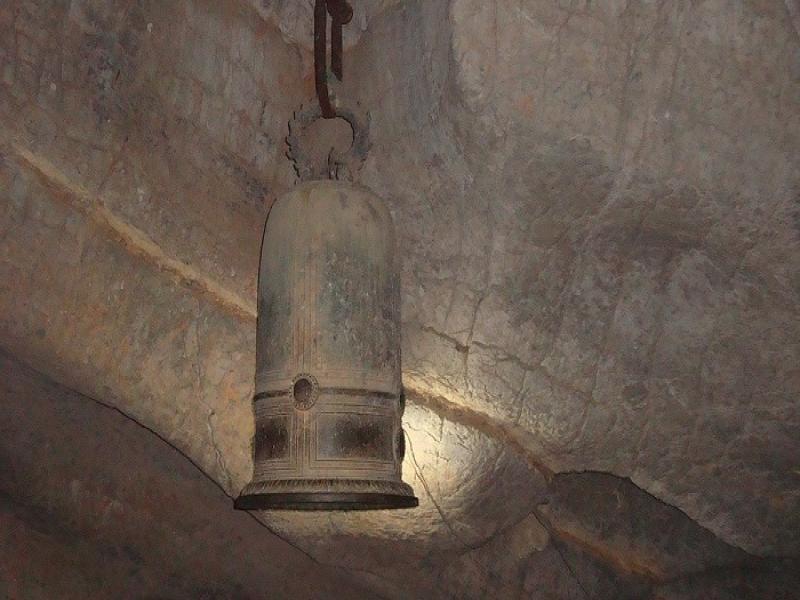 3.5. Xuyen Thuy Cave
Xuyen Thuy Cave is a fascinating and unique semicircular cave that stretches approximately 350 meters along the Bich Dong massif from east to west. The average width of the cave is 6 meters, with the widest part measuring 15 meters. To reach the cave and Bich Dong Pagoda, you can take the entrance to the Hydrodynamic River at the rear of the mountain, opposite the road to the pagoda.
4. Bich Dong Pagoda Opening Hours and Entrance Fee
Bich Dong Pagoda opening hours: The pagoda welcomes visitors throughout the day, allowing you to explore at your convenience.
Bich Dong Pagoda entrance fee: To visit Bich Dong Pagoda, you need to purchase a ticket to the Tam Coc – Bich Dong tourism complex at VND 120,000 per adult and VND 60,000 per child.
5. Extra Tips for Your Visit to Bich Dong Pagoda Vietnam
As there are limited stores outside the pagoda, it is recommended to prepare all necessary items in advance for a hassle-free tour.
Bich Dong Pagoda is open year-round for visitors to explore. The ideal time to visit this pagoda, along with other attractions in Ninh Binh, is from April to June or during the last three months of the year, October to December. Springtime, from January to March, is also suitable for those keen on witnessing the beauty of the pagoda.
When visiting the temple, it is essential to wear appropriate and respectful clothing, avoiding revealing attire.
As Bich Dong Pagoda is situated on high ground, be prepared for a fair amount of walking and consider wearing comfortable shoes for mobility.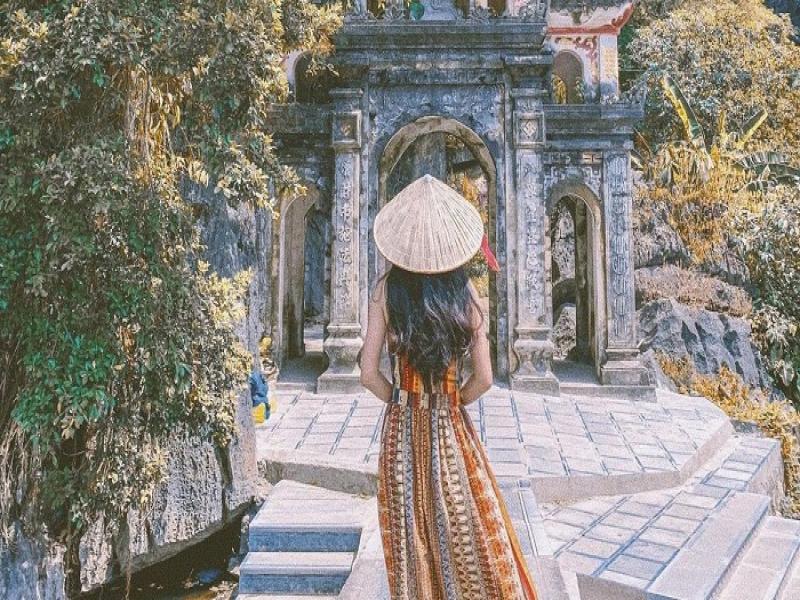 As you explore Bich Dong Pagoda, take the opportunity to embark on exciting activities, such as a Tam Coc boat tour, a visit to the lesser-known Linh Coc Pagoda, and an exploration of the Tran Dynasty at Thai Vi Temple, all while marveling at the stunning karst mountains.