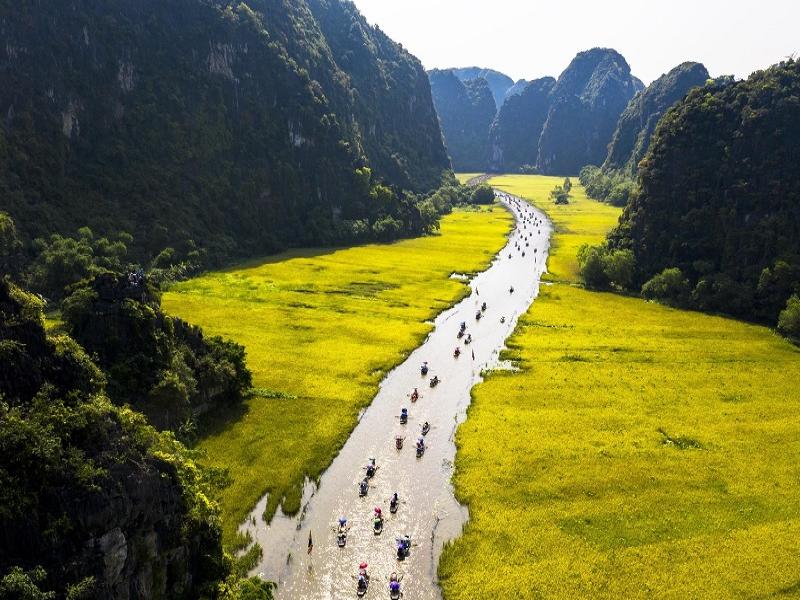 Nestled amidst picturesque rice paddies and towering limestone cliffs, Tam Coc Vietnam is an irresistible destination in Northern Vietnam. Located just a two-hour drive away from Hanoi, Tam Coc offers the perfect getaway for a Ninh Binh day tour. Let's delve into this comprehensive guide to Tam Coc Ninh Binh and get ready for an unforgettable trip!
Where is Tam Coc in Vietnam? How to get there from Hanoi?
Tam Coc Ninh Binh Vietnam location
Tam Coc Vietnam, also known as Tam Coc – Bich Dong Vietnam, can be found in Ninh Hai Commune, Hoa Lu District, Ninh Binh Province. It is approximately 100 kilometers away from Hanoi.
Tam Coc Ninh Binh is part of the Trang An Scenic Landscape Complex, a UNESCO World Heritage Site renowned for its cultural and ecological significance. This enchanting tourist attraction boasts a magnificent landscape adorned with limestone mountains, caves, and rice paddies.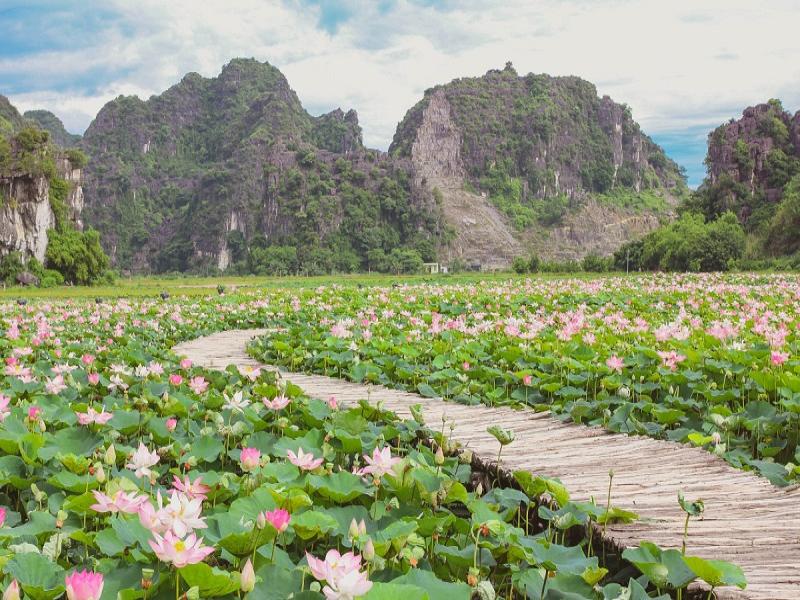 How to reach Tam Coc Vietnam?
To reach Tam Coc Ninh Binh from Hanoi, you have several transportation options available. Whether you prefer taking a bus, riding a motorbike, or driving a car, the journey from Hanoi to Ninh Binh City takes approximately 2 hours.
If you're wondering how to get to Tam Coc from Ninh Binh, it's just an 11-kilometer ride from the city. You can easily reach Tam Coc by motorcycle or car.
Choosing the best means of transportation depends on your budget and preferences. However, if you're looking for a hassle-free experience filled with local insights, it's recommended to take a van to Tam Coc in Vietnam with a knowledgeable tour guide. Another great option is to join a tourist bus for the Vietnam Tam Coc tour from Hanoi, where you can mingle with fellow travelers.
While buses and trains offer more budget-friendly options, they may require adhering to fixed schedules. Additionally, once you arrive in Ninh Binh city, you'll need to take a taxi to reach Tam Coc Vietnam. For those who wish to soak in the scenic countryside views, driving a car or riding a motorcycle is a fantastic choice.
Tam Coc Vietnam weather: The ideal time to visit
When it comes to the best time to visit Tam Coc Vietnam, it largely depends on the experience you're seeking.
If you enjoy chilly weather and vibrant festivals, January to April is the ideal period. During this time, you can witness lush rice fields along the banks of the Ngo Dong River. The Tet Holiday, which falls between mid-January and mid-February, offers a plethora of local festivities as well.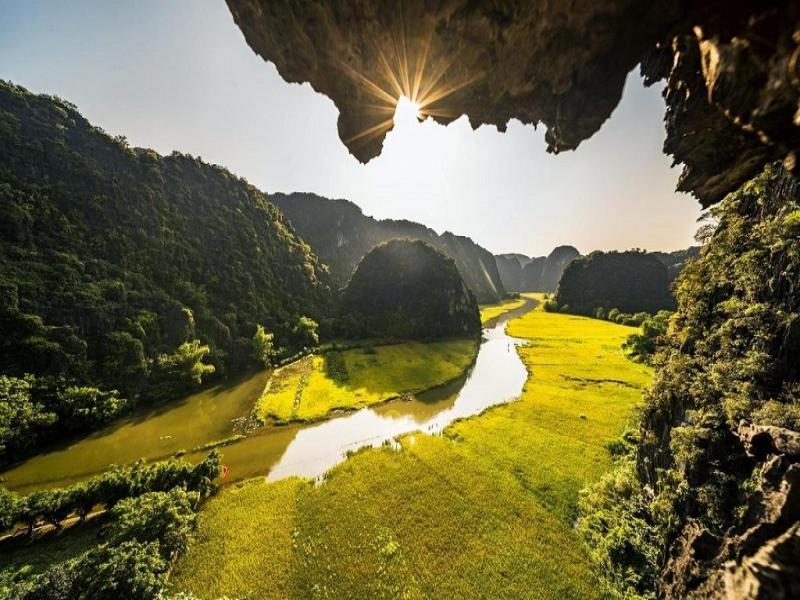 May to June is another excellent time to visit Tam Coc. The rice fields in Tam Coc turn golden, and the lagoon at the entrance to Bich Dong Cave is adorned with blooming lotuses. However, do expect hot and humid weather during summer days, along with the possibility of rainfall.
Things to see on your tour to Tam Coc Bich Dong Ninh Binh
Tam Coc Caves
The name "Tam Coc" refers to three captivating caves: Ca Cave, Hai Cave, and Ba Cave. Carved over millions of years by rain, waves, and geological changes, these caves offer a mesmerizing natural wonder. Exploring these marvelous caves is undoubtedly one of the top things to do in Tam Coc Vietnam.
Ca Cave: The longest among the three, stretching 127 meters in length and 20 meters in width.
Hai Cave: Take a boat ride through this 60-meter-long cave and marvel at the dazzling stalactites hanging from its dome.
Ba Cave: With a lower ceiling compared to Ca Cave and Hai Cave, this cave offers a unique and distinctive experience.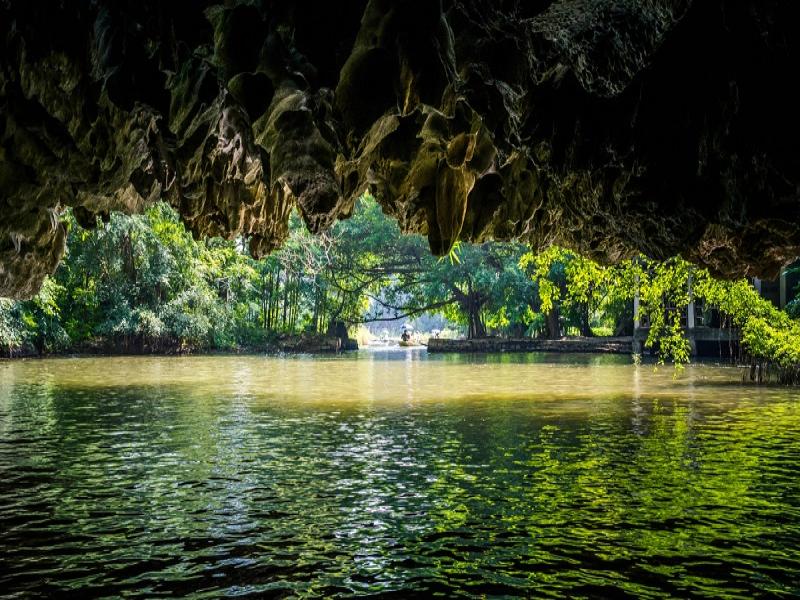 Thai Vi Temple
Thai Vi Temple is part of the Vu Lam Palace complex in Tam Coc and is dedicated to Emperors Tran Thai Tong and Tran Thanh Tong, Empress Tran Thi Dung, as well as Generals Tran Hung Dao and Tran Quang Khai. During the Tran Dynasty's battles with the Mongolians, this complex was established in the mountains of Tam Coc.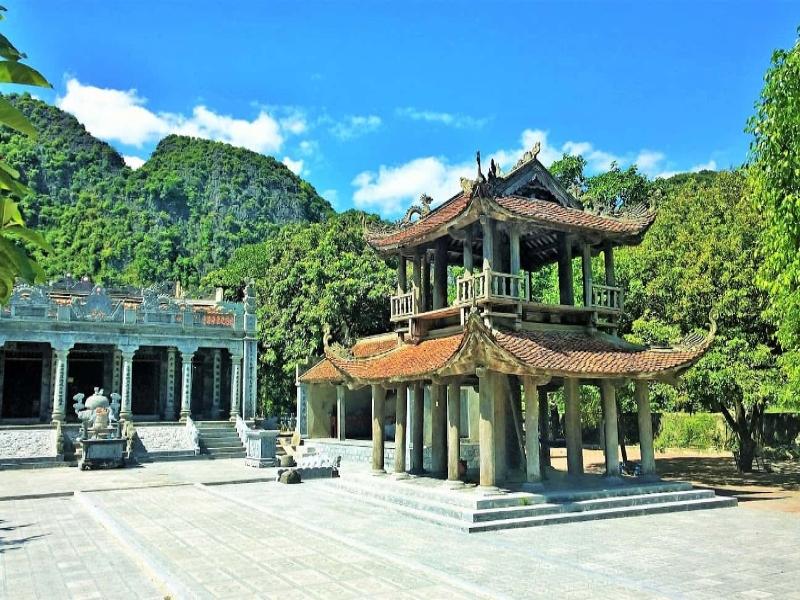 Thien Huong Cave
On the way from Ngo Dong Tam Coc River to Thai Vi Temple, you'll come across Thien Huong Cave. Positioned approximately 15 meters above the ground, this dry and well-lit cave boasts a spacious area measuring 20 meters in width, 40 meters in depth, and about 60 meters in height.
Deep within the cave, there's an altar honoring Tran Thi Dung, wife of Emperor Ly Hue Tong. She passed down her embroidery skills to the residents of the Ninh Hai community in Ninh Binh.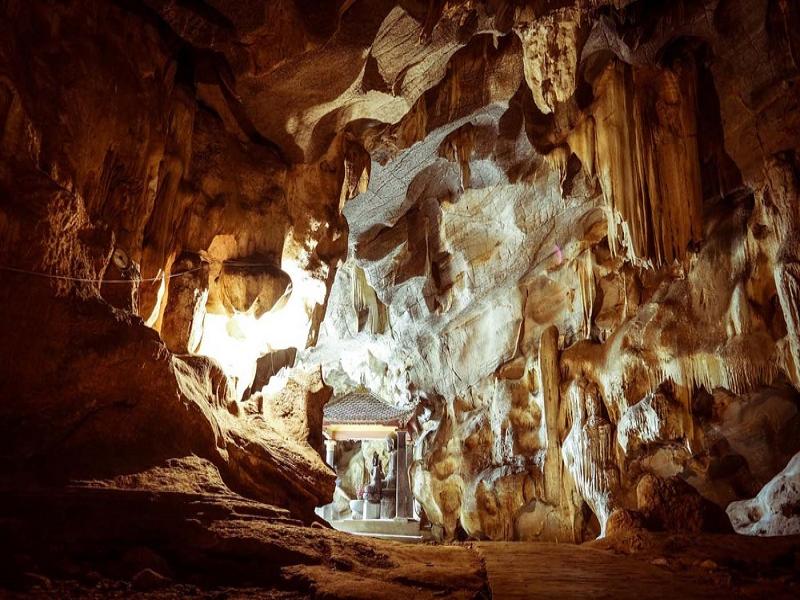 Bich Dong Caves and Pagodas
A visit to Bich Dong, also known as the Green Cave, is one of the highlights of Tam Coc. Surrounded by lush forests, Tam Coc rice fields, rivers, and lakes, Bich Dong offers stunning natural beauty. The lotus pond and the entrance of Bich Dong are iconic landmarks of Ninh Binh.
Bich Dong is comprised of three pagodas: the Lower (Ha), Middle (Trung), and Upper (Thuong) pagodas. Each cave pagoda exudes a mystical ambiance with towering figures and wisps of incense smoke. It takes around 2 hours to reach the Upper Pagoda, but the breathtaking vista of Tam Coc Vietnam it offers is well worth the journey!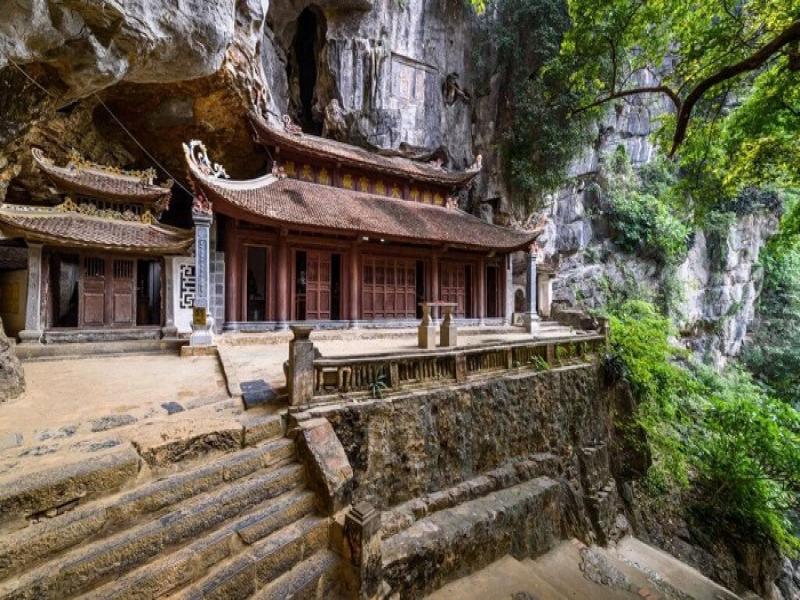 Xuyen Thuy Dong Cave
Xuyen Thuy Dong Cave is a dark and submerged cave that stretches approximately 350 meters in length and 6 meters in width. The cave features flat walls and ceiling, creating a unique arch shape that's truly captivating.
The entrance to Xuyen Thuy Dong Cave is located on the opposite side of Bich Dong Pagoda, at the back of the mountain. From there, tourists can embark on a climbing adventure to reach the pagoda.
Tien Cave
Tien Cave, also known as the Fairy Cave, is one of the most stunning caves in Tam Coc Vietnam. Situated about a kilometer away from Bich Dong Pagoda, the cave mesmerizes visitors with its ceiling adorned with sparkly stalactites in various hues.
From the outside, the cave resembles a majestic castle. Natural formations have shaped the stalactites into unique and peculiar forms. You might even hear intriguing sounds when tapping on the cave's rocks.
Linh Coc Pagoda
Nestled on Moc Mountain, Linh Coc Pagoda is a captivating attraction in Tam Coc Vietnam. Established during the reign of Emperor Tran Thanh Tong, the pagoda sits halfway up the mountain. In front of the pagoda lies a charming water field, enhancing the beauty of this place. Linh Coc Pagoda is famous for its gloomy cave and distinctive structure.
Tam Coc Vietnam and its surrounding areas are home to many other appealing attractions, including Co Vien Lau, Thung Nang, Thung Nham Bird Park, Thien Ha Cave, Hang Mua Cave, Bai Dinh Pagoda, Hoa Lu Citadel, and more. These places are best explored on a day trip or a 2-day excursion from Hanoi.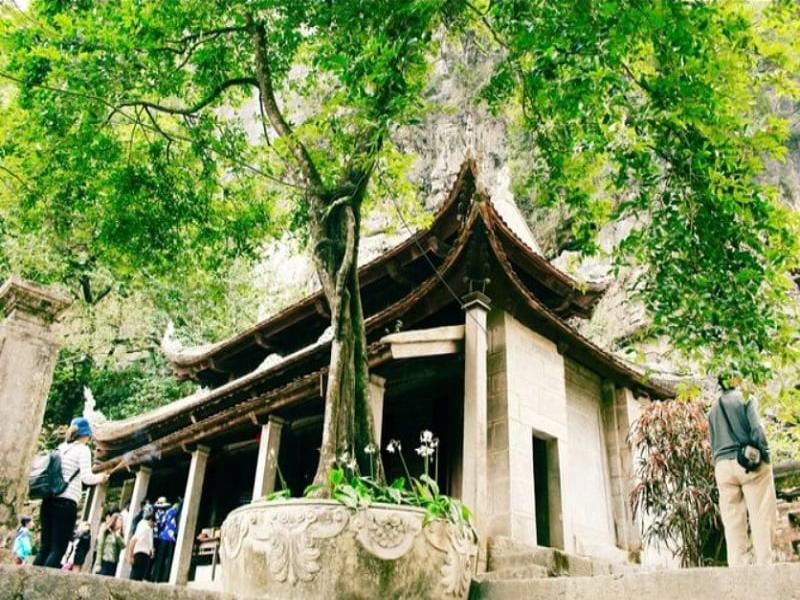 Ticket prices to visit Tam Coc Vietnam
The current prices for services in Tam Coc Ninh Binh are as follows:
Sightseeing tours: 120,000 VND per adult and 60,000 VND per child
Tam Coc Vietnam boat ticket: 150,000 VND per boat (4 adults per boat)
Parking fee: 10,000 VND per motorcycle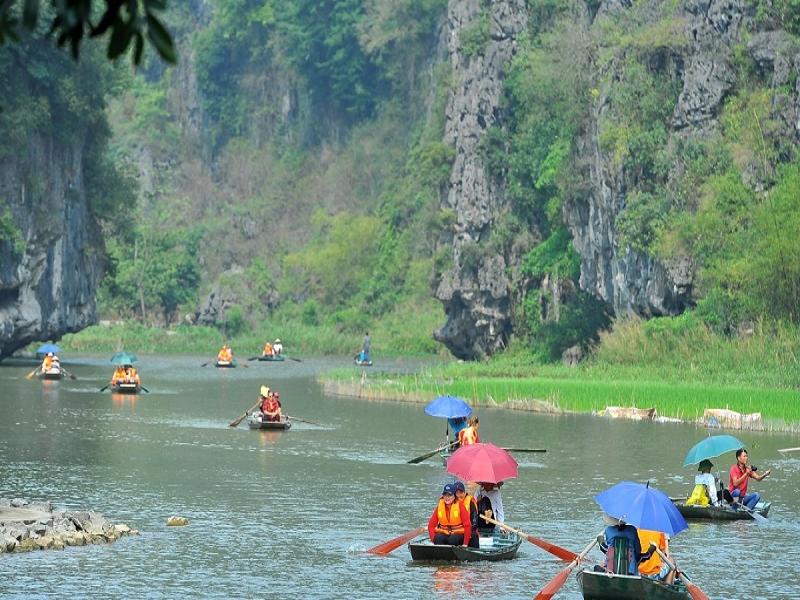 Tips for the best experience in Tam Coc Ninh Binh Vietnam
To make the most of your visit to Tam Coc, consider these tips:
Wear comfortable shoes or sneakers.
Dress in vintage tones for stunning photos.
Bring sunglasses, sunscreen, hats, and water.
Start your trip in the morning to avoid the hot weather.