Located near the town of Ninh Binh, 90 km south of Hanoi, Hoa Lu Ancient Capital is an enchanting destination that takes you on a journey through the history of an ancient Vietnamese Kingdom. Step into the past and explore the rich heritage and natural beauty that surrounds this remarkable site.
History and Highlights of Hoa Lu Ancient Capital
Hoa Lu, nestled amidst the majestic Trang An limestone mountains, was the first capital of Vietnam. In 968, King Dinh Bo Linh of Dai Co Viet, an ancient name for Vietnam, established his capital here and ruled until 980. The city continued to thrive during the Early Le dynasty (980-1009) and Ly dynasty (1009-1010). Eventually, the capital was moved to Thang Long (now Hanoi), and Hoa Lu became an ancient capital adorned with ancient temples and relic sites.
The Royal Court covered an area of 150 hectares in the eastern part of the capital, while the surrounding western area served as a site for education and child protection. The picturesque scenery includes ponds and the Yen Ngua limestone range, creating a stunning panorama.
Today, Hoa Lu ancient capital plays a vital role in Vietnam's architectural and historical complex. It is one of the four cores forming the UNESCO World Heritage Site – Trang An Complex.
What to Do in Hoa Lu Ancient Capital?
1. Taking part in the annual festivals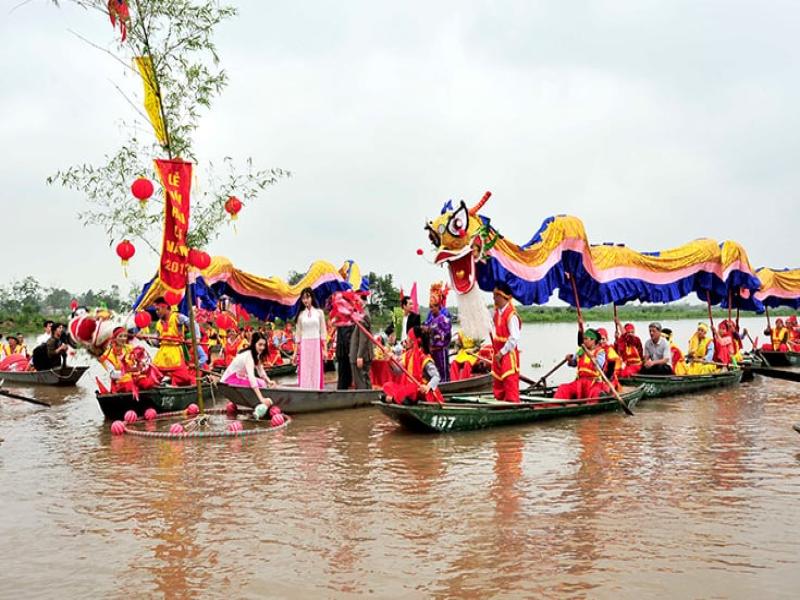 Hoa Lu offers a plethora of traditional cultural festivals that you can immerse yourself in. The most prominent festival is the Truong Yen Festival, held on the 10th day of the third lunar month. This grand event commemorates the Kings of the Dinh and Le dynasties, Dinh Tien Hoang and Le Dai Hanh. The festival includes worship ceremonies at Truong Yen water station on the Hoang Long River and the two temples dedicated to the Kings.
During the festival, you can enjoy various entertaining activities such as Co lau tap tran (a traditional martial arts performance), Han script writing competitions, chess matches, dragon dances, and much more. These traditional games not only entertain but also showcase the local legends.
2. Visiting temples and tombs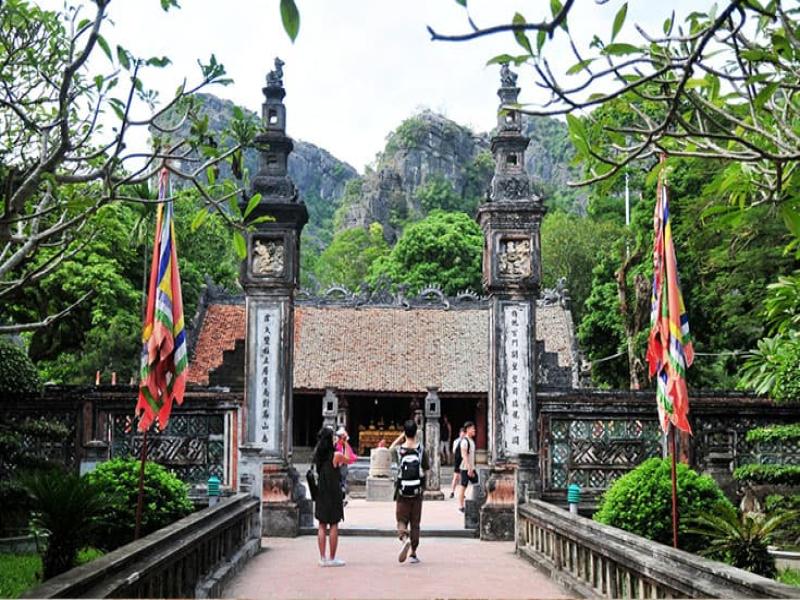 Explore the two 17th-century temples, Dinh Tien Hoang Temple and Le Hoan Temple, which were modeled after their 11th-century originals. These temples honor the founder of the Dinh Dynasty and his successor. To reach these temples, you'll need to climb more than 200 steps.
Throughout its 41-year reign as the capital, Hoa Lu boasted palaces, pagodas, tombs, and pavilions built by different dynasties. One of the most remarkable architectural pieces was the Bao Thien Tue Palace, adorned with gold and silver. However, the ravages of time and weather have taken their toll on many of these ancient remnants.
3. Contemplating Nhat Tru Pagoda (so-called One Pillar Pagoda in Ninh Binh)
Nhat Tru, also known as One Pillar Pagoda, is an ancient pagoda constructed in the 10th century within the Hoa Lu Complex. Emperor Le Dai Hanh and Ly Thai Tong ordered its construction. This pagoda preserves many antiquities that bear witness to the history of the ancient capital.
The pagoda's most prominent feature is the stone scripture pillar, standing in front of the pagoda. The pillar, covering an area of over 3,000 m2, boasts an octagonal body functioning as a prayer book. Atop the pillar sits a stone lotus. The gate, accompanied by a two-story roof, greets visitors on the right side of the pagoda. The exteriors are adorned with three Chinese characters representing the pagoda's meaning, while the five-chambered main lobby showcases intricate carvings of clouds and leaves.
Don't miss the three-chamber Buddha worship house, housing several Buddha statues, including Guan Yin on Mountain, Tam Ton, and Tam The. The structure resembles the main lobby and offers visitors the chance to burn incense and pray for themselves.
To this day, Nhat Tru Pagoda remains a spiritual place for both locals and tourists. An annual worship ceremony is held on January 15, praying for the nation's peace.
4. Paying a visit to Tam Coc – Bich Dong (Halong on land)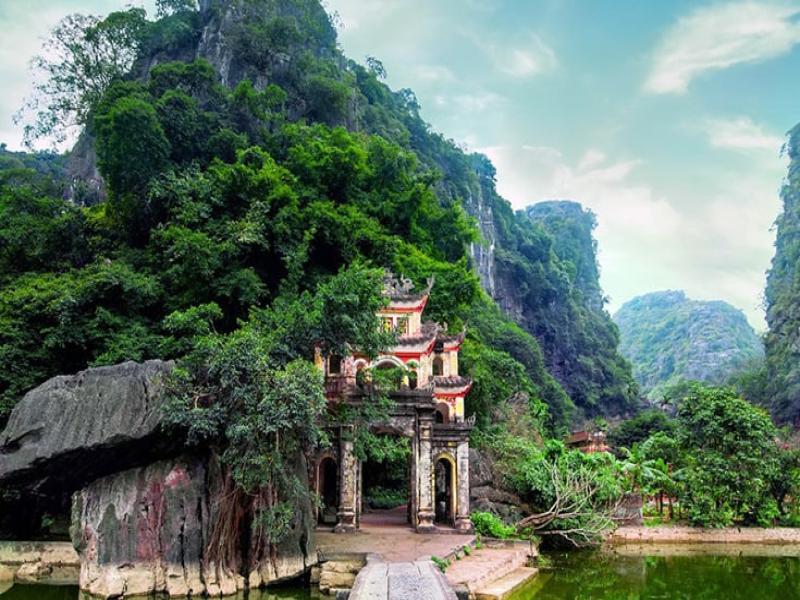 Embark on a trip from Hoa Lu to Tam Coc – Bich Dong, an architectural marvel that captivates visitors from around the world. Marvel at the sprawling mountain views, explore the spectacular caves, and cruise along the charming waterways surrounded by vibrant rice paddies and the stunning Ngo Dong River.
Tam Coc – Bich Dong showcases its beauty in every season, with each season offering a unique charm. Summer, in particular, displays the fields transforming from lush green to sparkling yellow, earning it the nickname "a terrestrial Halong Bay" for its allure and appeal.
5. Climbing Ma Yen Mountain
Ma Yen Mountain, known as the legend of a king in Hoa Lu, Ninh Binh, stands at a height of around 200m. Its name, "Ma Yen," originated from its saddle-like shape, with a lower middle and higher heads on either side.
This mountain bears the legend of Dinh Bo Linh, who chose this mountainous region to build Vietnam's capital in 968. After ruling the country for 12 years, the king passed away, and the local people buried his body atop Ma Yen Mountain. Nearby, at the foot of the southern side, lies the tomb of King Le Dai Hanh, where you can light incense and offer prayers.
For a panoramic view of the ancient Hoa Lu capital, climb to the top of Ma Yen Mountain. If you wish to immerse yourself fully in the beautiful atmosphere, head to Hoang Giang river near Kiem Mount.
How to Get to Hoa Lu Ancient Capital?
Getting to Hoa Lu from Hanoi is a breeze. It's only about 110km away, and you have several options:
1. By bus
Visit Giap Bat or My Dinh station in Hanoi and find a bus heading to Ninh Binh. Tickets range from 100,000 VND to 150,000 VND per person. Buses depart every 30 minutes from 5 am to 11 pm daily.
Non Nuoc Ninh Binh Company: Tel: 1900 969 681 | Price: 150,000 VND
Hoang Long Company: Tel: 024 3839 8273 | Price: 110,000 VND
Man Tinh Company: Tel: 096 77 888 03 | Price: 100,000 VND
Cuc Mung Company: Tel: 1900 9075 | Price: 100,000 VND
2. By car or motorbike
Depart from Giai Phong Street, turn onto Phap Van – Cau Gie Highway, and continue straight until you reach Ninh Binh Province. From there, you can easily reach Hoa Lu ancient capital.
3. By train
If you prefer traveling by train, alight at Ninh Binh Railway Station and take a taxi to Hoa Lu.
What to Eat in Hoa Lu Ancient Capital?
While visiting Hoa Lu, Ninh Binh, don't miss the chance to savor the local delicacies. Indulge in the crispy rice crust dipped in a special sauce, sample the sweet and crispy Mountain Snails prepared in various ways, and try the unique dishes made from Mountain Meats, such as steamed goat, goat pudding, goat spring rolls, and goat with lemon juice.
Best Time to Visit Hoa Lu Ancient Capital
Visiting Hoa Lu doesn't require perfect timing, but the Vietnamese people recommend spring as the most beautiful time. This season brings a multitude of festivals and a vibrant atmosphere after the Lunar Tet holiday. Experience the excitement and join the crowds at these festivals. Alternatively, if you prefer a peaceful visit, choose any other day to enjoy the serenity of Hoa Lu.
Where to Stay in Hoa Lu?
With the increasing popularity of Hoa Lu and Ninh Binh province, numerous hotels, resorts, homestays, and hostels have emerged, offering excellent services to visitors. Some of the most comfortable accommodation options around Hoa Lu include Tam Coc Rice Fields Resort, Trang An River View Homestay, and Trang An Mountain House.
Tam Coc Rice Fields Resort Location: Hai Nham Village, Ninh Hai Commune, Hoa Lu District, Ninh Binh Province Tel: 096 477 33 66

Trang An River View Homestay Location: Trang An Village, Trang Yen Commune, Hoa Lu District, Ninh Binh Province Tel: 0985 469 608

Trang An Mountain House Location: Trang An Village, Trang Yen Commune, Hoa Lu District, Ninh Binh Province Tel: 0979 952 234
Tips and Tricks
Hoa Lu capital in Ninh Binh is a historical site, so consider booking a tour guide to learn more about Vietnamese history.
Dress respectfully when visiting Hoa Lu, as it is a spiritual place.
Dispose of garbage in designated bins and maintain cleanliness.
Maintain silence when entering temples.
Visit Hoa Lu during the opening hours, from 7 am to 4 pm.
Hoa Lu Ancient Capital holds immense cultural and historical value in Vietnam. Take a step back in time and explore the wonders of this ancient kingdom, surrounded by captivating natural beauty. Ninh Binh province