Ninh Binh, a province in Vietnam, is renowned for its historical sites and breathtaking natural beauty. While Trang An Complex with Bai Dinh Pagoda and Tam Coc – Bich Dong Pagoda are popular destinations, there is another must-visit place that should not be overlooked: Tuyet Tinh Coc (Am Tien cave). This enchanting spot, located within the Hoa Lu Citadel, is not only a striking natural landscape but also a cultural treasure with immense historical significance.
I. The Delights of Tuyet Tinh Coc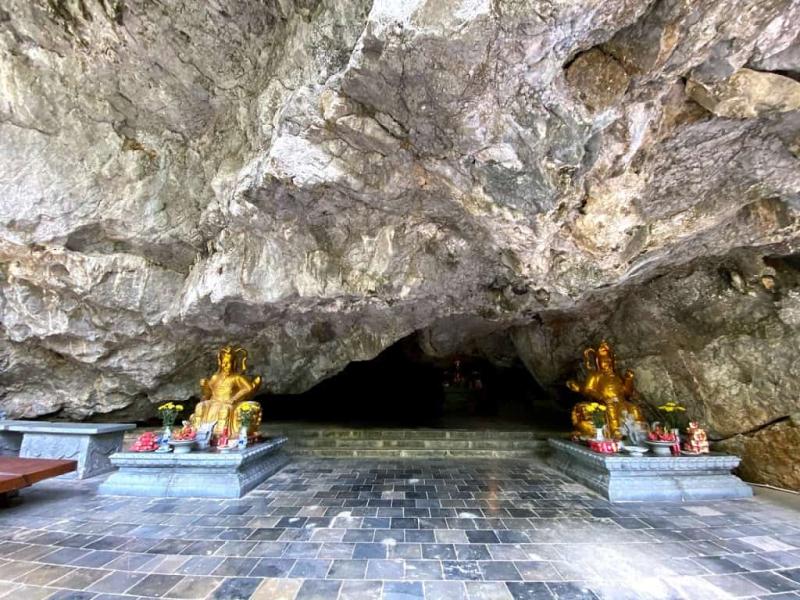 1. Unveiling the History
Tuyet Tinh Coc, also known as Am Tien Cave, has a rich history that dates back over a millennium. Initially, it served as a site for punishing criminals during the reign of King Dinh Tien Hoang, when Hoa Lu Ninh Binh was the capital of Dai Co Viet (the former name of Vietnam). The valley, filled with natural obstacles, was transformed into an execution ground.
Later, under King Le Dai Hanh's rule, Tuyet Tinh Coc became a prison for war prisoners captured from the Song Dynasty of China, who had invaded Dai Co Viet in 981 and were defeated by the Vietnamese army. Am Tien Pagoda, within the vicinity, was the final home of Queen Duong Van Nga, the wife of both King Dinh Tien Hoang and Le Dai Hanh. The Ly Dynasty witnessed the restoration and expansion of the pagoda by Minh Khong Monk.
Moreover, Tuyet Tinh Coc is steeped in a love story involving Princess Phu Dung, the daughter of King Dinh Tien Hoang, and her husband. Since 2011, this picturesque landscape has gained popularity, especially among the younger generation, as a magnificent backdrop for photographs.
2. Location
Tuyet Tinh Coc is situated in the eastern part of the Hoa Lu Citadel, surrounded by majestic mountains. Previously, this hidden gem remained relatively unknown to both locals and tourists, as accessing it required traversing a challenging terrain. However, thanks to tourism development in Ninh Binh Province, and particularly in Hoa Lu, Tuyet Tinh Coc has become increasingly renowned among visitors to the region.
Tuyet Tinh Coc is a complex that encompasses lakes, mountains, and temples. It is nestled within a small valley with a vast lake at its lowest point. The lake is enclosed by awe-inspiring mountain ranges, creating an ethereal ink-wash painting. The captivating beauty of Tuyet Tinh Coc transports tourists to a fairy tale realm—a place where they can escape the hustle and bustle of the outside world and immerse themselves in the wonders of nature.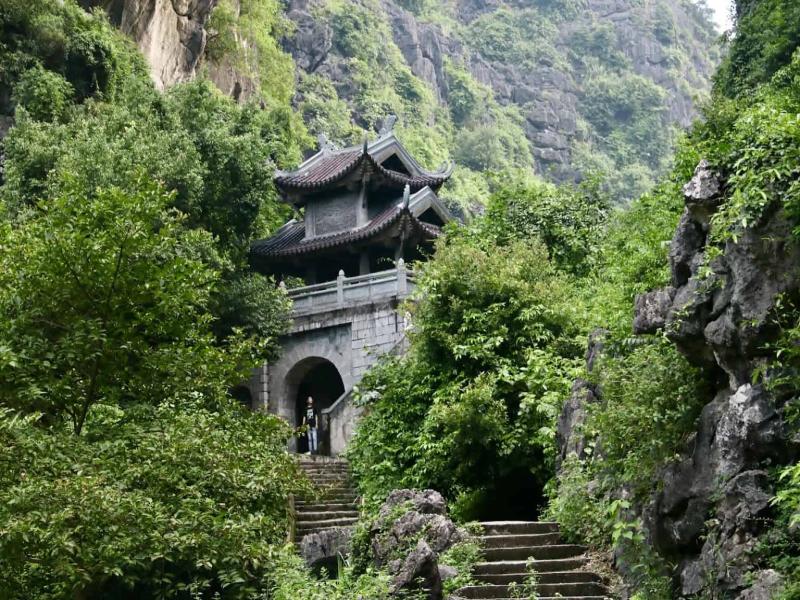 3. The Mesmerizing Charm
The irresistible allure of Tuyet Tinh Coc is undeniable. It seamlessly combines majestic limestone mountains, a serene lake, and a plethora of lush vegetation. The highlight of this magical place is Ao Giai Lake, which captivates with its crystal-clear waters reflecting the surrounding mountains, as though untouched by human hands.
The tranquil ambiance of Tuyet Tinh Coc allows visitors to savor its stunning vistas fully. Breathe in the fresh air, revel in the scents of nature, and listen to the melodies of life. Engage all your senses to truly appreciate the beauty that Tuyet Tinh Coc offers. It seems like a landscape plucked straight out of a fairy tale, yet it exists right here in Ninh Binh Province, Vietnam.
II. The Perfect Time to Visit Tuyet Tinh Coc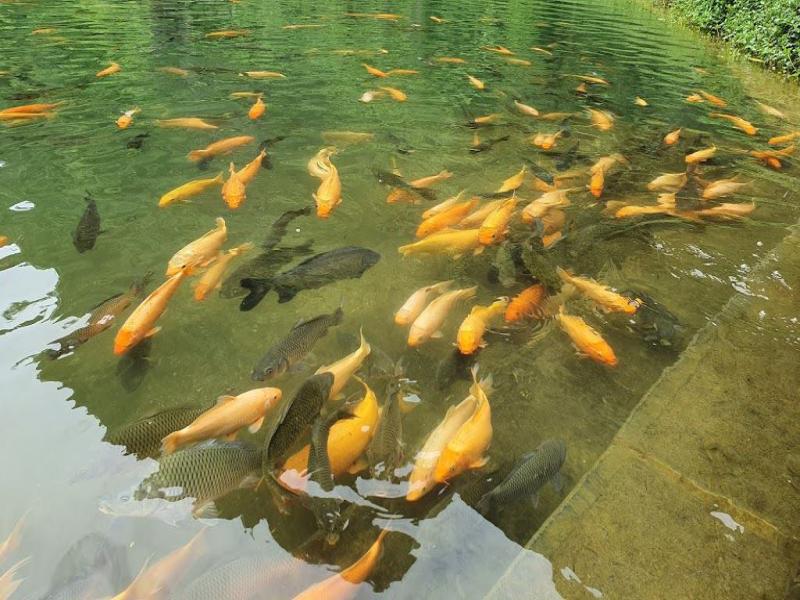 Ninh Binh unveils its unique charm in every season. The region experiences the typical climate of North Vietnam, showcasing all four seasons throughout the year. Depending on your preferences and schedule, you can plan your visit to Tuyet Tinh Coc at any time.
Although North Vietnam's summers can be hot, Tuyet Tinh Coc benefits from natural conditions that keep the temperature slightly lower. In winter, despite the cold weather and gray skies, you can still capture stunning photos that resemble scenes from a fantastical wonderland.
However, the best time to explore Ninh Binh, and Tuyet Tinh Coc in particular, is during spring and autumn. These seasons offer pleasant temperatures, limited rainfall, and ample sunshine, making them ideal for outdoor activities. Additionally, spring and autumn coincide with festival seasons in Ninh Binh, allowing you to immerse yourself in the local culture.
III. Experiences and Attractions at Tuyet Tinh Coc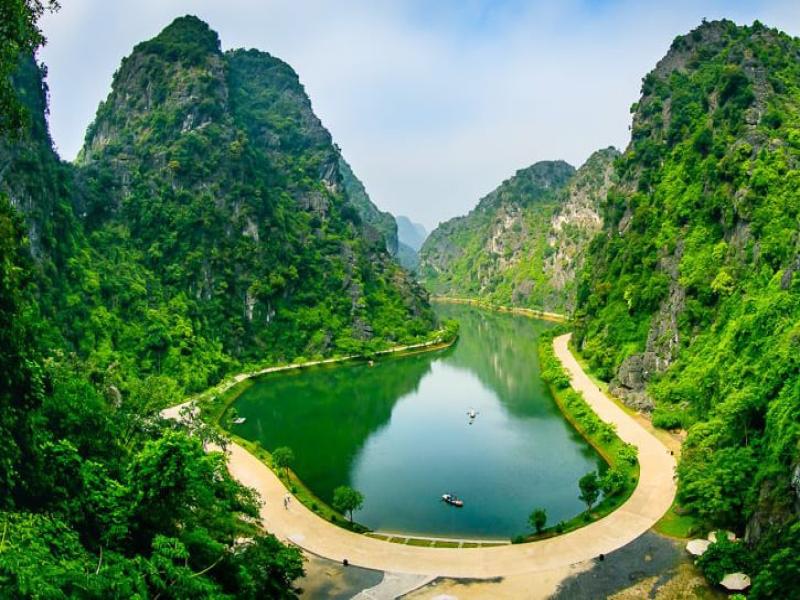 1. Stroll Along Ao Giai Lake
Ao Giai Lake is the heart and soul of Tuyet Tinh Coc. It remains adorned in lush greenery throughout the year, and in summer, its surface blooms with the captivating beauty of lotus flowers. Whenever Tuyet Tinh Coc is mentioned, tourists immediately envision a lake mirroring the magnificent mountainous scenery.
Exploring Tuyet Tinh Coc can take many forms, but the most popular is a leisurely walk around the lake. Make sure to bring a camera to capture the splendid views along the lake's banks. Alternatively, boats and carriages are readily available for those who wish to admire the beauty of Tuyet Tinh Coc from a different vantage point.
2. Discover Am Tien Cave and Pagoda
Am Tien Pagoda is nestled inside a small cave on the shore of Ao Giai Lake. This cave pagoda is closely associated with the story of Queen Duong Van Nga, who was married to both King Dinh Tien Hoang and King Le Dai Hanh. In her final years, she took residence in Am Tien Pagoda and embraced the monastic lifestyle. A poem in Chinese characters, extolling the queen's life and achievements, still adorns the walls of the pagoda.
During the Ly Dynasty, Minh Khong Monk renovated and expanded the pagoda, adding more altars to worship Buddha inside the cave. To reach Am Tien Pagoda, follow the path on the left side of Ao Giai Lake. The climb involves more than 200 steps, with the path adorned by the cooling shade of ancient trees, offering respite even on the hottest summer days. Inside Am Tien Cave, visitors will be awestruck by the diverse and captivating stalactite formations. The cave is also nicknamed Dragon Cave due to its resemblance to a dragon's mouth.
3. Admire the View from the Wall Gate
Gazing upon the beauty of Tuyet Tinh Coc from the elevated vantage point of the wall gate is a truly captivating experience. A staircase guides visitors from the foot of the mountain to the gate perched on the mountain slope. The wall gate, nestled between two mountains, creates an ethereal sanctuary reminiscent of a hermitage for fairies.
Despite being a recent addition, the wall gate showcases a weathered appearance, with a mossy hue that perfectly complements the scenery of Tuyet Tinh Coc. The gate's arch-shaped doorway and double-roof design exude an ancient charm. Standing along the railing, you can immerse yourself in the awe-inspiring scenery below—the green hues of the lake and mountains blending harmoniously with the blue sky, creating a masterpiece of nature and life.
III. How to Reach Tuyet Tinh Coc
Tuyet Tinh Coc is located in Ninh Binh Province, approximately 90 kilometers from Hanoi. To visit this enchanting destination, you can choose to travel by coach, car, or motorbike. Thanks to its status as a popular tourist attraction, Ninh Binh enjoys a convenient transportation system, allowing you to depart at any time of the day.
From Hanoi, follow Phap Van – Cau Gie Highway, and after a 50-kilometer journey, you will arrive at Liem Tuyen. From there, take provincial highway 494 and Highway 1A to Truong Yen Commune, your gateway to Tuyet Tinh Coc. The journey takes approximately 2 hours by car or coach, and 3 hours by motorbike. For adventure enthusiasts, traveling by motorbike offers the best experience.
V. Extra Tips for an Unforgettable Visit
If you choose to explore Tuyet Tinh Coc by motorbike, ensure you have a map to navigate the correct route. Additionally, follow traffic regulations to ensure your safety.
May, June, September, and October offer the best weather for a visit to Tuyet Tinh Coc. Begin your journey on a sunny day to make the most of your trip.
Remember to bring an umbrella or hat and carry water as it can get hot.
If you need assistance with planning your trip, consider joining a guided tour.
Families with children should take extra care.
While visiting Tuyet Tinh Coc, take the opportunity to explore other attractions in Hoa Lu Citadel, such as King Dinh Tien Hoang Temple.
Help protect the environment in Tuyet Tinh Coc by not littering.
Despite its recent rise to fame, Tuyet Tinh Coc has captivated the hearts of both domestic and international tourists visiting Ninh Binh. Its natural and cultural values have been carefully preserved, allowing visitors to experience the essence of Tuyet Tinh Coc and the Hoa Lu Citadel. So, what are you waiting for? Pack your bags and embark on a journey to Tuyet Tinh Coc—a place where your vacation dreams come true!