Bai Dinh Pagoda in Ninh Binh Province is a renowned religious destination in Vietnam. Situated near Trang An Complex, a UNESCO World Heritage Site, it is a must-visit for culture enthusiasts. Here's all you need to know before embarking on your journey.
1. About Bai Dinh Pagoda Complex in Ninh Binh Vietnam
1.1. Location, Opening Hours, Entrance Fee
Address: Gia Sinh Commune, Gia Vien District, Ninh Binh Province
Bai Dinh Pagoda Opening Hours: 6:00 AM – 10:00 PM every day
Fees:

Bai Dinh Pagoda Entrance Fee: free
Electric car: 30,000 VND/person/trip, operating until 8:00 PM
Ticket to Bao Thap Tower: 50,000 VND/person
Parking: 40,000 VND/car and 15,000 VND/motorbike
Bai Dinh Pagoda Ninh Binh, also known as Bai Dinh Temple Spiritual and Cultural Complex, is a Buddhist temple complex situated on Bai Dinh Mountain in Gia Vien District, Ninh Binh Province, Vietnam. This complex consists of an ancient pagoda and a newly constructed, larger pagoda. It serves as a significant pilgrimage site for Buddhists from all over the country.
1.2. History
Buddhism flourished and became Vietnam's main religion during the Dinh, Early Le, and Ly dynasties in the Hoa Lu (Ninh Binh) citadel. During this period, numerous pagodas were built in the region, including the old Bai Dinh Pagoda on the western side of Dinh Mountain. Emperor Dinh Tien Hoang constructed a shrine at the pagoda to pray for favorable weather. According to other historical records, Bai Dinh Pagoda was established during the Ly Dynasty as a place for contemplation, healing, and helping the local community. The pagoda is highly regarded as an important site for Buddhism, Taoism, and Mother Goddess worship.
1.3. Structure
The complex consists of two main sites: the newly built Bai Dinh Pagoda and the ancient pagoda.
1.3.1. The New Bai Dinh Pagoda Vietnam Complex
The 700-hectare new Bai Dinh Pagoda is located on Ba Rau Hill, near Hoang Long River. It is a vast complex with various buildings constructed between 2003 and 2010. The new pagoda features grand halls, beautiful gardens, and impressive enclosures.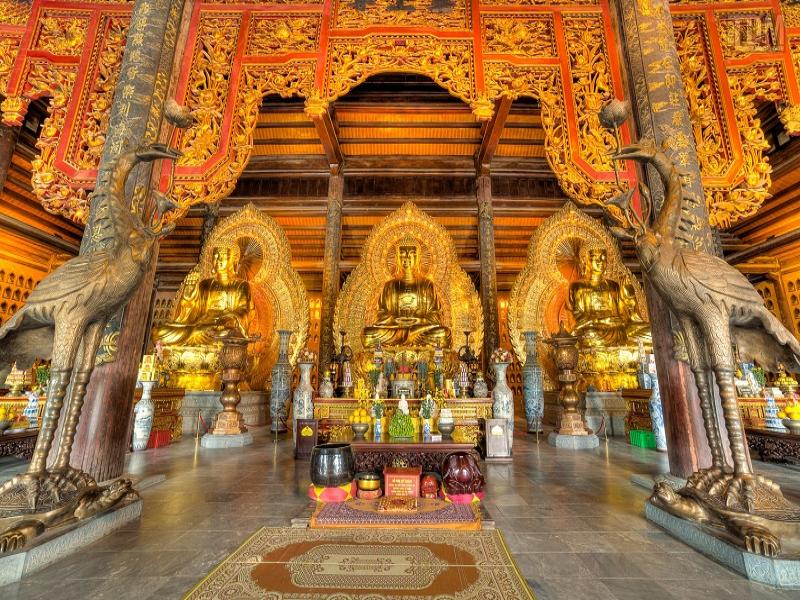 Bai Dinh Pagoda stands out among Vietnamese Buddhist pagodas due to its immense size. The main hall, Tam The Hall, measures 34 meters in height and over 59 meters in length. Local stones and timbers from Ninh Binh, as well as tiles from Bat Trang Village, were used in its construction. The pagoda's curved finials and soaring corner eaves resemble a phoenix's tail, showcasing traditional Vietnamese architectural style. Inside, you'll find bronze sculptures from Y Yen, stone carvings from Ninh Van, woodwork from Phu Loc, and needlework from Ninh Hai, all representing the traditional crafts of Vietnam.
1.3.2. The Ancient Bai Dinh Pagoda
The original pagoda is located approximately 800 meters away from the new one, nestled in the foothills. To reach the entrance, you'll walk along a pathway of over 300 stone steps, passing through an elaborate gate. The actual pagoda is situated within numerous small caves on the slope. Here, along with Buddhist deities, mountain spirits are also worshipped.
1.3.3. Outstanding Landmarks
The Bell Tower: An octagon-shaped tower with three varying-sized storeys, supported by a lotus-shaped platform. It has a diameter of 49 meters and stands 22 meters tall, with a 36-ton bronze bell inside.
The Corridor with Arhat Statues: The longest corridor in Asia, adorned with 500 Arhat statues on both sides.
Gieng Ngoc (The Pearl Well): A moon-shaped well constructed around 1,000 years ago, measuring 30 meters in diameter and 6 meters in depth.
The Hall of Bodhisattva Avalokitesvara: This ironwood construction has seven compartments and stands 14.8 meters tall, 40.4 meters long, and 16.8 meters wide. Inside, there is an 80-ton bronze figure of Bodhisattva Avalokitesvara adorned with gold, with multiple eyes and hands.
Bao Thap Tower: A 100-meter-tall, 13-story tower with 72 stair steps, housing sacred Buddha relics from India and Burma.
Maitreya Statue: A 10-meter-tall outdoor bronze statue located on the highest hill of Bai Dinh Pagoda. Weighing 80 tons, it is the largest Maitreya statue in Southeast Asia.
2. When and How to Get to Bai Dinh Pagoda Complex?
2.1. Best Time to Visit Bai Dinh Pagoda
The ideal time to visit Bai Dinh Pagoda is during spring, specifically from the first to the third lunar month. This season offers exceptional weather conditions in northern Vietnam. It's a perfect time to explore, partake in pagoda rituals, and witness the beautiful festivals at Bai Dinh Pagoda and Trang An Complex. Bai Dinh Pagoda Festival also takes place during spring.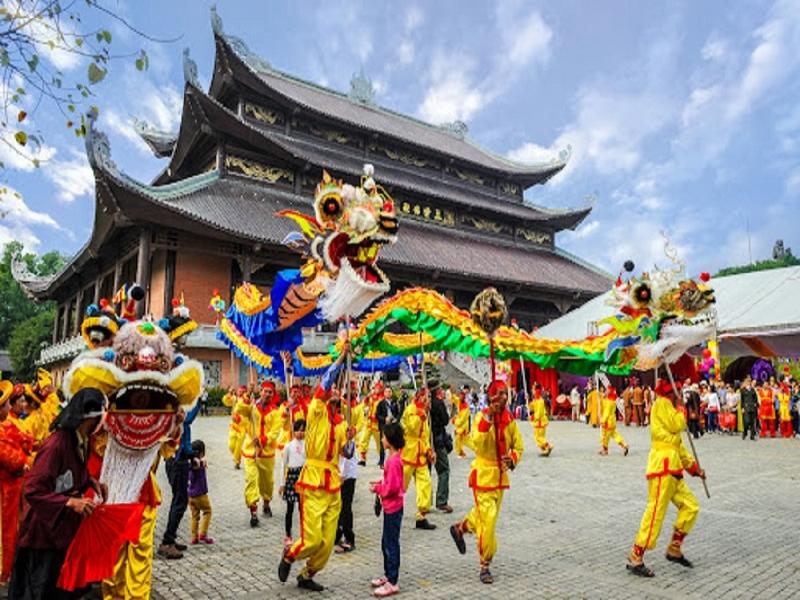 However, spring is the peak tourist season, and destinations can get crowded. If you prefer to avoid the crowds, it's best to choose another time to visit.
2.2. How to Get to Bai Dinh Pagoda?
Bai Dinh Pagoda complex is approximately 95 kilometers from Hanoi, 25 kilometers from Ninh Binh City, and 12 kilometers from Hoa Lu Citadel. There are various transportation options to reach the pagoda, such as buses, motorcycles, and cars. Private cars or tourist buses take around 2 hours from Hanoi. If you opt for public buses, you'll need to take a taxi from the bus stop to the pagoda.
3. The Outstanding Records of Bai Dinh Pagoda Ninh Binh
Bai Dinh Pagoda is renowned as one of the largest temples in Southeast Asia. It holds numerous national and regional records. As of 2012, the pagoda boasts nine records, including:
The largest gilded bronze Buddha in Asia
The largest bronze Maitreya Buddha statue in Southeast Asia
The largest bronze bell in Vietnam
The tallest stupa in Asia
The largest pagoda complex in Vietnam
The longest Arhat corridor in Asia
The largest number of Arhat statues in Vietnam
The largest Pearl Well in Vietnam
The largest number of Bodhi trees in Vietnam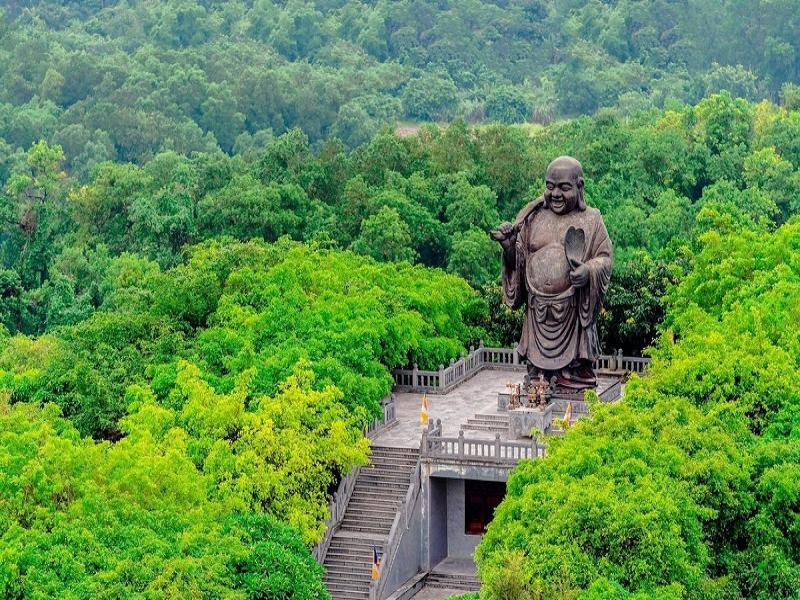 4. Tips for Your Best Sightseeing at Bai Dinh Pagoda Vietnam
Dress politely according to the Bai Dinh Pagoda dress code.
Opt for sneakers instead of high heels to move comfortably.
Bring sunscreen, umbrellas, and rain jackets, just in case.
Avoid touching the statues.
Do not draw or carve on the statues and walls.