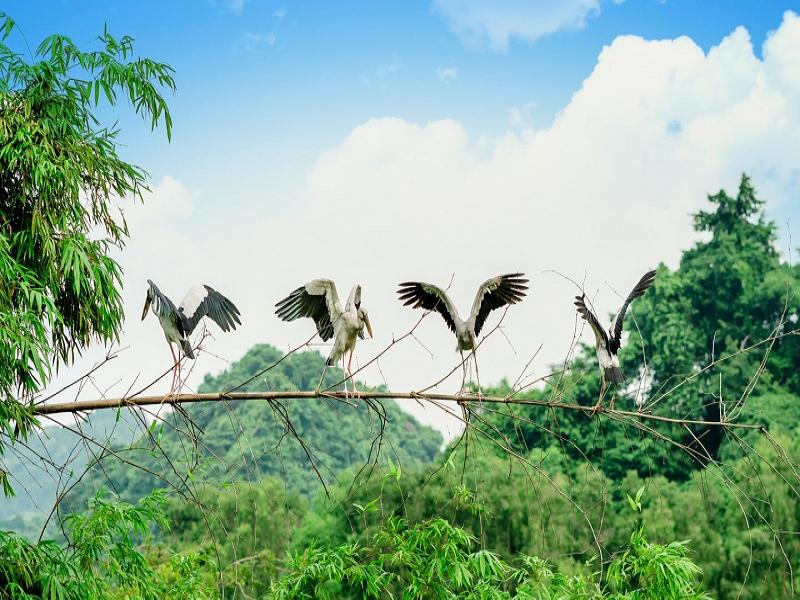 Located in the breathtaking Ninh Binh Province, Thung Nham Bird Park is a natural paradise that captures the hearts of visitors from around the globe. With its lush forests, serene lakes, and awe-inspiring karst landscapes, Thung Nham is a place of immense natural beauty and biodiversity. Join us on a journey through the park's enchanting attractions, from birdwatching and hiking to exploring ancient caves.
1. Thung Nham Bird Park Ninh Binh: Everything You Need to Know
Bird park address: Hai Nham hamlet, Ninh Hai commune, Tam Coc area, Hoa Lu district, Ninh Binh province.
Bird park ticket price: Adult: 100,000 VND; Children: 50,000 VND; Children under 0.8m: free.
Boat tour fee: 20,000 VND
Thung Nham Bird Park is renowned for its diverse range of bird species, tranquil lakes, majestic karst cliffs, and stunning natural landscapes. Moreover, the park is home to a network of ancient caves steeped in history and culture, making it one of the most beloved Ninh Binh tourist attractions.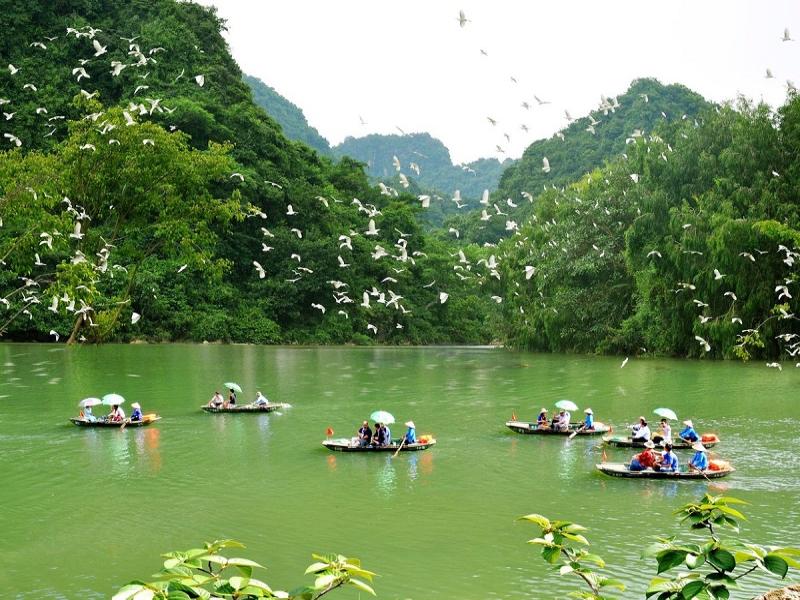 2. When and How To Get to Thung Nham Bird Park?
The best time to visit Thung Nham Bird Park is during the early morning or late afternoon when the birds are most active. The park opens daily from 7:00 am to 6:00 pm, so it's advisable to arrive early or late to maximize your birdwatching experience. Additionally, visiting during these times offers cooler temperatures and softer lighting, enhancing your overall enjoyment.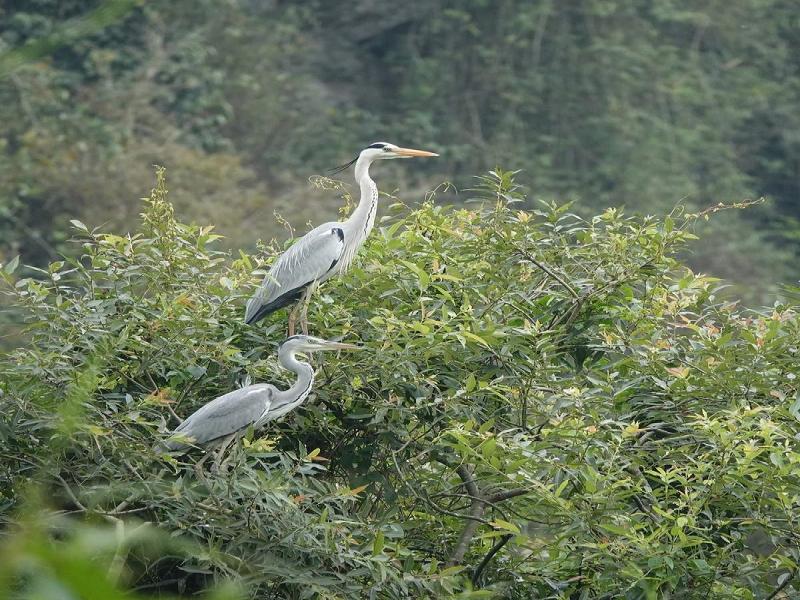 Getting to Thung Nham Bird Park is relatively easy, with several transportation options available. If you're coming from Ninh Binh city, a taxi or motorbike ride is the most convenient choice. Taxis are readily available in the city, and the journey to the park takes around 30 minutes. Renting a motorbike from one of the shops in Ninh Binh allows you to explore the surrounding countryside at your own pace.
From Ninh Binh city center, head south towards Tran Hung Dao – Truong Han Sieu – Hoa Lu route. Continue straight for approximately 2.5 kilometers, and you'll find Thung Nham Bird Park right in front of you.
Alternatively, guided tours are available for those who prefer a more organized approach. Various tour operators in Ninh Binh can arrange these tours, which typically include transportation to and from the park as well as a guided tour of its attractions.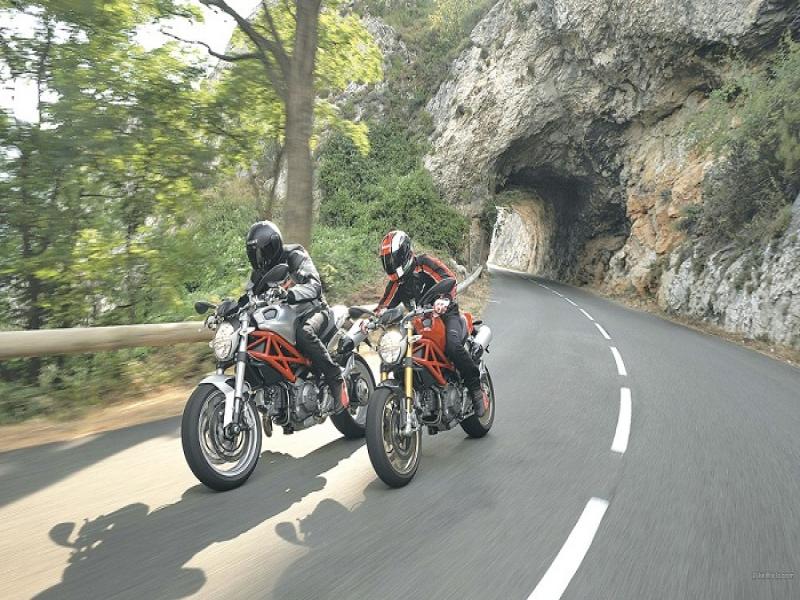 3. What to Explore at Thung Nham Bird Park?
3.1. Thung Nham Bird Watching Area
As you enter the park, you'll be greeted by the peaceful chirping of birds, signaling the beginning of a birdwatcher's paradise.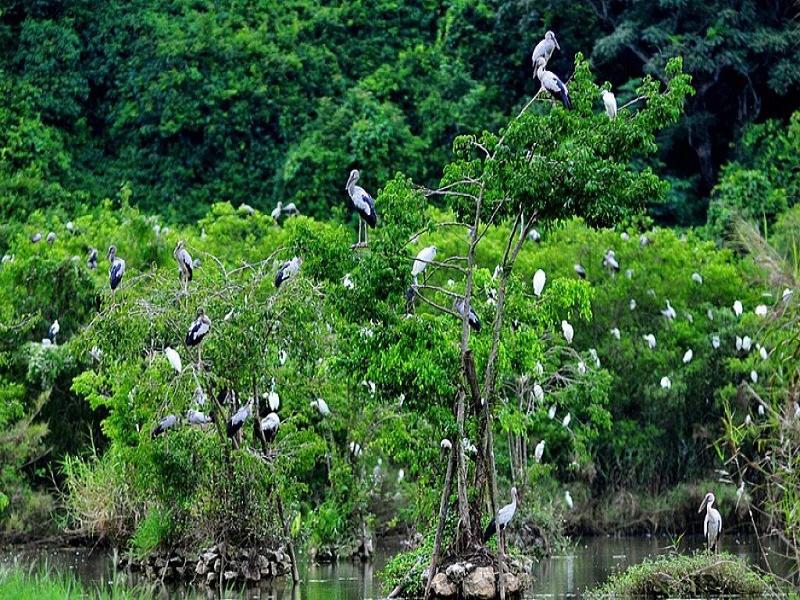 Thung Nham Bird Park is home to over 45 species of birds, including storks, egrets, herons, and kingfishers. The bird watching area provides an ideal spot to observe these feathered residents in their natural habitat. Take a boat tour around the park's lakes and wetlands for an up-close and personal encounter with these fascinating creatures.
3.2. But Cave
But Cave is one of the park's highlights, showcasing an impressive stalactite system and a unique ecosystem that houses bats, swifts, and other wildlife.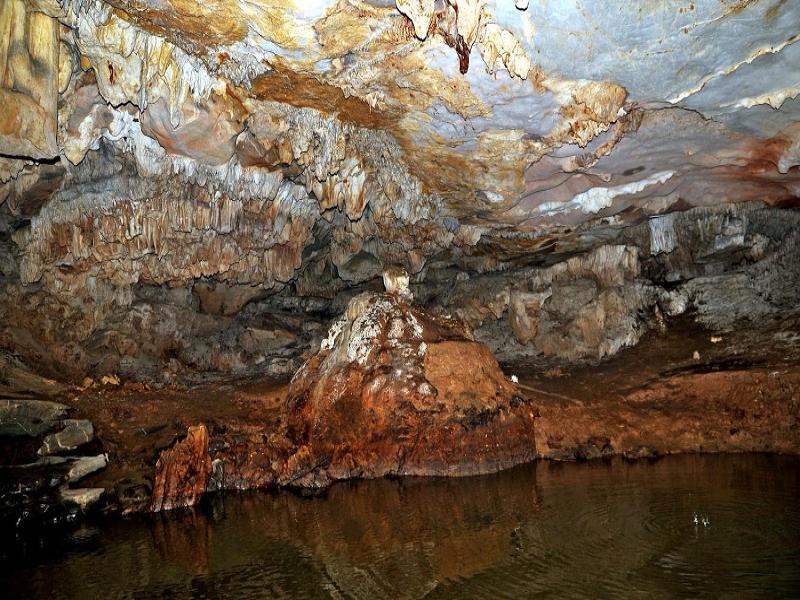 3.3. Vai Gioi Cave
Located deep within the heart of Thung Nham Bird Park, Vai Gioi Cave is a breathtaking natural wonder. Prepare to be captivated by the stunning natural light display that illuminates the caverns, creating an otherworldly atmosphere that will leave you in awe.
3.4. The Ancient Banyan Tree
The ancient banyan tree in Thung Nham Bird Park stands as a living symbol of the park's rich history and natural beauty. This magnificent tree, over 1,000 years old, has grown to an impressive size, with sprawling roots and branches that create a natural canopy, providing shade and shelter to visitors.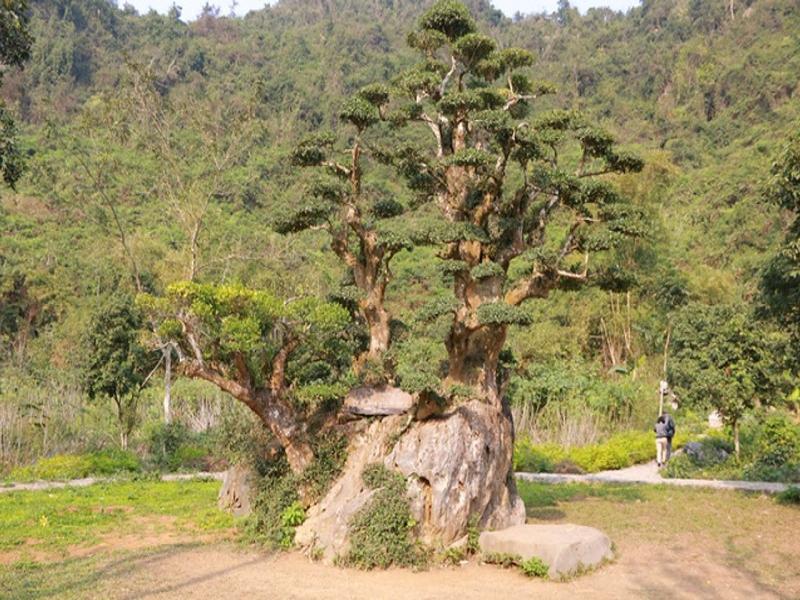 Take a leisurely stroll around the tree, absorbing the sights and sounds of the picturesque park. The ancient banyan tree is a favorite spot for photographers, attracting enthusiasts from all over who seek to capture its natural beauty and majestic presence.
4. What to Prepare for Your Thung Nham Bird Park Adventure?
To make the most of your visit to Thung Nham Bird Park and ensure a complete experience, remember to pack the following:
Jacket or windbreaker: Thung Nham is situated in a mountainous area, so the climate is slightly cooler than other regions in North Vietnam. Bring a jacket or windbreaker to stay warm during early morning or late afternoon explorations.
Sports shoes or travel sandals: The park's attractions involve moving around quite a bit. Wear comfortable sports shoes or travel sandals for safety and ease.
Sunscreen and insect repellent: Protect your skin from the sun's rays and ward off pesky insects with sunscreen and insect repellent.
Camera and binoculars: Thung Nham is renowned for its diverse bird population. Bring a camera and binoculars to capture and observe these beautiful creatures up close.
Cash: Thung Nham Bird Park is a nature reserve, so there are limited ATMs nearby. Ensure you have enough cash for entrance fees, boat rentals, and other expenses.
To plan your trip to Thung Nham Bird Park, visit Ninh Binh Province.