Trang An is an embodiment of a harmonious blend of nature and culture where picturesque and uninhabited nature coexists with local culture and civilization. In 2014, Trang An area was designated as a dual UNESCO World Heritage site for its natural and cultural values. It is the first dual designation for such heritage sites in Vietnam and Southeast Asia.
Here are 14 best reasons to visit Trang An Landscape Complex, The UNESCO World Heritage site in Ninh Binh Province, Vietnam, and why it should be at the top of your holiday destinations list.
Natural Heritage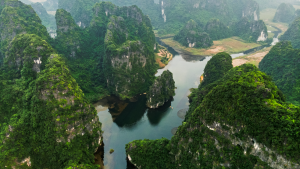 Trang An landscape stretches over picturesque limestone karst peaks, beautiful valleys, and winding rivers. It is situated in Ninh Binh Province of North Vietnam, near the Red River Delta. Trang An has everything you want to see and experience in your ecotourism holiday destination.
Cultural Heritage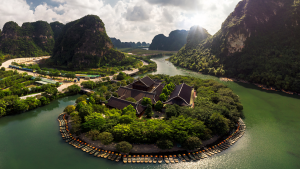 Trang An area is rich with archaeological resources such as shells, animal bones, stone tools, hearths, corded-ware pottery, and human remains, which are reportedly found in Trang An. Studies about the area have been published in many scientific journals, including a monograph on human adaptation in the Asian Paleolithic.
Tranquility
Go through a vast area of uninhabited nature, still in its natural state, surrounded by the sound of the river flows and forest. Such a tranquil atmosphere can only be found in Trang An.
Historical Destination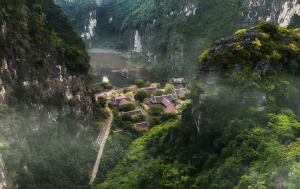 In addition to its Paleolithic history, Trang An was also part of an important modern history of Vietnam. Ninh Binh was the ancient capital city of Vietnam, Hoa Lu, for three major dynasties in the tenth to 11th centuries.
3 Boat Routes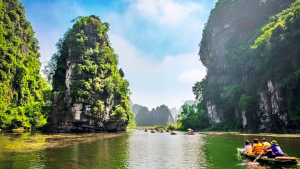 Trang An offers three alternative boat routes for you to choose on your trip around the beautiful landscape. Each route presents you with different experiences, scenic landscapes, and places to visit.
Temples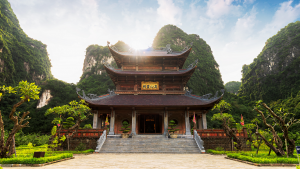 During your boat journey, you may also stop at temples. Trang An is one of the most visited spiritual destinations in Ninh Binh. There are some significant temples that you can visit during your trip, including Trinh Temple, Tran Temple, and Suoi Tien Temple.
Hanh Cung Vu Lam (Vu Lam Citadel)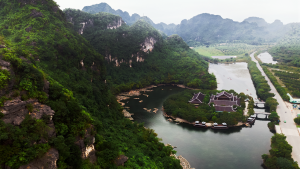 This is one of the must-visit places in Trang An. Hanh Cung Vu Lam was built as a military base during the Tran Dynasty and now functions as a place of worship. In the complex, there are 7 temples dedicated to Kings and Queens of the Tran Dynasty, Genies, Mother of Goddess, as well as loyal generals and soldiers of the Dinh Dynasty.
Caves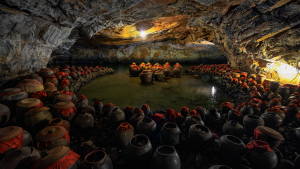 Each cave has its own unique experiences. Travelers would be amazed by these natural and historical wonders. In your boat journey through Trang An scenic landscape, you will pass through some interesting caves including Toi Cave or Dark Cave. As the name suggests, travelers have to use a flashlight to be able to see in this dark cave.
There is dark, there is also light. Sang Cave or Light Cave is filled with natural lights where you can admire the grandeur limestone karst formation inside the cave. Another most fascinating cave to visit is Nau Ruou (Wine Brewing) Cave. In this cave, you may see the traditional wine jars and witness the historical place where the Vietnamese ancestors brewed the finest wine for the King.
Kayaking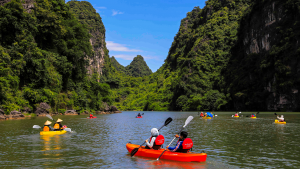 Picture yourself rowing your kayak through tranquil Sao Khe river surrounded by magnificent limestone karst peaks. This water sport is not just a fun physical activity, but also an activity that allows your mind a moment of calm and peace. The kayak rental service will soon be available at Trang An.
Lotus Flowers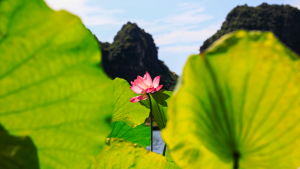 Lotus symbolizes purity and enlightenment. It is important in many Buddhist traditions. In Trang An, you will be able to see these beautiful flowers blossoming around the area.
Trang An Festival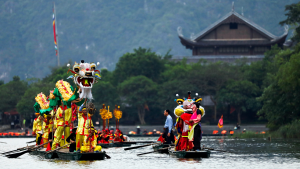 The annual festival takes place for three days in the third month of the lunar calendar. The festival is a homage to the kings of the Tran dynasty. Various traditional rituals are held such as a dragon boat procession that parades along the wharf in Ninh Binh, Vietnam.
Strategic Location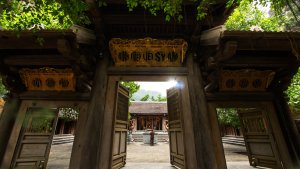 Known as the Halong Bay on land by travelers and is located only an hour drive from Hanoi, Trang An has long become the most popular tourist attraction in Vietnam. It is an ideal place for a short trip, weekend getaway, and family vacation.
Nearby tourist destinations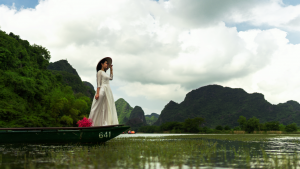 After visiting Trang An, you can also check out other things to do in Ninh Binh. There are plenty of fun activities to do, such as visiting Bai Dinh Pagoda which is the largest Buddhist complex in Vietnam, the Ancient Capital of Hoa Lu, Tam Coc – Bichdong, Chua Tam Chuc. One other thing to do while you are in Ninh Binh is to eat Vietnamese food. Stop by at restaurants in the area to try local delicacies.
Preservation and Protection of UNESCO World Heritage site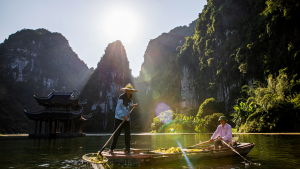 By visiting Trang An, you are also supporting and promoting the preservation and protection of Trang An, the UNESCO natural and cultural heritage site.
We wish you a pleasant and unforgettable visit to Trang An, the UNESCO Natural and Cultural Heritage site in Ninh Binh Province, Vietnam.